Rockler Universal Clamp-It Kit Review
Rockler Clamp-It Kit Lends A Helping Hand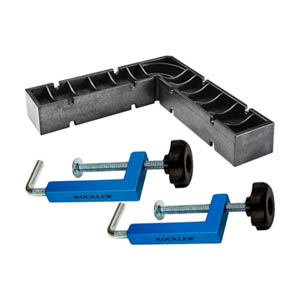 Rockler has become one of my favorite stores now that I'm building a workshop. If you have a workshop, woodshop, or even hobby shop these guys have EVERYTHING! Last month they sent me their all new Universal Clamp-It Kit to review.
I've always been a firm believer than no single shop can possibly have enough clamps. Clamps make it possible for a single person to build most anything by themselves and this new offering from Rockler falls into that category. The Universal Clamp-It Kit is a versatile kit that includes two clamps and a 90 degree assembly square. Paired together these pieces offer an unlimited number of uses including:
Picture frames
Window casing
Cabinet face frames
Shelving
Zero clearance fences for power tools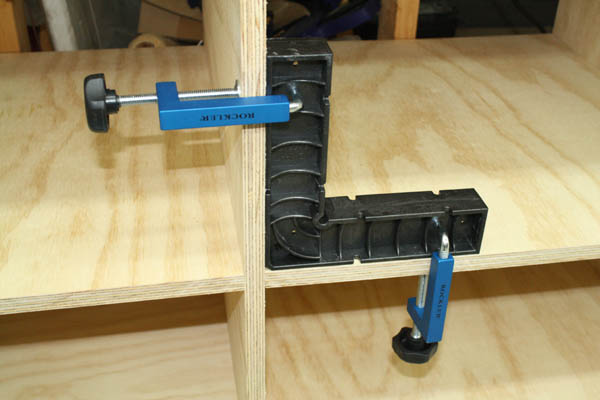 Quality Materials
One of the things that impresses me most about Rockler products is the quality. The Universal Clamp-It Kit is no exception. The clamps are made from really nice aluminum, heavy duty threaded bolts and quality handles. The assembly square is made out of some sort of high impact plastic and it's incredibly stiff. I tried my best to deform it and I had zero luck.
Easy To Use
Another thing that I can appreciate from Rockler is the ease of use for their products. You don't  need to be a rocket scientist to figure out this clamping system. As you can see above I used the kit while building some cabinets for my shop and installing a zero clearance fence on my table saw.
Overall Impression
I really like the Rockler Universal Clamp-It Kit. It's a very affordable kit that offers great quality products that are easy to use and very versatile.
I only have one very small comment/suggestion for the design. I'd like to see the length of the "J" bolt be longer. The short end that's seen in the fence above would be more effective if it were closer to 1-1/2″ or 2″. This would help keep the sacrificial fence tight at the bottom near the table surface.
If you have a small woodshop or workshop this is a kit that would come in very handy. If you'd like to buy it you can follow the link below to Rockler:
About the author
Disclosure
Product reviews on this site contain our opinion of a product or service. We will always strive for objectivity and transparency in our reviews. Our goal is to provide readers with honest, objective information based on our own experiences. We never have and never will accept payment in exchange for a positive review. Many of the products that we review are provided to us for free by a manufacturer or retailer. In some cases, we also have advertising or affiliate relationships with manufacturers and retailers of products and services we review. For additional information please visit our additional disclosure policies.