Milwaukee M12 Heated Gear Review
Milwaukee M12 Heated Gear Review
Milwaukee M12 Heated Gear
Manufacturer:
Milwaukee Tool
Price:
$99-$249
Power source:
Any M12 Battery
Five years or half a decade. No matter which way you say it that's how long Milwaukee heated gear has been changing the way we work and play in the winter months. It all started with the
introduction of the first jacket
in classic Milwaukee Red. The next few seasons saw expansions in both colors and styles. In five seasons they went from one item to now a line with four items and a combined 14 distinct offerings with all the various color choices. For a number of us here at Tool Box Buzz,
we've been wearing this gear since the beginning
and continue to be impressed by it.
Features
Jacket
Heat Core Body Areas: Durable carbon fiber heating zones independently distribute and maintain heat to chest and back, pockets
All Day Heat: Up to 6 Hours of continuous heat per battery charge
Adjustable Heat: Zone specific heat control provides the right amount of heat for any weather
M12™ REDLITHIUM™: Powered by M12™ REDLITHIUM™ Battery that works with 60+ Tools
Rugged Construction: Wind and water resistant shell and thermal fleece lining keep elements out and hold heat close to the body
Redesigned for improved fit and better heat retention
Additional storage pockets added inside jacket
Machine Washable and Dryable
USB Charger: Upgraded battery holder includes fuel gauge to check run-time and a powered USB port for charging portable electronic devices
 Hoodie
Heat Core Body Areas: Durable carbon fiber heating zones distribute and maintain heat to chest and back
All Day Heat: Up to 6 Hours of continuous heat per battery charge
Adjustable Heat: One touch heat control provides the right heat for any weather
M12™ REDLITHIUM™: Powered by M12™ REDLITHIUM™ Battery that works with 60+ Tools
Rugged Construction: Durable cotton exterior and waffle-weave polyester lining withstand tough outdoor conditions and keep heat close to body
Machine Washable and Dryable
Hood fits easily over hard hat
Hand Warmer
Upgraded carbon fiber heating elements: Distribute heat hands – 3 heat settings
Multi-layered fabric technology: Actively warms hands and stimulates blood circulation to fingers
Powered by the M12™ REDLITHIUM™ Battery: Up to 6 hours of continuous heat on a single charge
Convenient external pocket: Provides storage for keys, phone, camera, and more
Adjustable buckle strap: Securely holds hand warmer around waist
New Additions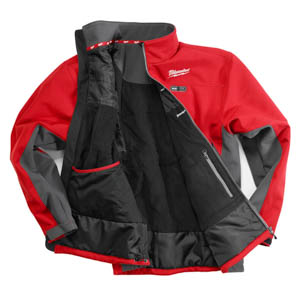 New for this year in the Milwaukee M12 Heated Gear line  is the complete redesign of the jackets. Since Milwaukee has been in this arena the longest they have learned quite a bit through their experience. This year's changes are more in the garment design and not functionality of the heating components.
Garment changes include two tone color schemes, hook and loop wrist enclosures, more internal pockets (tablet pocket!), and a more robust main zipper. Also the jacket line gets the addition of the 3 in 1 Realtree Xtra model that consists of a heated vest, outer shell, and a zip-on hood. Todd is a huge fan of the 3 in 1.
Additionally the entire line is now listed as washer and dryer safe. When the jackets were first released they had to be spot cleaned. Work gear obviously can get pretty dirty and being able to wash and dry it is a must. I've already covered mine in mortar and brick dust a number of times and it always washes up and continues to work great.
Improvements
While the Milwaukee M12 Heated Gear has received a number of great upgrades there are just a couple of improvements I would like to see.
The first improvement is the same one I mentioned a couple years ago on Concord Carpenter, at the time of purchase give the choice for either M12 or M18 power. The purchaser would pull both a jacket box and a battery kit box off the shelf. The battery box would be designated either M12 or M18 and would have the charger, battery, and holder inside. Charge a little more for the M18 if necessary.
The second improvement I'm not sure if it's just my jacket or all of the redesigned ones but the zippers on the hand pockets can zip so low that the zipper separates and needs to be reseated in order to function again. An additional stitch just above where the zipper halves start would keep the carrier for retracting too far.
Sizing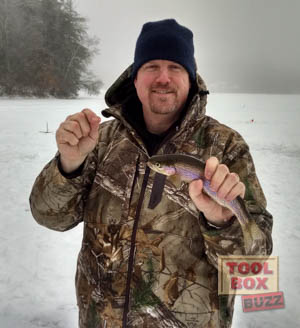 Sizing on the garments runs true to size as far as coats go. I can wear my heated hoodie (XL) under my heated jacket (XL) with no issues. If heading out to the jobsite though you'll need to grab a one size larger hi-viz vest to fit over the jacket. I carry an XXL vest in the truck with me in the winter for this purpose.
One thing to note about heated jackets. You should get these just a little tighter than you would normally wear your clothes. The closer the heat elements are the better they work. That goes for any heated jacket.
Final Thoughts
For the last 4 seasons Milwaukee M12 Heated Gear has been my most used tool.This season will be no different. The garments work well and continue to work well year after year. If those post holiday gift cards have been burning a hole in your pocket but you're not sure you want to shell out for a jacket, pull the trigger on the hoodie. It can fit under your normal work jacket and keep you warm the whole day long. Even if you're not a contractor, the Milwaukee M12 Heated Gear is great for play too. Tool Box Buzz editors have been known to wear them quite often out on the lake for ice fishing.
Heated Hoodie Video Review
Milwaukee M12 Heated Gear
$99-$249
About the author
Disclosure
Product reviews on this site contain our opinion of a product or service. We will always strive for objectivity and transparency in our reviews. Our goal is to provide readers with honest, objective information based on our own experiences. We never have and never will accept payment in exchange for a positive review. Many of the products that we review are provided to us for free by a manufacturer or retailer. In some cases, we also have advertising or affiliate relationships with manufacturers and retailers of products and services we review. For additional information please visit our additional disclosure policies.