JET Vortex Cone Dust Collection Technology
JET vortex cone dust collection technology separates particles from chips for higher efficiency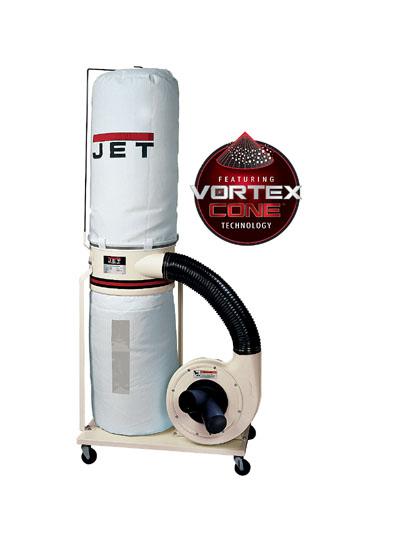 The new JET® Vortex™ Cone Dust Collection Systems are revolutionary single-stage machines that allow woodworkers to work longer, more efficiently and breathe easier, by capturing and removing wood chips and separating them from airborne dust.
Witness a tornado and you'll get a sense of the cyclonic action taking place in the lower chamber or separator tank of these units as they parcel wood chips from airborne dust and funnel the particulate into the collection bag. This aerodynamically designed chamber and 14 in. cone combination is what drives the JET Vortex Cone System, enabling these machines to outperform others in the marketplace. They eliminate performance fluctuations due to premature filter clogging.
JET's Vortex Cone technology increases efficiency by preventing 98 percent of wood chips from clinging to the canisters' pleated filter. Now, only fine particles rise to the filter chamber, thus making manual cleanups easier without dust buildup and fewer bag changes. This action reduces health concerns by minimizing dust intake.
Revolving handles off the upper rim of the canisters function as internal filter scrubbers and when rotated, knock off excess dust from the pleated filter.
"In a category that's been long overdue for innovation, the JET Vortex Cone technology systems represent a significant breakthrough, said Barry Schwaiger, product
manager for JET. "I can cite all the facts and statistics, but once you see these machines in operation, they sell themselves."
There are seven JET Vortex Cone models, including three, 2-micron canister machines, one 5-micron bag system and three 30-micron bag units. Each Vortex Cone system features either a 1, 1-1/2 or 2-hp continuous-duty motor. Amp ratings range from 6 to 11, depending on model. The pre-wired dust collection systems are single-phase, with the exception of two, three-phase models (DC-1200VX-BK3, DC-1200VX-CK3). Voltage is 115/230V, 230V only and 230/460V, depending on model. Dust collection capacity is 5.3 cu. ft., and feature 1100 or 1200 cfm air flow at 4 in.
In-house tests reveal the JET Vortex Cone canister models filter 98 percent of 2-micron particles and 86 percent of 1-micron particles. How large is a micron? One micron is 0.000039 of an inch. By comparison, a human hair is 40 to 120 microns, while a period in punctuation is roughly 397 microns.
The Vortex Cone Systems' motor features an 11-in., cast-iron impeller with fins to deliver 1100 or 1200 cfm capacity, depending on the model. These fins help keep the motor running cooler for longer life. The TEFC (totally enclosed fan-cooled) motor also features permanent lubricated bearings. Industrial quality pushbuttons on/off switches are standard equipment on all units.
The Jet Vortex Cone dust collection systems are mobile with each machine's platform supported by four, heavy-duty, swivel-casters for easy maneuvering.
Choosing a JET Vortex System begins with evaluating each stationary tool in the shop and its cfm requirements.
Note that table saws, miter saws, shapers and band saws are rated at 350 cfm. Jointers and disc sanders come in at 450, belt sanders 550, while planers are 785 cfm.
Other factors to consider when choosing a dust collection system: Will more than one machine be operated at the same time? Will other stationary tools be added to the shop in the future?
Optional accessories to the Jet Vortex Cone Dust Collection Systems include an optional on/off radio frequency remote control.
JET provides one of the industry's most comprehensive 5-year warranties. The company also is backed by 750 authorized service centers nationwide.
To see the entire dust collection lineup and to locate a dealer, visit vortexcone.com.
About the author
Disclosure
Product reviews on this site contain our opinion of a product or service. We will always strive for objectivity and transparency in our reviews. Our goal is to provide readers with honest, objective information based on our own experiences. We never have and never will accept payment in exchange for a positive review. Many of the products that we review are provided to us for free by a manufacturer or retailer. In some cases, we also have advertising or affiliate relationships with manufacturers and retailers of products and services we review. For additional information please visit our additional disclosure policies.