FESTOOL Dust Extractors
FESTOOL Cleantec HEPA Dust Extractors
Festool, the only company that manufactures a vacuum designed especially for their tools is looking to create the perfect tool to vacuum relationship. Some call it a workshop love affair, I call it genius! Below is some information I learned about FESTOOL Dust Extractors.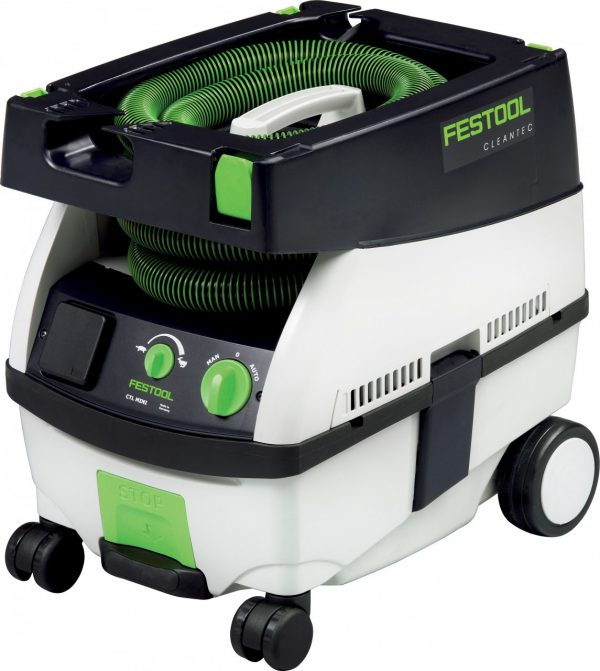 For US and Canada users Festool has four categories of Festool Dust Extractors. All of them are certified HEPA dust extractors:
Assembly work: Low dust volume                 Mini and Mini CT vacuums
Assembly work: Medium dust volume         26 and 36E vacuums
Workshop: Huge dust volume                       CT 48E
Construction: Huge dust volume                  CT 36E AC [not HEPA rated]
Festool dust extractors use HEPA 13 standard which is % 99.99 dust collection efficient.
Factoid: 
Did you know that Festool manufacturers 43 types of dust extractors in 6 container sizes, in 4 dust classes, for use with power tools and pneumatic tools.

FESTOOL Dust Extractors – Motor Life
Festool dust extractors have a motor life expectancy of up to 1,200 running hours. According to their engineer team, that equates to 15-20 years of use.
During the development stage, Festool placed special information collecting sensors inside their test vacuums and gave them to contractors to use for a year.   That research showed that most users operate their vacuums in short cycles. The longest recorded operation time was 6-hours, which was wall sanding.
The Festool vacuums have safeguards built in to prevent user error from destroying the machine.  For example, if the bag is overfilled or hose is obstructed, the lack of air flow can damage the tool. To prevent cause excessive pressure damage, a relief valve on the rear of the tool opens to allow air to pass through the machine and cool the motor.

New Cleantec D27DM – AS/CT Dust Port Connector
Festool improved the dust hose connection the tool port. The new connection is available now as an accessory and proved a better, more secure connection of the hose to tool.  The new hose port is compatible on older Festool tools and vacuums.  The new sleeve connector, part #487071, will prevent the hose from disconnecting as you move your tool.
Festool Dust Extractor Hoses 
Festool manufactures two types of hoses, green and gray hoses. Green are anti-static and are more expensive, gray hoses are less expensive but not anti-static.  The hoses can range from 11 to 328 feet. [Note – consult Festool if you need to run a super long hose – you will need to use special connections.]
One nice feature that I like is the Codura hose and power cord cover. [Shown below]
Self Clean Filter Feature
All  CT 36 FESTOOL Dust Extractorshave a self-cleaning filter feature. This feature reverses air and pulses it through the filter 6 times per minute. This continuous cleaning cycle ensures that the  filter does not clog and maintains its filtering integrity.
It's important to note that you want to protect your investment and ensure a clean environment you MUST use paper bags when using these vacuums. Using dust bags helps prevent dust from reaching your filter and motor  and will reduce possible maintenance cost.
Suction Dial Control
There are many Festool dust extractor owners who do not understand the purpose of the dust control dial.  Many, including myself simply turn it to max with the belief that more is better.  While this is fine with wood chip and large debris removal it will actually hurt your performance when sanding materials.
Small orbital sanders like the RTS  and ETS models will not "float" on the wall or wood surface and can actually cause swirl marks and excessive vibration.
Festool Ap
Festool has a phone AP that controls some of their sanders with NFC chip technology.   The NFC technology is currently in Festools ETS EC 150-/3+5 and 125 models. Unfortunately, this NFC APP is not supported in North America and not available.
Owners can also program their Festools sanders to lock off if the dust hose is not attached. The function to lock on or off is not APP dependent. It can be programmed by the user through the power switch. No APP needed.
Festool 584156 Ct Mini Hepa Dust Extractor
510.00

Blowing the Dust Off
I've been collecting dust at its source for year and am a huge believer in its benefits. In my experience, without dust collection, and dust containment barriers, a work crew can spend hours cleaning up a clients house or area. I personally own the CT Mini for sometime mostly as small cutting or sanding operation vacuum. For me, the attraction to the mini was its size and weight and I was able to transport that easily to locations where huge dust collection was not a concern.
By offering so many vacuums I believe Festool is making a conscious effort to place us in the best position to succeed.  Dust extraction is smart, professional, reduces clean up time and is simply healthier for you and your crew.
About the author
Disclosure
Product reviews on this site contain our opinion of a product or service. We will always strive for objectivity and transparency in our reviews. Our goal is to provide readers with honest, objective information based on our own experiences. We never have and never will accept payment in exchange for a positive review. Many of the products that we review are provided to us for free by a manufacturer or retailer. In some cases, we also have advertising or affiliate relationships with manufacturers and retailers of products and services we review. For additional information please visit our additional disclosure policies.