Festool Dust Extractor Review
Festool Dust Extractor CT SYS – 584174
Manufacturer:
Festool
Model number:
CT SYS 584174
Price:
375.00
Power source:
120V AC
Motor size:
8.3 amps
Weight:
15.2
Lately we've been writing so much about cutting the cord and going cordless, but not this time! In fact this tool has a 16.5′ long cord attached to it. Festool has recently introduced a compact, portable, HEPA certified dust extractor built into one of their systainer boxes and we think it's pretty sweet!
The Festool CT SYS was designed for remodelers and painters who need a portable dust/vacuum solution with the performance and features of the larger Festool models. We recently had a chance to use this on several jobs and it's performance really impressed us.
Festool CT SYS Features and Specifications
Full unit HEPA certification
Portable & compact
Tool triggered operation
High performance suction
Systainer Integration
Shoulder strap
Self contained hose & cord storage
Onboard nozzle tools
Includes:

Anti-Static Hose
(1) HEPA Filter
(1) Disposable Filter Bag
(1) Crevice nozzle
(1) Upholstery nozzle
CT SYS Extractor
Anti-Static Suction Hose – 1-1/16" x 9.8'
Size – 15 9/16" D x 11 5/8" W x 10 5/8" H
Disposable Filter Bag Capacity – 1.2/0.9 gal
Max Suction Capacity – 106 CFM (3,000 I/min)
Maximum Vacuum – 80" static water lift (20,000 Pa)
Sound Level – 67 DBA
Power Consumption – 1000 watts, 8.3 amps 120V AC
Power Cord Length – 16' 4" plus
Weight – 15.2 lbs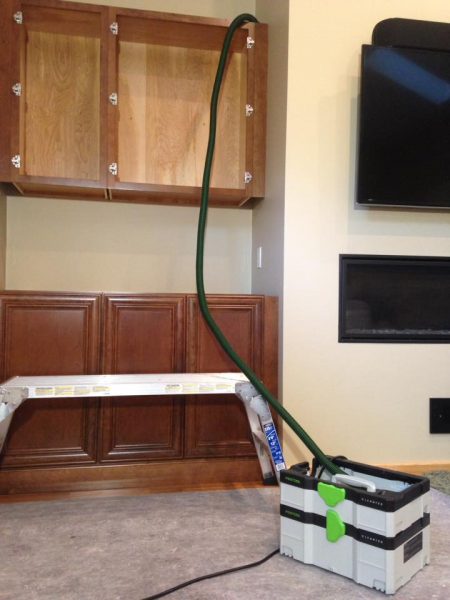 Festool CT SYS Performance
The CT SYS vacuum started off vacuuming up sawdust during a custom cabinet job and by mid day it was connected to my miter saw to make it dust free.  The vacuum is lightweight, compact, and easily portable.  The 9.5' long vacuum hose was beneficial for vacuuming the tops of the cabinets. It comes with two nozzles that worked well while cleaning out all of the nooks and crannies on the job site.  Both nozzles can be stored inside the vacuum and fit snugly into their own holders.
Each job that I brought the CT SYS dust extractor on made clean up easier than before. It is standard practice for my company to carry a vacuum on site and leave the clients' homes the way we found them .  This smaller and very efficient dust extractor made clean up not only easier but faster too.
In the past with my older and larger vacuums I would need to place the unit down because of its size and weight. Then I would stretch the hose as far as possible while sometimes dragging the hose up several stairs to vacuum the top landing or top step.  If the hose didn't reach, then this bulky vacuum would need to be carried up the stairs that were just vacuumed!  With the CT SYS shoulder strap, long anti-static hose, and generous power cord, vacuuming stairs or anywhere in the client's home can be done in half the time.

Tool Trigger Operation
One of my favorite features of the vacuum is the tool trigger operation.  This is an auto on feature that allows you to plug in your power tool right into the CT SYS dust extractor.  You simply plug your power tool into the extractor and connect the vacuum hose into the dust port.  When you depress the power tool trigger, the vacuum will turn on by itself when it's in auto mode or you can use the manual on/off switch.  This feature worked great when I had minimal cuts to do so that I could just cut inside the house. It's very convenient and more efficient not having to be outside in the rain, snow or cold weather.  Now I can grab my power tool in one hand and in the other hand grab the CT SYS dust extractor.
I've been able to leave the midsize or bulkier vacuums at home because of the features and suction power this extractor provides.  And with its 16.5′ long power cord the need for an extension cord has been eliminated.
Systainer Love
I love how this dust extractor can be integrated to stack with the Festool Systainer.  I have the CT SYS stacked with my cleaning products so it's just one trip into the job site at the end of the day to tidy up.  To make this even better, I have my systainers connected to the Festool SysRoll Systainers and Storage Dolly.  Now everything can just roll onto the job site.  It's organized and has a clean professional look. And fewer trips to the truck will increase your working time on site.  Festool is a complete system from the systainers, to their power tools, and their accessories.  The CT SYS dust extractor is a great addition to your Festool system or perfect as a standalone vacuum.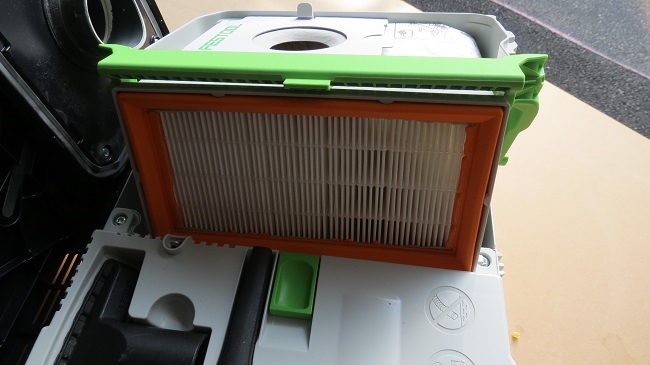 The Dust Bag
The filter bag lasted longer than expected.  It is only 0.9 gal and has been on multiple sites handling many different materials from vacuuming drywall dust to saw dust with no issues. The suction power is impressive from this compact vacuum and it was able to extract chunks of drywall and even sucked up a 3 1/8″ multipurpose screw.  The bag can be replaced very quickly and easily.  The HEPA filter is also easily replaceable.  It is held in by one green button so when it's time to inspect the filter it's easily accessible.
Suggested Improvements
One improvement that was found during the review was the time it takes to properly coil and stow the power cord and the vacuum hose.  Both are meant to be stored in the top caddy. If the caddy was even 2″ taller then the hose could wrap around the outer walls and you could place the power cord in the middle around the carry handle. Other than that, this dust extractor is a well throughout tool with great features.
Final Thoughts – Festool CT SYS
Overall we were very impressed by the Festool CT SYS dust extractor.  The power, portability, compact size, HEPA and tool trigger operation are just some of the features that made this dust extractor spot on.  Being able to catch the dust at its source offering a virtually dust free project is priceless.  You can cut material and work inside a client's house increasing efficiency by reducing walking back outside.  This extractor works great for all kinds of tasks from punch list work, daily job site cleanup or simply just chores around the house.
Festool Dust Extractor
375.00
About the author
Disclosure
Product reviews on this site contain our opinion of a product or service. We will always strive for objectivity and transparency in our reviews. Our goal is to provide readers with honest, objective information based on our own experiences. We never have and never will accept payment in exchange for a positive review. Many of the products that we review are provided to us for free by a manufacturer or retailer. In some cases, we also have advertising or affiliate relationships with manufacturers and retailers of products and services we review. For additional information please visit our additional disclosure policies.