Skilsaw Worm Drive Table Saw Review
Skilsaw Worm Drive Table Saw
Way back in February of 2016 a couple boxes showed up at my doorstep with the black diamond Skilsaw logo. It was a worm drive table saw. Skilsaw had recently gone through a rebranding to help distinguish itself as a pro brand with less confusion over the DIY focused Skil brand. Along with the rebrand came a number of new products, one of them being a jobsite  table saw. At the time Skilsaw was owned by Bosch and instead of just taking a blue saw and painting it black and gray, they grabbed what looks to be some parts of the Bosch GTS1031 saw but the motor and gearing is all Skilsaw. They slapped the motor and gearing from the Sawsquatch 10-1/4″ monster circular saw into this table saw. I was practically salivating at the thought of all that power and it was on my doorstep.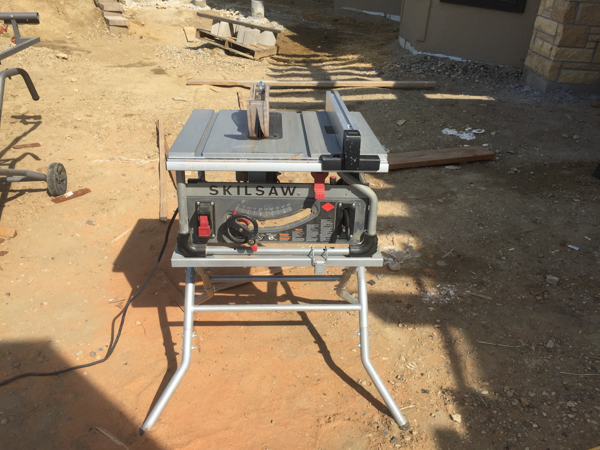 Using the Worm Drive Table Saw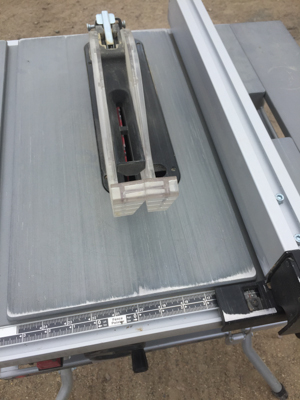 At the time it arrived we were 6 months into a build on a huge $1+ million dollar custom home. Framing was about half done but framing on the whole was pretty minimal since it is an ICF house, everything was concrete including the floors (both of them). The worm drive table saw showed up and it only got light use for a few weeks until we got everything weathered in and started on the exterior trim. All of the exterior window and door trim, bands, and frieze board was a product called Boral TruExterior Trim. It's similar to cement board in that it's low maintenance but it machines like wood and is much more flexible the cement board. All of the frieze board had to be ripped down a half inch to get the right reveal after the soffit went on. We put hundreds of feet of this trim through the saw. The window and door heads were also ripped down to match the same reveal. We ripped so much of this material that we started wearing through the powder coating on the table top within the first week. The saw just rips, and rips, and rips.
Later on in the build we were building a large deck (28′ wide). Due to the constraints between the engineered beam and the door heights, all of the 2×10 joist material had to be ripped down to 9″. We were taking 16′ brown-treated 2x10s and pushing them through the saw at a decent clip. We tried to bog the saw down but no luck. The power of this saw is on a whole other level than typical jobsite table saws. You guys know what a bear it can be to rip wet, treated lumber, this thing is always in beast mode and gobbled right through it.
Features and Specifications
The first ever brass-geared Worm Drive table saw makes this the ultimate ripping machine
Solid construction coupled with best in class Dual-Field™ motor keeps it cutting for a lifetime
25 In. rip capacity and 3-1/2 In. depth of cut for demanding jobs and increased productivity
Portable and compact
Max Cutting Depth @ 90 deg: 3-1/2″; @ 45 deg: 2-1/4″
Includes 30 tooth carbide Diablo blade
Weight: 47.9 lbs
Accommodates up to 1/2″ stacked dado blade set
13.4″ tall
What I Love
The first thing anyone notices about the saw is the motor. The motor on the worm drive table saw is a beast. Like I said above, it's the same one out of Skilsaw's 10-1/4″ worm drive circular saw. I have been continually amazed at what this thing can cut without bogging down. 16′ brown treated 2×10 were easily ripped. 1×6 cherry resawn in 2 passes without flinching. That's 2-3/4″ in solid hardwood in a dado pass (blade buried). Try that on another jobsite table saw, I dare you.
As an added benefit of the motor and worm drive combination depth of cut on this saw is 3-1/2″. No other jobsite table saw can do that. In fact almost all 10″ table saws, whether they are a jobsite saw or up to a stationary cabinet saw, can only cut about 3-1/8″ deep. A 4×4 in a single pass is really amazing.
Other things I love is that there is onboard storage for everything. The fence, 3-1 guard components, miter gauge, wrench, and push stick all store on the saw in a secure place. The push stick storage is a particular nice addition. It stores conveniently on the front of the saw and is easily drawn from its holster right when you need it.
Finally, the saw is available in two configurations, a stock blade or a diablo blade. We opted for the diablo equipped unit of course. It's nice that you can get a saw without a throwaway blade. Right out of the box it's ready for serious ripping. When it finally comes time to replace the blade, there is an ingenious arbor lock so that only one wrench is needed for blade changes. Nice work, engineer guy.
What Could be Improved
I like this saw a lot. I don't quite love it though. There's just one thing that keeps it from being a brilliant saw and that's the fence. I know a lot of other reviewers were pleasantly surprised with the fence but I couldn't adjust it to the point where it slid smoothly and still locked down tightly. It was an either or but not both, at least on the saw I have. Maybe it's a fluke because a lot of other reviewers liked it. Other than that the worm drive table saw is amazing.
Where to Buy
The Skilsaw Worm Drive Table Saw is available from a number of different outlets. The Home Depot, Acme Tools, CPO, or Tyler Tool all carry the tool online. The last 3 are all running a promotion currently to get the stand for free when you buy the saw. You get the 10″ worm drive table saw with a 3.5″ depth of cut, diablo blade, and a stand for $375. It's a smokin' deal.
Skilsaw 10" Portable Worm Drive Table Saw
$379
About the author
Disclosure
Product reviews on this site contain our opinion of a product or service. We will always strive for objectivity and transparency in our reviews. Our goal is to provide readers with honest, objective information based on our own experiences. We never have and never will accept payment in exchange for a positive review. Many of the products that we review are provided to us for free by a manufacturer or retailer. In some cases, we also have advertising or affiliate relationships with manufacturers and retailers of products and services we review. For additional information please visit our additional disclosure policies.