DEWALT DWE7490X Table Saw Review
DEWALT 10″ Job Site Table saw with Scissor Stand | DWE7490X
DEWALT DWE7490X Table Saw
Manufacturer:
DEWALT
Model number:
DWE7490X
Price:
$499
Power source:
120V
Motor size:
15 Amp
Weight:
58 lbs
DEWALT recently launched a new line of portable job site table saws including a 10″ version with a scissor stand. The
DEWALT DWE7490X
is a step up from the
DWE7480
in cut capacity, a few more features, and it comes with a steel scissor stand.
DWE7490X Features and Specifications
Rack and pinion telescoping fence rails make fence adjustments fast, smooth, and accurate
Patented material support, can be used for narrow rip cuts.
28-1/2″ of rip capacity easily cuts a variety of larger shelving and trim material
On board Storage provides easy access to the Blade Guard Assembly, fence, riving knife, push stick, miter gage, wrenches, and cord wrap when not in use.
Compact folding stand
Blade Guard Assembly allows for tool free adjustments of the guard for different application
Flip over fence, allows for narrow rip cuts.
Telescoping fence rails retract to create a small, portable package.
Features a 15.0 AMP high-torque motor with the power to cut pressure-treated lumber and hardwoods
2-1/2″ Dust Collection Port easily connects to a vacuum for efficient dust extraction
3-1/8″ depth of cut at 90 and 2-1/4″ at 45
21-7/8″ x 26 – 3/8″ table provides superior material support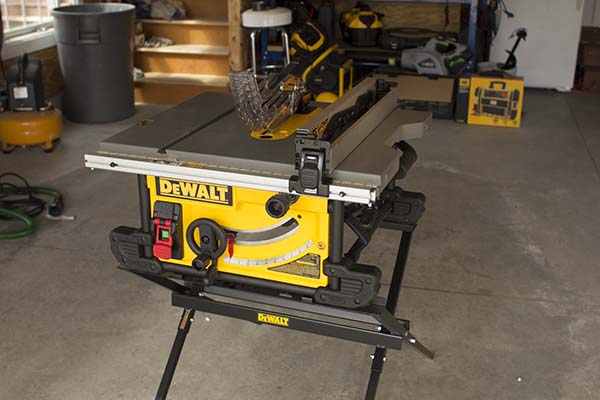 Power, Performance & Features
The DEWALT DWE7490X is a powerful job site table saw packed with useful features. This saw performs very well in both framing and finish work applications. The powerful 15 amp motor easily rips sheet stock, framing lumber and hardwood trim. I've tested this saw cutting several different types of materials including: 3/4″ cabinet grade plywood, 2x framing lumber (KD and pressure treated), Pine and Maple 1x trim stock.
Power – The new DEWALT 10″ job site table saws feature a powerful 15 amp motor with an increased speed (over the previous models) of 4,800 RPM. The higher blade speed seems to have improved ripping quality slightly. Overall this saw has plenty of power for all the applications I tested.
Performance – The DWE7490X performs very well. The rack and pinion fence rails are the key to this saws accuracy and overall performance. The fence is easy to adjust and stays parallel to the blade. The unique fence design rides on rails at both the front and back of the saw, eliminating the possibility of fence drift. This saw also comes with a miter gauge for cross-cutting. The gauge isn't all that great but it gets the job done.
Features – The DWE7490X is packed with features that are often seen on more expensive shop table saws.

On/Off Switch – This saw features a very nice on/off switch with a safety lever/cover. The safety cover has to be lifted up prior to turning on the saw. To shut off the saw it has a bump pad making it easy to shut off.
Flip Over Fence – This is a very cool feature as it provides two useful benefits. When ripping narrow pieces, the flip over fence allows the user to make the cut without interfering with the blade guard. Without this feature the guard would have to be removed. When ripping wide boards, the flip over fence can be locked into a lower position to support the work piece.
Accessory Storage – DEWALT clearly made an effort to make it easy and convenient to store the accessories including the blade guard. One of my pet peeves on the job site is asking the crew where they put the guard. Typically it gets removed for some cross cutting or dado's and then never makes it back on the saw. Having a dedicated storage location for the guard makes that much less likely to happen. There's a place to store the wrench, guard, riving knife, miter gauge, and the anti-kickback knives.

DWE7490X Cutting Capacity

The DEWALT DWE7490X can rip up to 28-1/2″ wide which is only 2nd to DEWALT's other new saw, the DWE7491RS. The increased ripping capacity of this saw and the 32-1/2″ capacity of the DWE7491RS are sure put pressure on other manufacturers to also increase capacity. Ultimately this capacity will be limited by saw stability, which in this case isn't an issue when the saw is supported by the scissor stand.
Dust Collection
The DWE7490X has two dust ports for dust collection. At the rear of the saw is a 2-1/2″ dust port that connects to the area just below the blade (typical location on a table saw). Attached to a job site vacuum it's very effective and collects about 80% of the dust depending on the material you're cutting.
The saw also has a smaller 1-1/4″ dust port on the top of the blade guard to allow any dust above the table top to be collected. At first I was very excited about this idea but soon discovered it seems more of a hassle than a cool new feature. The first problem I had was trying to outfit some sort of "Y" and hose to tee off my main dust port and attach to the upper one (2-1/2″ to 1-1/4″ "Y's" are not that common). Then, if the smaller hose on top doesn't fall to the side, it interferes with the wood you're trying to cut. After talking to the product manager it sounds like this detail evolved in Europe and found it's way here. I've basically abandoned the upper port and just use the lower one. Cool idea, but it needs some serious redesign and/or an accessory to help make it easier to hook up.
DWE7490X Scissor Stand
The DWE7490X comes with a steel scissor stand. The stand is my only gripe with this saw. In theory having a scissor stand can be a great option in situations where storage space is an issue. The scissor stand can fold up and be stored with the saw in smaller space than the larger DWE7491RS with roller stand.
However, this particular scissor stand has two issues in my opinion:
In order to properly attach the saw to the stand you need to install two carriage bolts through the stand into the frame of the saw. This is not only time consuming but cumbersome trying to feel under the saw and align the holes. This would be MUCH better if it had some sort of tool free clamp.
The stability of this stand isn't as robust as I'd like to see. The legs seem to be a bit flexible and I felt myself "doubting" the stability when handling larger sheet goods. Don't miss-interpret this, I didn't have any issues, but I also wasn't 100% comfortable which isn't a good feeling when using a table saw.
Overall Impression | DEWALT DWE7490X
The DEWALT DWE7490X 10″ Job Site Table Saw is an excellent saw with very good power, quality fit and finish, and lots of great features. The rack and pinion fence system on DEWALT table saws is second to none (although I wish the connection clamps were not completely plastic).
The only reason I don't give this saw a slightly higher rating is due to it's big brother the DWE7491RS which offers a better stand and larger rip capacity. This is an excellent saw and one that should be high on your list if you're considering a new job site saw. Priced at $500 it's a great value.
DEWALT DWE7490X Table Saw
$499
About the author
Disclosure
Product reviews on this site contain our opinion of a product or service. We will always strive for objectivity and transparency in our reviews. Our goal is to provide readers with honest, objective information based on our own experiences. We never have and never will accept payment in exchange for a positive review. Many of the products that we review are provided to us for free by a manufacturer or retailer. In some cases, we also have advertising or affiliate relationships with manufacturers and retailers of products and services we review. For additional information please visit our additional disclosure policies.