BOSCH REAXX Jobsite Table Saw with Flesh-Detecting Technology
Bosch GTS1041A REAXX Portable Jobsite Table Saw
I have no doubt this will be one of the biggest stories in power tools for 2015! This is so damn exciting and I had the pleasure of seeing a live demonstration earlier this year at a private media event with Bosch. My reaction was WOW! Using a German Bratwurst as a demonstration the user tried to cut the Brat in half and the saw shut down so fast there wasn't even a scratch on it! This new saw is sure to put up some serious competition against the SawStop portable table saw that was announced earlier this year as well.
Below are all the details from the official press release. We'll no doubt get one to test on the jobsite, in the meantime we'll keep you posted of developments in this exciting announcement.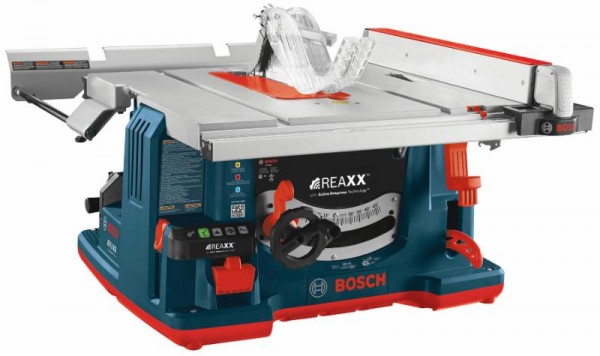 Bosch GTS1041A Video Preview
I saw this saw in person and it's very impressive. Check out this quick preview video.

Bosch GTS1041A Press Release
Mt. Prospect, Ill., March 18, 2015 – Safety comes first on any construction jobsite, especially regarding a table saw where a momentary lack of focus could have permanent consequences. Bosch, the construction industry's technology leader, extends a heritage of award-winning table saw design to enhance workplace safety with the introduction of the REAXX™ Portable Jobsite Table Saw – the first saw with the company's proprietary flesh-detecting Active Response Technology™.
The Bosch Active Response Technology platform, first launched on Bosch Brute Tough™ hammer drill/drivers, helps reduce the risk of injury to users by combining advanced Bosch sensors and electronics with mechanical injury-prevention systems. The Active Response Technology system on the REAXX table saw rapidly detects human flesh that comes in contact with the blade and drops the saw blade below the tabletop. This high-speed action helps reduce the potential of serious user injury and occurs without damaging the blade.

Fast Reset That's Quick and Easy
After activation, the system can be reset in less than 60 seconds. A single two-shot cartridge enables activation for two incidents before replacement is needed. Just rotate the activation cartridge and reset the drop mechanism and the REAXX table saw is ready to go. All necessary parts, instructions and wrenches are located onboard the saw, including storage for extra activation cartridges.
"We've engineered the Bosch REAXX Portable Jobsite Table Saw to offer users the best injury mitigation system available in the power tool industry," said Craig Wilson, product manager, Robert Bosch Tool Corporation. "But even with the safety enhancements incorporated, the award-winning attributes of the Bosch 4100 table saw series remain. There's a heritage in jobsite table saws that Bosch has spent decades building and users will find that this saw maintains that high standard."
The complexity of the Bosch REAXX on-board control system is translated to an intuitive, easy-to-understand LED light panel that communicates and manages saw operation and indicates saw status.
Green means the saw is ready for use

Yellow means the system is set in bypass mode by the operator; this mode is used for cutting

conductive materials that can potentially activate the Active Response Technology system. In

addition, there's no override key to lose or misplace, yet still offers various lock-out options to

prevent unauthorized bypass mode operation

Red means the saw is not ready and will not function until the user corrects an issue

Blue means the saw requires service
A near field communicaton (NFC)-enabled phone app offers Bosch REAXX Portable Jobsite Table Saw owners and operators another measure for ease of use. Through the phone app, the saw can communicate information from the onboard control system – such as number of system activations, servicing needs, access to instructions, how-to videos and other details. Also, the saw owner can use the app to manage who can use the bypass and main switches. This capability enables owners and managers to lock the saw as needed, which ensures that jobsite workers cannot bypass the safety system.
Legendary Bosch Table Saw Capability
Like all Bosch portable table saws, the Bosch REAXX saw includes a modular blade guard, the Smart Guard System. This primary safety device provides a physical barrier between the user and the saw blade, as well as offering protection against kick-back. Active Response Technology is integral to the REAXX portable jobsite table saw and is intended to be used together with the Smart Guard System to provide the operator with the greatest level of protection.
Bosch REAXX has a 15 Amp, 4.0 Hp max motor that generates 3650 RPM. It's jobsite ready because it works with onsite generators for a truly portable solution for mobile trade professionals. Varied material cutting requires optimized, maximum horsepower and excellent cutting speed. The Bosch REAXX Portable Jobsite Table Saw offers these attributes along with electronic control soft-start, constant response electronics and overload protection. These advanced motor electronics reduce the intensity of torque buildup and maintain cutting speed under load.
Additional precision features include an optimized rail system that boasts a pre-squaring SquareLock™ Rip Fence, which is engineered for precision. Prior to locking, the fence glides along the rail and locks into place for solid and consistent cutting performance. The table is sturdy cast aluminum sized to rip up to 25" on full-sheet materials (4 ft. x 8 ft.); an on-board rear outfeed support provides an extra 18" of support for longer workpieces. A rugged sub-base is built to withstand daily abuse related to transport, storage or jobsite conditions.
Easy Transport on Any Jobsite
This full-featured jobsite table saw can be easily transported to and from the job thanks to the Bosch Gravity-Rise Stand™, which sets up in seconds. The stand includes 8″ treaded wheels and is sized for easy pickup truck loading or unloading.
The Bosch REAXX Jobsite Table Saw will be available fall 2015. To learn more about this table saw or other Bosch products, visit www.boschtools.com or call 877-BOSCH-99. Check out www.bethepro.com for additional tips and videos.
Bosch Portable Jobsite Table Saw Fact Box
Product

Power

RPM

Capacity

Blade Size

Weight

Cut Depth

Arbor

MSRP Price

GTS1041A-09 REAXX Jobsite Table Saw with Gravity Rise Stand and Outfeed

15 amp, 4.0 Hp motor

 

 

3,650

25″ ripping capacity

 

10″

 

Saw 78 lbs., stand 45 lbs.

 

3-1/8″ at 90°

5/8″

US: $1,499

CAN: $1,699
About the author
Disclosure
Product reviews on this site contain our opinion of a product or service. We will always strive for objectivity and transparency in our reviews. Our goal is to provide readers with honest, objective information based on our own experiences. We never have and never will accept payment in exchange for a positive review. Many of the products that we review are provided to us for free by a manufacturer or retailer. In some cases, we also have advertising or affiliate relationships with manufacturers and retailers of products and services we review. For additional information please visit our additional disclosure policies.