Rockwell BladeRunner Review (Model RK7320)
Rockwell BladeRunner Model RK7320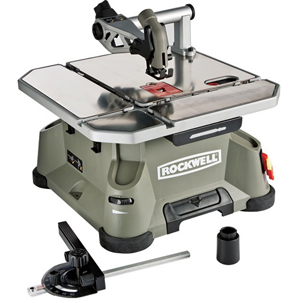 There's been quite a bit of "Buzz" lately over a new tool from Rockwell, the Rockwell BladeRunner. I've been testing the BladeRunner for a few weeks now and wanted to share my thoughts on this cool new tool.
The BladeRunner is an interesting tool that combines features of a table saw, scroll saw and jig saw into a tool that can cross cut, rip and scroll through varying materials like wood, plastic and metal.
If you were to tip your jig saw upside down and mount it in your router table you'd have a tool that is quite similar to this new offering.
Specifications
Voltage: 120V ~ 60Hz
Amperage: 5.5A
No-load speed: 800-2800/ min
Stroke Length: 7z8″
Table Size: 17″ x 15 3/4″
Weight: 17.6 lbs
Cutting Capacity: Wood: 1-1/2″, PVC Pipe 1-1/4″, Aluminum 3/8″, Steel 1/8″, Ceramic 3/8″
Features
Ready – Quick release wall mount. It's always ready to cut or you can take it to the job site
Cut – Change the blade not the tool. Scroll cuts, rip cuts, circle cuts. Cut metal, wood, tile and more.
Go – Attaches to any shop vac for less cleanup and hassle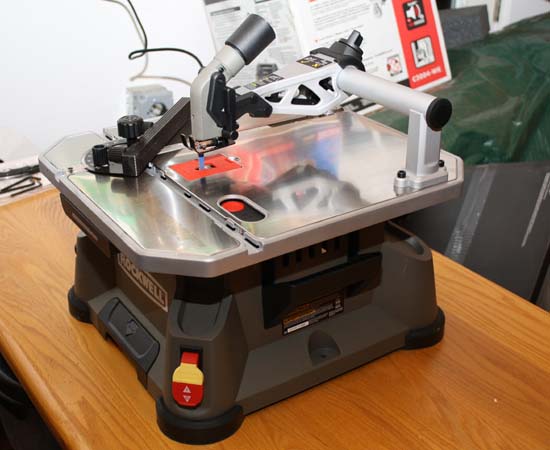 BladeRunner at a Glance
The Rockwell BladeRunner is a sturdy, well built benchtop tool. As you can see in the photos it has a sturdy base supported on rubber feet. The base supports a brushed metal top that offers a nice smooth working surface. The table measures 17″ x 15 3/4″ with two T Slots to guide the miter gauge.
The BladeRunner is completely portable and built to support it's mobility. There is a storage drawer for all your blades, a clamp to hold the miter gauge on the side of the base, a cord storage area and lastly a comfortable handle for carrying it.
The BladeRunner motor is mounted to the bottom of the table inside the base. The over the top blade guard easily adjusts for varying thickness materials. The blade guard also includes a port for connecting a shop vac for dust control.
Cutting / Blade System
The BladeRunner really shines with it's innovative use of jig saw blades. It uses the ever popular T Shank jig saw blades which can be purchased at almost any hardware store. By allowing a standard blade system to be used Rockwell has created a tool that doesn't require special order blades. This is a HUGE benefit in my opinion and one that every user will truly appreciate.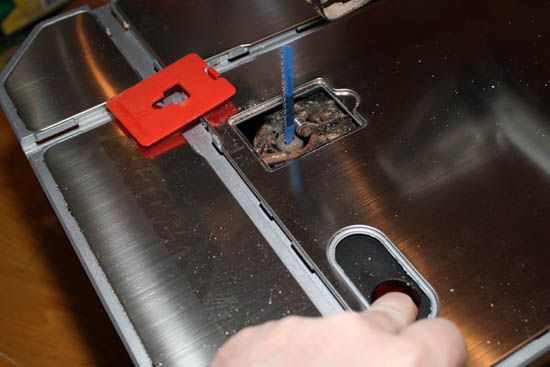 Installation and removal of blades is very easy. In the photo above you'll see that the upper blade guard has been moved out of the way, the lower table/blade guard has been removed and my hand is sliding the blade release to the right. Now the blade can be removed or installed. Then the process is reversed. It really takes just a few seconds to replace a blade and no tools are required.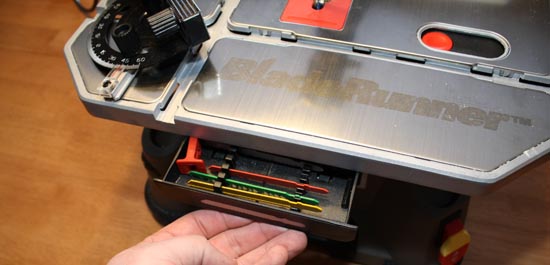 There is a nice blade storage drawer located just below the table top. The blades snap into small holder "fingers" which keeps them from rattling around. The drawer seems a bit flimsy and could benefit from some type of latch to keep the drawer securely closed.
Variable Speed Motor
The Rockwell BladeRunner is powered by a 5.5 Amp motor which produces a variable blade speed between 800 and 2,800 strokes per minute. The blade speed is controlled by a dial switch on the lower based.
I found the motor to have plenty of power and it operates at a fairly tolerable noise level. The variable speed feature is an extremely important feature for this tool so that you can cut different materials effectively.
Miter Gauge – Rip Fence
The BladeRunner has a pretty decent miter gauge that doubles as a rip fence. I really like that the miter gauge is mostly metal (compared to many other benchtop tools today that are 100% plastic). The miter gauge is easy to adjust and also includes an adjustable fence. The miter gauge can also be used as a rip fence when the saw is set up to rip materials.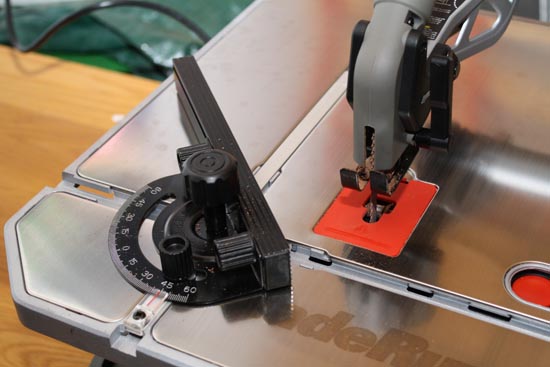 Overall Impression
The Rockwell BladeRunner is a very cool tool! This tool is certainly not a replacement for a nice table saw, jig saw or even scroll saw. However, it will do a fine job on smaller projects that require those type of tools.
The BladeRunner cuts very well. It cuts a plumb, square cut and the miter gauge works very well. I tested the BladeRunner cutting several different material types. I used it to cross cut, cut miters, rip and lastly for some scroll cutting. The BladeRunner really did well cutting curved shapes. I like that it has a stiffer jig saw blade compared to some of the scroll saws that I've used in the past.
Overall I think the BladeRunner is a great tool. If you have a small shop and want to be able to do projects that require a scroll saw then I'd highly recommend checking this tool out. You'll benefit from the other capabilities that it offers.
Priced under $200 the BladeRunner is a good value. The BladeRunner is available at a number of hardware stores and online. If you'd like to purchase it then I recommend you check out the following link:
About the author
Disclosure
Product reviews on this site contain our opinion of a product or service. We will always strive for objectivity and transparency in our reviews. Our goal is to provide readers with honest, objective information based on our own experiences. We never have and never will accept payment in exchange for a positive review. Many of the products that we review are provided to us for free by a manufacturer or retailer. In some cases, we also have advertising or affiliate relationships with manufacturers and retailers of products and services we review. For additional information please visit our additional disclosure policies.