RIDGID TwinBlade Saw Review – Model R3250
RIDGID TwinBlade Saw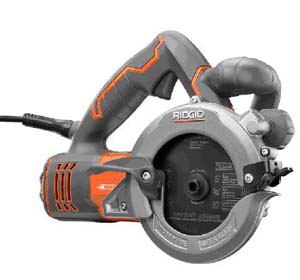 The folks at Ridgid recently sent me a unique new "dual blade" circular saw to test. The Ridgid TwinBlade Saw (Model R3250) offers the ability to cut through different materials with it's unique design.
The TwinBlade Saw rips through brass, plastic, galvanized iron, wood, PVC, copper, stainless steel, aluminum and steel without changing the blades. The counter rotating blades reduce kickback and provide maximum versatility to cut forward and backward and make effortless plunge cuts in most materials. With its unmatched Fuego design the TwinBlade Saw offers the best ergonomics for user comfort and is compact enough to get in the most confined areas to make precise cuts.
Features
TwinBlade Cutting Technology – Counter-rotating blade design to reduce kickback and provide maximum versatility
Cuts variety of materials with same blades
Ability to cut forward and backward for maximum versatility
10 AMP Motor – for tough job site applications
Hex Grip – Innovative micro texture for secure grip and maximum user comfort
Compact Design – easily maneuvers to different cutting orientations
Side Handle – increased comfort for cutting in different orientations
Spindle Lock – for easy blade changes
Die Cast Upper/Lower Guards – increased durability
Wax Dial – feeds wax to blades when cutting copper, aluminum and brass
Specifications
Motor: 120 V AC, 10 Amp
No Load Speeds: 5,500 RPM
Blade Diameter: 5 in.
Inner Blade Arbor: 1-1/10"
Outer Blade Arbor: ¾"
Cut Depth: 1-1/32"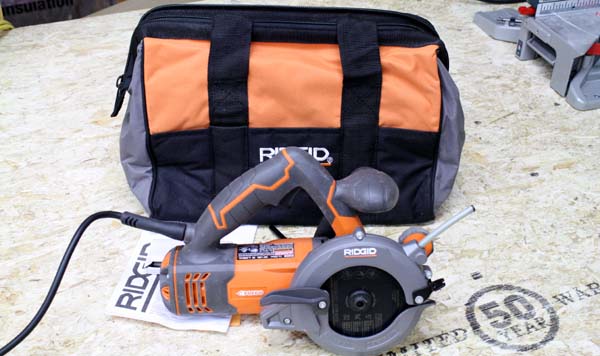 My Thoughts On The TwinBlade Saw
So when I first got my hands on the TwinBlade Saw I was really at a loss as how to use the saw. When you stop and start looking over the saw you quickly realize it's not your typical "circular saw". When I noticed there was no "shoe" on the saw I started to have a panic attack! Seriously how on earth do you use a saw without a shoe?
All kidding aside it definitely took me some time to get used to this saw. However…..I was pleasantly surprised at how versatile it is to use and how well it cuts. The key to the saw is it's counter-rotating twin blades. The small (5″ diam.) blades have carbide tips and rotate opposite each other which helps do several things. First and foremost it helps reduce kickback which is extremely important especially when cutting metal products. Secondly the counter-rotation helps balance the torque which ultimately helps balance the saw.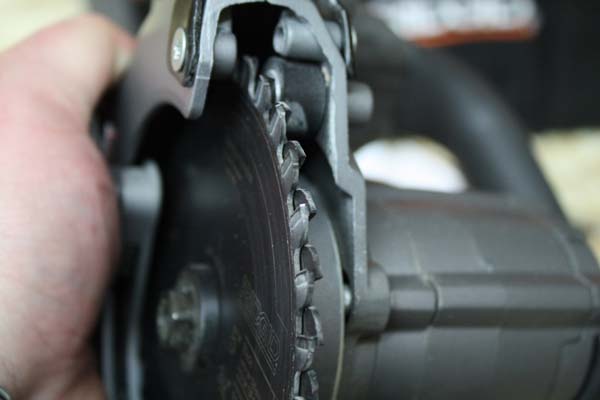 I tested the TwinBlade Saw cutting a variety of materials including: plywood, pine trim, Alucobond (a composite aluminum/plastic siding material), aluminum angle, PVC pipe and copper pipe. All of those materials were easy to cut and produced really nice smooth surfaces.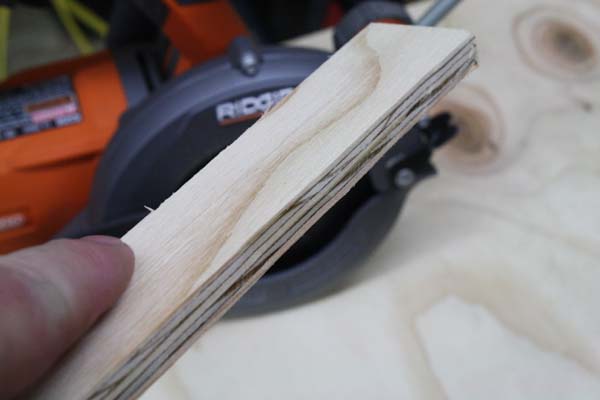 As you can see in the photo above the cut edges are extremely smooth. If I had cut that same piece of plywood with a circular saw you'd see all kinds of splinters and tear-out on the opposite side.
Cutting without a shoe seems strange at first but I quickly got used to the design. On the front of the saw is a small "foot" or "shoe" that you can use to guide your cuts. After practicing for a bit I was able to cut along a straight line just as easily as I could with a circular saw.
The saw had plenty of power cutting all of the materials I noted above. The product specifications also say it will cut galvanized steel (I'm assuming electrical conduit and other similar thin walled pipe) and I have no reason to doubt that based on how the saw performed in my tests.
Overall Impression
The Ridgid TwinBlade Saw is very unique and extremely versatile. This is a great saw for all kinds of tradesmen that want flexibility. For example, an electrician could use this saw for cutting steel conduit one minute, a whole in a wood wall another or PVC conduit. With the TwinBlade he can do it all with one tool instead of having multiple saws. Priced at $149.00, the
5 in. Twin Blade Saw R3250
is a great value. You can buy the saw at The Home Depot.
About the author
Disclosure
Product reviews on this site contain our opinion of a product or service. We will always strive for objectivity and transparency in our reviews. Our goal is to provide readers with honest, objective information based on our own experiences. We never have and never will accept payment in exchange for a positive review. Many of the products that we review are provided to us for free by a manufacturer or retailer. In some cases, we also have advertising or affiliate relationships with manufacturers and retailers of products and services we review. For additional information please visit our additional disclosure policies.