Ridgid R3030 One Handed Reciprocating Saw Review
Ridgid One Handed Reciprocating Saw
Reciprocating saws are one of the most fundamental saws that any builder, home owner or tradesman can have in their arsenal. With such an important place in our arsenal of tools you'd think tool companies would find a multitude of designs to cover every aspect of construction. Well Ridgid has taken the lead with an impressive light-weight, one handed reciprocating saw in their new Model R3030.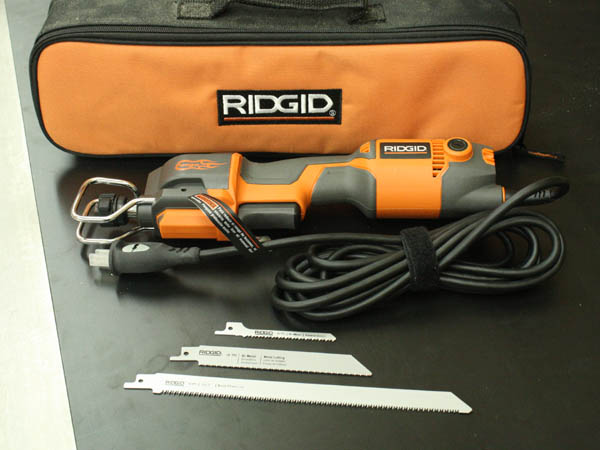 Features and Specifications
Out of the box the R3030 includes a nice compact cloth carrying case and three blades including: short narrow coping blade, a medium sized bi-metal blade and a longer wood/plastic blade. Some of the key features and specifications are listed below:
Tool-Free Blade Changes – makes changing blades faster and easier
One-Handed Ergonomic Grip – maximum comfort for extended use
LED Light – for illuminating dark work spaces
Variable Speed Two-Finger Trigger – for maximum speed control
Compact Size – for use in confined areas
Motor: 120 V AC, 4 Amp
Strokes Per Minute: 0–3500 (No Load Speed)
Stroke Length: 1/2 in.
Weight: 4 Lbs.
Video Review
Performance and Functionality
The Ridgid R3030 is surprisingly versatile, powerful and accurate. Most all recip saws are manly…beastly tools that require two hands. This all new One Handed Recip Saw is quite the opposite. Not only is it much lighter than traditional saws but it's also much smoother and very well balanced in one hand. I found it extremely useful and far more accurate when using it in several ways including:
Cutting holes in drywall – you can use it to accurately cut holes in drywall for electrical outlets or round penetrations for duct work.
Cutting holes in duct work – I showed the R3030 to a HVAC contractor and I thought there would be a brawl. It's perfect for cutting holes in duct work for finished grilles and decorative items.
Cutting small pipe and conduit – the small size and compact design makes it perfect for plumber and electricians that want to lighten the load in their tool box. You can quickly and accurately cut PVC, Copper and Steel Conduit with the R3030.
Final Thoughts
Once again the folks at Ridgid have built a tool that doesn't look like much until you hook up some power and start making sawdust! This thing is awesome and won't leave my tool kit for anyone! The motor is extremely smooth allowing for accurate cuts. The heavy-duty, long power cord with Velcro straps is extremely useful when it comes to corded tools. To top it all off it's an extremely well balanced tool that can really be used one handed. This tool is perfect for homeowners, contractors and even demolition guys.
Where To Buy
If you'd like to buy the Ridgid R3030 One Handed Reciprocating Saw it's available at your local Home Depot and online at the following link:
About the author
Disclosure
Product reviews on this site contain our opinion of a product or service. We will always strive for objectivity and transparency in our reviews. Our goal is to provide readers with honest, objective information based on our own experiences. We never have and never will accept payment in exchange for a positive review. Many of the products that we review are provided to us for free by a manufacturer or retailer. In some cases, we also have advertising or affiliate relationships with manufacturers and retailers of products and services we review. For additional information please visit our additional disclosure policies.