Bostitch 8.5 Amp Orbital Reciprocating Saw Kit Review
Bostitch 8.5 Amp Orbital Reciprocating Saw Kit [BTE360K] Review
Manufacturer:
Bostitch
Model number:
BTE360K
Price:
$89.99
Power source:
Corded
Motor size:
8.5 Amps
Weight:
7.4 lbs
Reciprocating Saws may not be precise tools, but they are often precisely what you need to get the job done in almost any trade on almost any job-site. There are few rough cutting applications that the Reciprocating Saw CAN'T handle, so having a reliable, portable, and durable reciprocating saw is key to a productive job-site.
Here at ToolBoxBuzz we love the Bostitch 8.5 Amp Ortbital Reciprocating Saw Kit because of its simplicity, size, and price. So let's get into the specifics of the Bostitch 8.5 Amp Orbital Reciprocating Saw Kit [BTE360K] Review.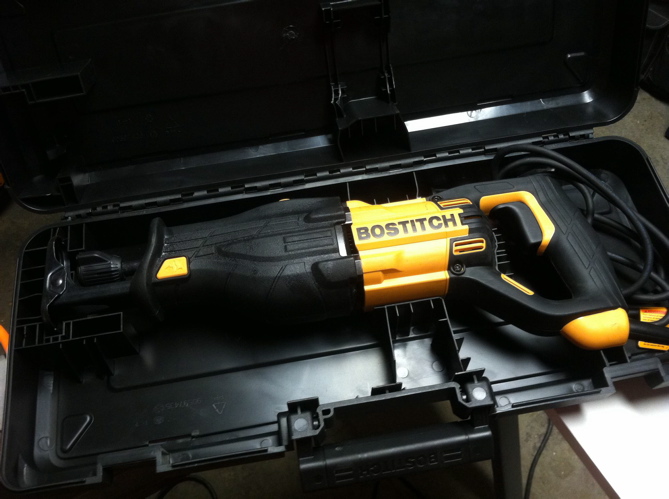 Specifications
8.5 Amp Motor
Orbital cutting action delivers
Tool-free blade change
Tool-free adjustable shoe
1-1/8″ Stroke length
Variable speed trigger
Strokes/Min: 0-3200 spm
Keyless Blade Clamp
Adjustable Shoe
3 Year Limited Warranty
 Features
Ergonomic and comfortable main grip
Large over-mold on secondary grip
Over-sized orbital action selector
Over-sized tabs on blade clamp collar
Compact and lightweight at 7.4 lbs
Hard case included
Out of the Box
This Reciprocating Saw has some great features for a tool that sells below $90.00. First and foremost it comes with a durable hard case with plenty of room for the cord and storage for blades. The cord is of modest length around 6 feet and has a built in ground on the plug. Both the blade clamp collar and shoe are adjustable tool free. And finally the saw is easily controlled with an over-sized orbital action selector and variable speed trigger.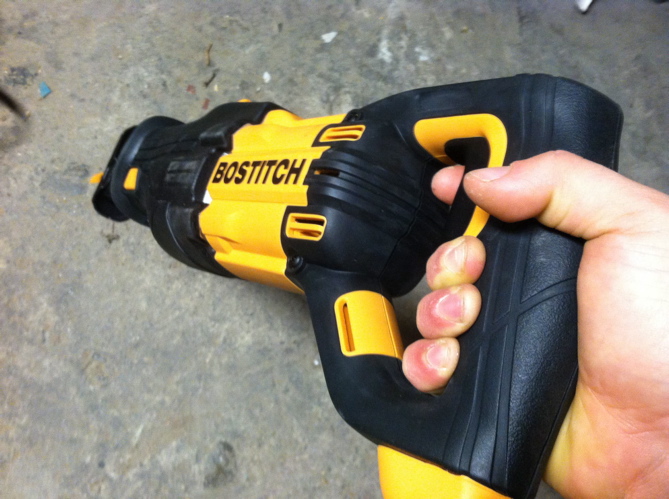 Performance
For a compact reciprocating saw, regarding both the overall size of the tool and the amperage, it performed better than expected. Perhaps not best suited for heavy duty demolition, but light remodeling during framing or medium duty applications is probably it's niche.
The saw doesn't have the raw power to cause the operator to lose control nor does it create an excessive amount of vibrations. The compact size makes it easy to handle in standard conditions and a comfortable choice when working on a ladder or in an awkward position.
Additionally this tool is DIY friendly for those same reasons, not to mention the variable speed trigger which allows the operator to really control the speed and aggressiveness of the cut.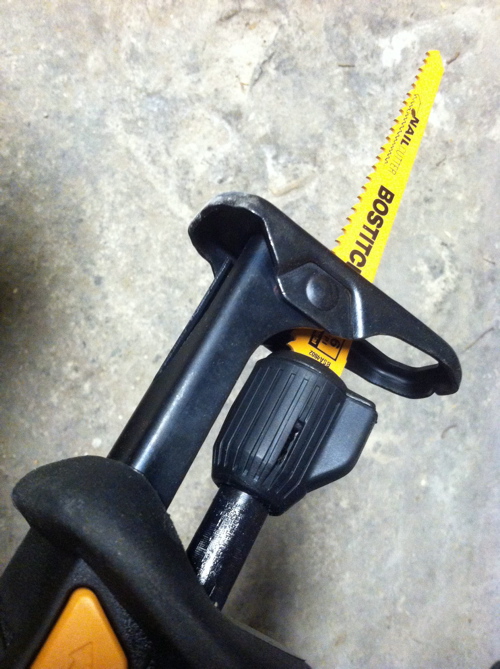 Overall Impression
The tool is definitely an all purpose reciprocating saw, limited by the size of the motor. This tool is not designed for heavy duty applications or super fast cuts, but it IS durable, affordable, and applicable for medium duty use throughout any job-site. To be fair the strokes per minute on the BTE360K is very high at 3,200, which CAN make for a fast cut with the right blade and cooperative material, but anything hardened, or nail embedded will be a much slower cut due to lack of power. Additionally, prolonged use will be really taxing on this small 8 1/2 amp motor decreasing the life of the tool if abused on a regular basis.
Overall this Bostitch 8.5 Amp Orbital Reciprocating Saw Kit Review finds this tool falling within the applications of professional everyday use, but is also a good choice for a homeowner who wants to spend a little more on an all purpose reciprocating saw that will last them a lifetime!
About the author
Disclosure
Product reviews on this site contain our opinion of a product or service. We will always strive for objectivity and transparency in our reviews. Our goal is to provide readers with honest, objective information based on our own experiences. We never have and never will accept payment in exchange for a positive review. Many of the products that we review are provided to us for free by a manufacturer or retailer. In some cases, we also have advertising or affiliate relationships with manufacturers and retailers of products and services we review. For additional information please visit our additional disclosure policies.