Bosch Colt Router PR20EVS
Bosch Colt Router PR20EVS
Manufacturer:
Bosch
Model number:
PR20EVS
Price:
99.00
Motor size:
1 hp
Weight:
3.3 lbs

Bosch Colt Router Review – Pocket size race horse
For a finish carpenter, cabinet maker, or avid wood worker, a trim router is a very efficient , inexpensive and compact tool perfect for both shaping and joinery tasks. The Bosch Colt Router PR20EVS Electronic Variable-Speed Palm Router fits all of these characteristics.  Though the colt has been on the market for almost 10 years now it has stayed very much relevant.
The Needs of a Finish Carpenter

Early in my career, I would typically hang prehung doors or if I had to build my own jambs. I would use a hammer and chisel to mortise out the door hinges and a router was saved for shaping wood.  When performing high end production work, consistency is key, and a hammer and chisel is simply too slow. I now use a trim router, for my of my hinge mortising  tasks. It's faster and the depth of the mortise is set perfectly. Not only that but it's the perfect tool for putting small detail profiles on edges, and rounding over or easing edges.
The Bosch Colt Router PR20EVS is perfect for light duty tasks such as mortising, shaping, edge trimming such as custom laminate countertops.   All of these tasks are a breeze with the colt and I often reach for a this router instead of my big clunky full size router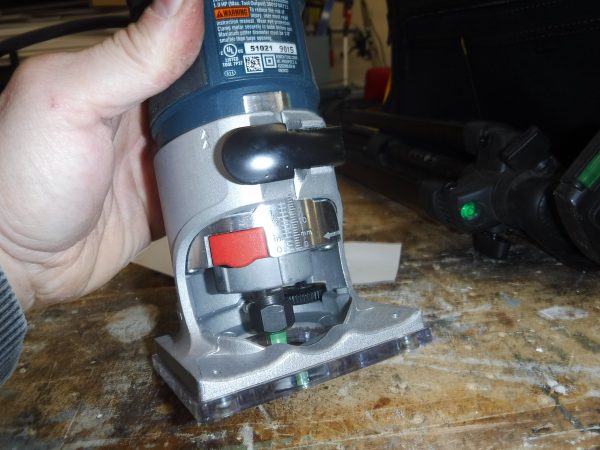 Bosch Colt Router PR20EVS  -The Fine Details
Out of the box the Colt is a very sturdy, ready to work. The controls are very intuitive, and easy to find as they are red which contrasts the Bosch blue of the motor housing. It is very well balanced and I found it easy to control. This weight and balance also lend itself to less fatigue.
The two key features I really like are the metal depth adjustment components along with the base. This metal adjustment provides better durability, while the collet lock requiring one wrench to change bits.
Like most of Bosch's tools they include a longer chord which can reduce the need for an extension cord. A very small but much appreciated detail is the removable cord. The cord now plugs in or out or the backface of the tool, instead of the motor. This placement keeps the cord out of the line-of-sight, and from damage.
Leader at the Track / Workbench
The Colt has been on the market for some time now where other brands seem to release new models every few years.  he difference is that Bosch has come up with is keeping the router compact yet providing a 1 hp motor. Bosch has been several different kit packages for the colt which offer a plunge base and different angle bases geared towards counter top installers.
Bosch Colt Router PR20EVS Specs
5.6 amps,  1 horsepower
1/4" collet
Depth of cut   1- 3/16"
Rpm range –  16,000-  35,000
 Weight  3.3 lbs.
Base width 3- 3/4"
Kit includes both 10mm and 17 mm wrenches for bit changing
Taking the Colt Out for Test laps
Right off the bat the first task the Colt was used for was mortising hinges for several interior doors,  rounding over edges of a custom built fir plywood door, and  rounding over ripped pressure treated decking as to replace odd sized deck boards.
The Colt router has a ton of power for a compact tool, my experience is that other trim routers tend to bog down or get jumpy in tough grain, and in finger jointed sections of wood. I did not experience this with the Bosch Colt Router PR20EVS .
Fast out of the gate and Strong to the Finish Line
The variable speed motor came in handy when I was encountering tricky grain in the pressure treated when I encountered knots while rounding over. The high impact plastic baseplate allows the tool to glide along the materials being worked.  Depth adjust of the base is a breeze with the ability to slip the base up and down the motor housing or fine tune with the dial.
Room For Improvement
For the Colt PR20EVS kit when it comes to performance I cant find anything needed. The magnesium base could do without the solid metal base plate / plastic underside.  A metal housing with the base plate entirely clear plastic would improve visibility.
A cordless  EC brushless version of the colt would be awesome to see, especially with Bosch now having their 6 amp 18v battery available
Final Word
The Bosch Colt trim router is a work horse where other routers are mere pony's. Im looking forward to each and every new project that the router will be used on. If your a seasoned carpenter,  cabinet builder or just a weekend warrior woodworker, you will be more than happy with the Bosch Colt Router PR20EVS.
The Bosch Colt Router PR20EVS kit sells for $99 US  and $149 here in Canada
About the author
Disclosure
Product reviews on this site contain our opinion of a product or service. We will always strive for objectivity and transparency in our reviews. Our goal is to provide readers with honest, objective information based on our own experiences. We never have and never will accept payment in exchange for a positive review. Many of the products that we review are provided to us for free by a manufacturer or retailer. In some cases, we also have advertising or affiliate relationships with manufacturers and retailers of products and services we review. For additional information please visit our additional disclosure policies.