Hilti TE-60-ATC-AVR Combihammer Review
Hilti 1-9/16″ SDS Max Rotary Hammer Drill – "Combihammer"
Hilti TE-60-ATC-AVR Combihammer
Manufacturer:
Hilti
Model number:
TE-60-ATC-AVR
Price:
$1,649
Power source:
120V
Weight:
16.53 lbs
Rotary hammer drills are such an important tool on both commercial and residential construction sites. Whether the task is drilling or chipping concrete or masonry, rotary hammers are the go to tool. I've been using Hilti products throughout my career and they are certainly scattered about almost every jobsite I visit. In fact, many construction workers freely use the term "Hilti" to describe any hammer drill as if it were a generic term. That certainly speaks to the impact the Hilti corporation has made on our industry.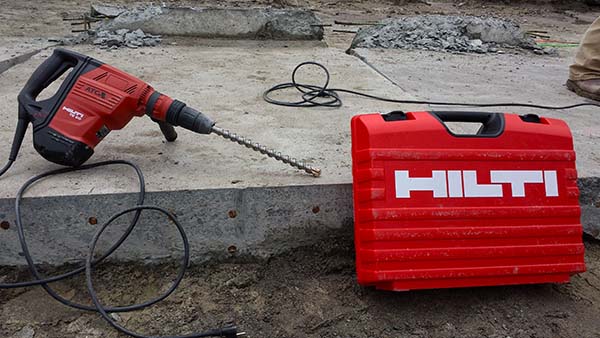 I recently had the opportunity to test and evaluate the Hilti TE-60-ATC-AVR as part of a large rotary hammer drill head to head comparison feature article. Testing included a day long assortment of drilling and chipping reinforced concrete bridge decks. The testing gave me an excellent comparison of this rotary hammer against other leading Brands and it also allowed me to get some significant hands on time. In addition to the slab testing, I brought this tool to one of our commercial job sites and let my crew spend a few days with it chipping concrete floors to expose buried utilities.
Hilti TE-60-ATC-AVR Features & Applications
The unique Active Torque Control (ATC) stops the motor almost instantly if the bit binds and the housing begins to rotate too quickly, reducing the potential of sudden rotation of the combihammer about its own axis
Active Vibration Reduction (AVR) optimizes comfort and productivity
Virtually dustless coring and chiseling with the new, optional dust removal system
Improved performance in large coring applications up to 4″ in masonry and unreinforced concrete
Drilling anchor and through-holes in concrete and masonry 1/2″ – 4″, recommended diameter 5/8″ – 1-1/2″
Medium-duty demolition work
Coring in masonry and concrete with TE-Y BK core bits up to 4″ diameter
Coring in masonry with optional DD-TE-Y adapter HDMU core bits up to 4″ diameter
Speed No Load: 0-350 rpm
Full Hammering Frequency: 2785 blows/min
Single Impact Energy: 5.2 ft-lb
Connection: TE-CY (SDS Max)
Simple, Sleek Design Offers Impressive Power & Features
Chipping and drilling in concrete is an arduous task at best and beats the heck out of your body. Between the significant impact energy and reactionary torque these tools have been known to make grown men cry! The TE-60-ATC-AVR produces incredible power and energy for a tool that I'd characterize as "medium duty". While the power is certainly impressive, the reduced vibration and torque that the user feels is the real take away with this tool.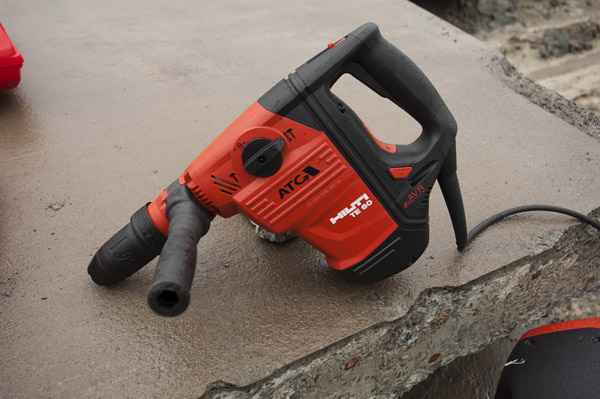 Right out of the box the TE-60-ATC-AVR offers a very simple, sleek design that makes operating the tool very intuitive. The controls are clearly marked and easy to understand. There are no parts "hanging" off the side of this tool which helps protect the tool from drops but also keeps it from catching on clothing and obstructions. The TE-60-ATC-AVR features a 13′ long cord and a very nice tool box for storage.
The TE-60-ATC-AVR uses standard SDS Max bits which is nice. This allows you to buy bits from any manufacturer that uses the SDS-Max standard.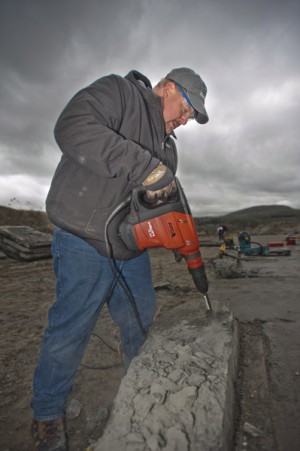 The Hilti TE-60-ATC-AVR packs a serious punch when it comes to chipping concrete and masonry. With an impact energy of 5.2 ft-lb per blow it easily plows through concrete. We were chipping sections of reinforced concrete bridge decks. The decks likely had a concrete strength in excess of 6,000 PSI and they were heavily reinforced with steel rebar. Despite the extreme toughness of the slabs the TE-60-ATC-AVR easily blasted through the concrete.
Even more impressive was how well the TE-60-ATC-AVR performed with our drilling tests. To test the rotary hammers for drilling we used SDS MAX 1″ x 12″ x 17″ 4-Cutter Centering Bits from Milwaukee. We used the same bits in every tool to get a relative comparison and the Hilti came out on top for speed of drilling holes (with this specific bit). The TE-60-ATC-AVR beat out 4 other competitive brands in this testing. When you consider that rotary hammers are most often used in drilling applications the extra speed in drilling holes can be a huge benefit with regard to crew production.
Active Vibration Reduction (AVR)
Vibration reduction is an important feature on many of today's rotary hammers. Reducing the vibration that's transmitted to workers is important for their health and productivity. I've seen lots of different approaches to this feature and Hilti has done a great job. In fact, many of the guys testing the hammers with me felt as if the TE-60-ATC-AVR was a bit under-powered. After using the tool for awhile they quickly realized it has plenty of power, the user just doesn't feel all the power coming back into their body!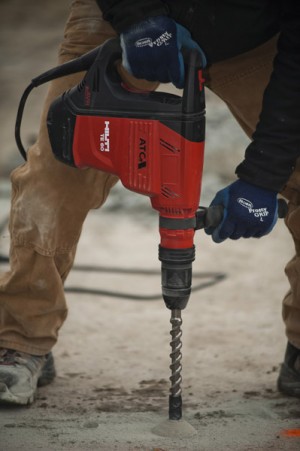 The reduction in vibration is very noticeable and it makes a huge impact on user comfort. Hilti claims an average 2/3 reduction in vibration compared to tools without this feature. While we have no data to check that claim the difference is significant in our opinion. While this is still a heavy tool, my hands were not ringing and my arms didn't feel as fatigued compared to older rotary hammers that I've used in the past.
Active Torque Control (ATC)
Another hot topic with rotary hammers today is reactionary torque. Anyone that's ever used one of these larger drills knows how dangerous it can be when the drill binds in the hole and the tool continues to spin and potentially take your wrist with it. The Active Torque Control (ATC) on the Hilti TE-60-ATC-AVR effectively eliminates this dangerous situation by quickly stopping the drill if it begins to spin around it's axis.
I was able to test this technology easily by drilling into the rebar on the bridge decks and attempting to bind the bit. When this happened the rotary hammer simply stopped and I wasn't subjected to the torque you'd otherwise feel. This technology will definitely cut down on injuries and certainly make users feel more comfortable.
Dust Control – Optional Equipment
Dust control is an extremely important issue when drilling and chipping concrete and masonry. Fine dust particles from these materials pose a serious health risk and also create a huge mess. Hilti offers some optional equipment to address dust control including vacuum systems and attachments to allow direct dust extraction when drilling and chipping.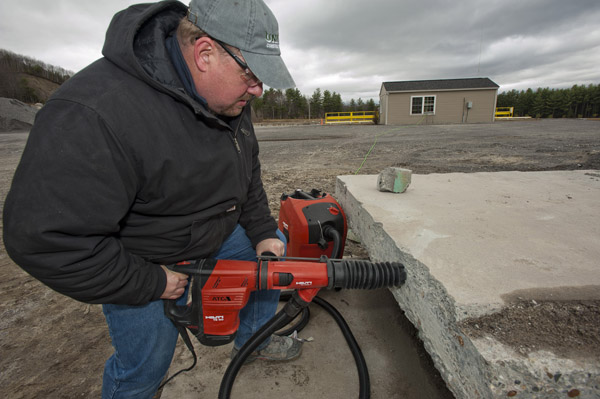 We tested the TE DRS-Y Dust Removal System along with the VC 40-U Universal vacuum cleaner. The TE DRS-Y dust removal system is a hood or shroud that fits over the end of the hammer and surrounds the bit, allowing the vacuum to suck up dust/debris contained in the shroud.
The dust removal system and vacuum are very effective at collecting dust and debris. The vacuum provides powerful suction and an automatic filter cleaner to help maintain suction. The vacuum is suitable for collecting the slurry created by wet drilling or wet cutting operations on mineral materials using Hilti diamond coring or Hilti diamond sawing equipment and for collecting large quantities of dry mineral dust when working with Hilti diamond grinders and cutters, rotary hammers and dry cutting core bits. The appliance may also be used to pick up liquid waste material.
One feature that the vacuum doesn't offer is a switched power outlet. Many of the other vacuums on the market offer this feature and it's really handy when setting up dust collection with power tools.
Overall Impression – Hilti TE-60-ATC-AVR Combihammer
Hilti makes very durable, powerful, long lasting power tools. I've used their tools for years and there's no doubt in my mind that they are an excellent choice for heavy commercial use. The TE-60-ATC-AVR offers excellent power, vibration reduction, and torque control in a sleek easy to use design. In our head to head testing it closely matched the performance of the other top models we tested.
The only reason I gave the TE-60-ATC-AVR 4.5 out of 5 stars is cost. This tool costs over $1,600 yet competitive models from other brands are more than half that cost. Hilti does offer a great lifetime service plan and warranty so that's certainly something to consider. If you're looking for a powerful, well built, rotary hammer with the backing of one of the industry leaders then this tool should be on your short list.
Hilti TE-60-ATC-AVR Combihammer
$1,649
About the author
Disclosure
Product reviews on this site contain our opinion of a product or service. We will always strive for objectivity and transparency in our reviews. Our goal is to provide readers with honest, objective information based on our own experiences. We never have and never will accept payment in exchange for a positive review. Many of the products that we review are provided to us for free by a manufacturer or retailer. In some cases, we also have advertising or affiliate relationships with manufacturers and retailers of products and services we review. For additional information please visit our additional disclosure policies.