Bosch PL2632 3-1/4 In. Planer
Bosch Power Planer
Bosch PL2632 3-1/4 In. Planer
Manufacturer:
Bosch
Model number:
PL2632
Price:
159.00
Power source:
120 V
Motor size:
6.5 Amp
Weight:
6.3
I love my low angle block plane but nothing compares to a power planer when you need to remove a lot of stock and get a smooth finish. Power planers are efficient time savers and can do tasks such as:
Level joists
Shave and bevel doors
Champher stock
Taper stock
Scribe
Edge plane
Bosch PL2632 3-1/4 Planer Review

I recently took a look a the Bosch PL1632 3-1/4 In. Planer.   The PL1632 has a 6.5 AMP motor with poly micro-V drive belt drive that spins at 16,500 RPMs. Drive-belt performance and durability is achieved by using a poly micro-V drive belt design.
Fast and Furious Stock Removal
Equipped with reversible mini carbide blades, this tools removes stock up to 3-1/4 inches fast. These carbide blades are Bosch Woodrazor® Micrograin which resists fractures from nail strikes and lasts up to 30% longer than standard carbide blades.
An electronic counter balancer automatically positions the 3-1/4 inch blade at the ideal cutting angle, preventing mis-alignment.
The two-blade system allows the user the option to convert the planer for use with large HSS PA1204 and PA1205 high-speed steel blades or replacement carbide blades.
Note – this conversion requires an optional PA1204 blade retainer to secure the blade.
Each blade is secured by a clamping jaw and three Torx type screws.
Accuracy
With power planers it's easy to create an improper bevel or edge if your not careful.
The PL2632 has a really nice fence mounting dual-mount system. Prior models used only one mount and the guide often flexes with sideways pressure. This dual mount fence mounts to the front and rear of the tool, and provides a secure platform with no flex or play.
A plastic overshoe protects your working surface and eliminates scratches and marring of painted surfaces. That's a nice feature for a carpenter, like me, who always seems to be working on painted surfaces.
The aluminum front and rear plates are precision machined together after assemble to ensure plate accuracy. The plate has a groove for chamfering and I often find myself using this feature on door edges and posts.
Safety
A spring-loaded kick stand elevates tool to protect blade from dinging the work or resting surface. This allows you to simple place the tool, cutters down, and not flip the tool on its side, exposing high-speed cutters. A major safety feature!
The dual mounted guide fence has a protective shroud that covers the blade, from the operator accidentally touching the blade when supporting the guide.  the kit comes with two plastic overshoes.  One is a protective shoe and the other r provides a 3-degree bevel.
An ambidextrous safety is located on top of the trigger handle. New from Bosch is a dual lock on / off button, which eliminates accidental starts and reduces user fatigue with extended planning applications. I don't know of any other planer that has this feature.
The healthy 10-foot power cord attaches into the rear handle of this tool, with a ball-joint cord swivel. A nice feature allowing you to keep the cord out of the way, ensure cord longevity, and to avoid tool downtime.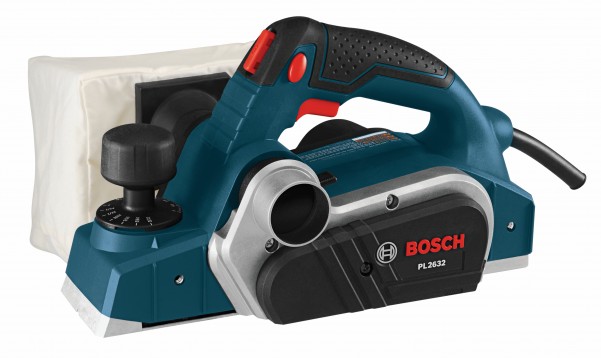 Adjustments
All new Bosch planers have really sweet adjustment knobs that have a ratcheting action. The ratcheting depth knob allows fool-proof setting of depth increments from 0 to 0.1 In. (2.6 mm) within one revolution, eliminating the need to re-zero the depth.
The inch and metric depth scales are clearly visible, and separated.

Ergonomics and Balance
The handle is angled and optimized for forward motion and includes soft grip for added comfort. The tool weighs 6.3 pounds, and measures 15.2 x 7 x 7.5 inches. It is durable and well balanced.
Dust Collection
The Bosch PL2632 3-1/4 In. Planer has dual shaving ejection ports are easily controlled by a selection lever on the left tool-side port. This allows you to choose which side of the tool to eject shavings depending on your work environment and planning application. The ejection ports easily attach to a tool-actuated vacuum for dust collection at the source. A large shavings bag is also included.
Bosch PL2632 3-1/4 In. Planer
159.00
About the author
Disclosure
Product reviews on this site contain our opinion of a product or service. We will always strive for objectivity and transparency in our reviews. Our goal is to provide readers with honest, objective information based on our own experiences. We never have and never will accept payment in exchange for a positive review. Many of the products that we review are provided to us for free by a manufacturer or retailer. In some cases, we also have advertising or affiliate relationships with manufacturers and retailers of products and services we review. For additional information please visit our additional disclosure policies.