Rockwell F80 DUOTECH Oscillation Sonicrafter
Rockwell F80 DUOTECH Oscillation Sonicrafter
The new Rockwell® oscillating tool on the market today provides the option of two oscillating angles, 3.4 and 5.0 degrees. The F80 is the latest development in Rockwell's evolution of oscillating tools. Dual oscillating angles enable the tool to work harder and run faster, while also providing industry breakthrough features such as HyperlockTM and true Universal FitTM.
The Sonicrafter F80 has a tapered, compact body powered by a 4.2 amp motor. Users now have the option of selecting the 5.0o oscillating angle when projects demand faster, more aggressive cuts with quicker results or 3.4o for continuous control.
"We challenge ourselves in developing products by listening to our customers in how the tools are being used and in what applications," said Jeanne White, Rockwell's Senior Product Manager. "With the F80 featuring two oscillating angles, users now how a choice of choosing the angle that best fits the application."
Like the Sonicrafter F50, the F80 is five times faster than the basic Sonicrafter RK5121K. Both the Sonicrafter F50 and F80 feature the industry's-best maximum cutting load of 35 lbs. of force. These tools can be pushed harder than any other oscillating tool before the blade stalls out.
Typically, by increasing the oscillation angle, it causes more movement and unwanted vibration. To combat this, Rockwell employed a counterweight inside the tools to offset the movement, and provide a smoother, more efficient cut.
Most oscillating tools have an oscillating angle of 3.2°. Rockwell's fastest and most powerful Sonicrafter line expansion now includes the F80 (RK5151K) with oscillation angles of 3.4 and 5.0o, the F50 (RK5141K) at 5.0° and the F30 (RK5131K) at 4.0°. In addition, the oscillating tools incorporate electronic constant speed control that maintains the tool's cut rate under load.
Rockwell pioneered Universal FitTM, the industry's first true universal accessory system, which enabled Sonicrafters to accept other major brands' accessories without adapters. Rockwell's universal accessories are manufactured to fit all other competitive oscillating tools, giving consumers the option of using Rockwell blades and accessories without sacrificing fit or performance.
Sonicrafter oscillating tools feature a spring-loaded centering mount that positively engages accessories with the help of the HyperlockTM tool-less blade change system. Blade slippage and stopped cuts can be an issue with some manufacturers' oscillating tools, so Rockwell introduced Hyperlock, a tool-less feature that provides one ton of clamping force to prevent accessory slippage. This is the highest accessory clamping force on any tool-less oscillating tool. Hyperlock is available on the new F80, F50, F30 and basic Sonicrafter model (RK5121K). It's also featured on the 20V Sonicrafter (RK2863K).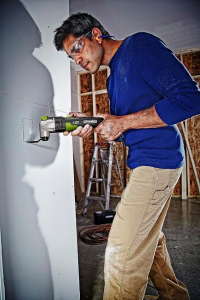 Oscillating tools can handle a myriad of jobs and projects around the house and shop to save time, energy and money. However, a tool is only as good as the accessory doing the work. Several innovative accessories, including Rockwell's line of Extended Life accessories are now available. The Extended Life accessories offer bi-metal teeth for added strength and durability.
F80 Duotech Oscillation Sonicrafter (RK5151K, $159)
The most full-featured, powerful and fastest cutting Sonicrafter
5.0°, 3.4o oscillating angles
Vibrafree (Vibration reduction)
Variable speed
4.2 amp motor
5X* faster cutting *compared to the Rockwell model RK5121K
35 lbs. max cutting load
Hyperlock tool-less blade change
Universal accessory interface
Constant speed control, which electronically maintains speed-of-cut under load.
Oscillations per minute (OPM): 10,000-19,000
Metal front-end; metal Hyperlock tool-free lever
LED light
Weight: 3.3 lbs.
Cord length: 10 ft.
10 Universal Fit accessories include (3) 1-3/8" end-cut blades, (1) metal, (1) precision, (1) standard), (1) 3-1/8" HSS semicircle saw blade, (1) plunge & saw blade, (1) flex scraper blade, (1) sanding pad, (3) sanding sheets, plus hard case.
A Rockwell hard case is included with the F80 (RK5151K). The compact case features separate bulk storage areas for quick and easy access to the tool and accessories. Its rigid, durable construction provides ease of stacking and transport.
Warranty: 3 years
Availability:
The new Rockwell F80 Duotech Oscillation Sonicrafter (RK5151K, $159) is expected to be available in June at Lowes, rockwelltools.com and other major retailers.
Save
About the author
Disclosure
Product reviews on this site contain our opinion of a product or service. We will always strive for objectivity and transparency in our reviews. Our goal is to provide readers with honest, objective information based on our own experiences. We never have and never will accept payment in exchange for a positive review. Many of the products that we review are provided to us for free by a manufacturer or retailer. In some cases, we also have advertising or affiliate relationships with manufacturers and retailers of products and services we review. For additional information please visit our additional disclosure policies.