DEWALT DWE575 Light Weight 7-1/4 Inch Circular Saw Review
DEWALT 7 1/4″ Lightweight Circular Saw – Model DWE575
Manufacturer:
DEWALT
Model number:
DWE575
Price:
$108
Power source:
110V AC
Motor size:
15 Amp
Weight:
8.8 lbs
DEWALT has a number of circular saws on the market and their latest happens to be the DWE575, 7-1/4″ Lightweight Circular Saw. The new saw claims to be one of the lightest in it's class and we agree weighing in at just 8.8 lbs. They sent us this new one to evaluate several months ago and here's our initial assessment.
I had the pleasure of first testing the saw at a media event. I was quickly impressed with both the power and it's light weight. I was able to easily cut through material one handed (even though that's frowned upon, especially at a media event!) with little difficulty managing the weight.
Specifications and Features
Amps:     15Amps
Max Watts Out:     1950W
No Load Speed:     5200rpm
Bevel Capacity:     57°
Bevel Stops:     22.5 & 45
Rear Pivot:     No
Electric Brake:     No
Blade Diameter:     7 1/4″
Depth of Cut at 90°:     2.55″
Depth of Cut at 45° :    1.9″
Tool Weight:     8.8lbs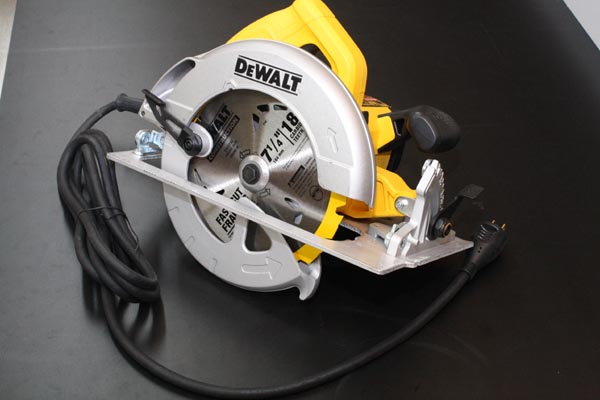 Among one of the lightest saws in its class at 8.8 lbs
15 amp motor, powerful enough for even the toughest applications
57° beveling capacity with stops at 45° and 22.5°
2 9/16 " Depth of cut capacity provides additional versatility of applications
Anti-snag Ball bearing lower guard provides smooth guard operation and long life in harsh environments
Toughcord provides longer durability against cord pull outs
Integrated dust blower function cleans the line of sight during cutting
Durable high grade Aluminum smooth base for accurate cuts
Clear line of sight aids in blade visibility from any angle
On-board blade wrench storage allows for easy access to the wrench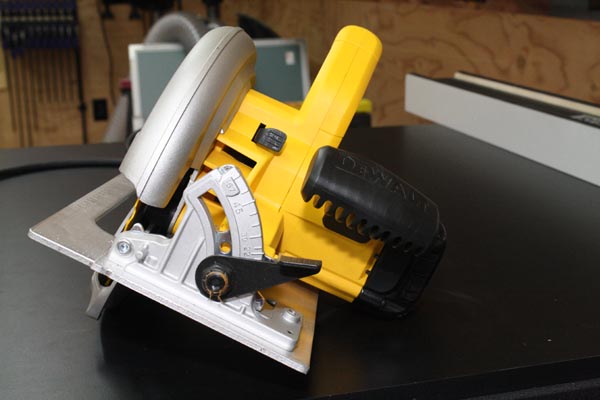 The DEWALT DWE575 might be a small, lightweight circular saw but it's packed with lots of great features. Of particular note on this new model is the depth of cut (2-9/16″ vs 2-7/16″ on my older models), 57° beveling capacity which is better than my older models at 50°, and the Toughcord.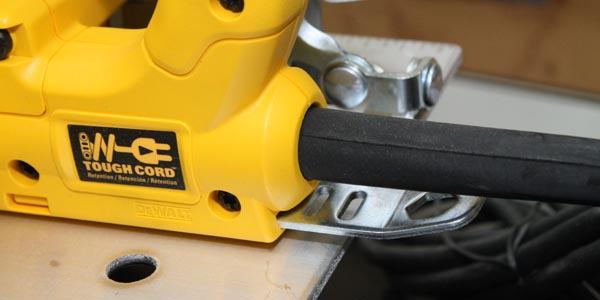 How Well It Performs
Not only does this new lightweight saw come with some cool features but most importantly it's full of power. One of my pet peeves with circular saws are ones with wimpy motors. I was pleasantly surprised with the DWE575 and it's powerful motor. The powerful 15 amp motor had no trouble cutting plywood, framing lumber and even ripping a piece of 2×8 pressure treated lumber.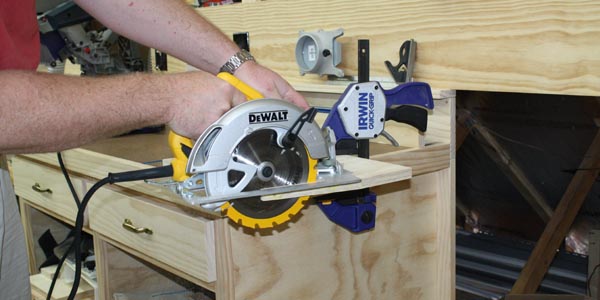 Overall Impression
I'm very pleased with the new DEWALT DWE575 Lightweight 7-1/4″ Circular Saw. My only gripe with this model is the fact that it doesn't come with a case and it doesn't have an electronic brake. However, I just found out they are also selling the DWE575SB which includes a case and the electronic brake. So all is good in the world!
This is definitely a great saw for day to day construction and really reminds me of the very popular  007 Makita Circular saws that are still popular today on jobsites. For years I've been using the DEWALT DW364 which weighs over 12 lbs and only had a 2-7/16″ depth of cut. So the new version is almost 25% lighter, same amount of power, and some added functionality with the deeper cut and wider bevel angle. I predict this new saw will become a very popular saw on the jobsite.
Where To Buy
If you're thinking about buying one of these new saws please consider buying it at Amazon. They typically have the lowest prices and I get a very small commission which helps support our site!
About the author
Disclosure
Product reviews on this site contain our opinion of a product or service. We will always strive for objectivity and transparency in our reviews. Our goal is to provide readers with honest, objective information based on our own experiences. We never have and never will accept payment in exchange for a positive review. Many of the products that we review are provided to us for free by a manufacturer or retailer. In some cases, we also have advertising or affiliate relationships with manufacturers and retailers of products and services we review. For additional information please visit our additional disclosure policies.