SKILSAW Introduces Improved Line of Worm Drive SKILSAWs
SKILSAW's New Generation
The folks at SKILSAW have introduced a new generation of SKILSAW's to their ever popular worm drive lineup. Sure to fit a wide range of end users these new saws focus on weight and power. Check out the details below in their press release.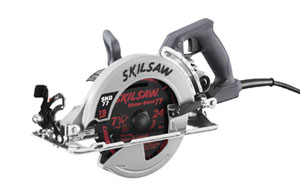 MT. PROSPECT, ILL. – For generations, the name SKILSAW has been synonymous with quality and durability. With the recent introduction of a new family of worm drives, SKILSAW continues to build its hard-earned reputation as the "go-to" saw on jobsites.
The new worm drive family includes three saws: the SKILSAW SHD77-02, the SKILSAW SHD77M-02 and the SKILSAW MAG77LT. Each is designed to achieve different cutting applications.
"Developing saws specific to the various cutting applications and trades allows contractors to cut more efficiently," said Nancy Struijk, product manager, circular saws. "This in turn allows them to make the most out of their day on the job."
The main feature of the new SKILSAWs is their reduced weight. Each saw is lighter than its predecessor, which was a big improvement noted by SKILSAW user groups. The new saws also feature a multi-function wrench that stores on the saw foot for convenience, a Cut-Ready Depth of Cut SystemTM for quick and easy adjustment and a 24-tooth carbide blade.
"We believe these improvements will have an immediate impact on the jobsite," Struijk said.
The New Line
Perfect for concrete forming and masons, the 7-1/4 in. Aluminum Worm Drive SKILSAW is one of the most versatile saws on the market, making it the rugged workhorse of the jobsite. The new SHD77-02 Aluminum Worm Drive Saw continues to provide power and performance, and is now a pound lighter at 14.1 lbs.
Specific SHD77-02 features include:
51° bevel with Zero Adjust and positive stop at 45°
15 Amp, 5300 RPM
1 lb. lighter than SHD77*
The SHD77M-02 is a 7-1/4 in. Magnesium Worm Drive SKILSAW that is ideal for general contractors and builders who need power to get through demanding cuts. The saw weighs-in at 12.5 lbs. which means less stress on your arms and back when making rough cuts.
The SHD77M-02 features:
53° bevel with Zero Adjust and positive stop at 45°
15 amp, 5300 RPM
3 lbs. lighter than SHD77*
Weighing four pounds lighter than the standard worm drive saw*, the MAG77LT offers the durability of a SKILSAW but is significantly lighter, making it ideal for framers and remodelers. This worm drive saw is known for its speed, which can make or break any job. At 11.6 lbs, the lighter magnesium construction of the MAG77LT reduces fatigue for less wear and tear on the user.
This 7-1/4 in. Magnesium Worm Drive SKILSAW features:
53° bevel with Zero Adjust and positive stop at 45°
15 Amp 5300 RPM
Anti-Snag Lower Guard
What Are You Made Of? Challenge
The introduction of the new line of saws kicks-off the "What Are You Made Of? Challenge" taking place April through August 2014 throughout the West Coast and Southwest United States. At more than 40 events, tradespeople will be challenged to hold a MAG77LT at arm's length. Those who meet the challenge will be entered into a sweepstakes to win a new 2014 RAM pick-up truck. In addition, all participants who qualify will receive a $5 Buffalo Wild Wings® gift card.
"This is a great way for tradesmen to experience the difference a saw that's pounds lighter can make in their work every day," said Craig Hanba, marketing manager, SKILSAW.
Visit www.skilsaw.com/events for the "What Are You Made Of? Challenge" event details and event calendar.
All three SKILSAWs will be available online and in select retail and distributor locations nationwide beginning March 2014. The SHD77-02 will be available for a suggested retail price of $169.00 (USD), and the SHD77M-02 and MAG77LT will be available for a suggested retail price of $199.00 (USD). For information on where to buy and tool features, visit www.skilsaw.com.
*Compared to previous SHD77
About the author
Disclosure
Product reviews on this site contain our opinion of a product or service. We will always strive for objectivity and transparency in our reviews. Our goal is to provide readers with honest, objective information based on our own experiences. We never have and never will accept payment in exchange for a positive review. Many of the products that we review are provided to us for free by a manufacturer or retailer. In some cases, we also have advertising or affiliate relationships with manufacturers and retailers of products and services we review. For additional information please visit our additional disclosure policies.