Senco Introduces 23g Micro Pinner
Senco® Introduces FinishPRO® 23ga Micro Pinners
Redesigned for Greater Versatility, Power, Comfort and Safety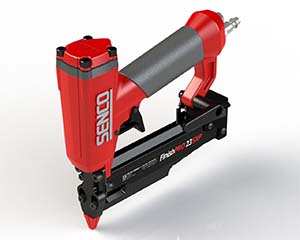 CINCINNATI (September 9, 2013) – Senco is introducing two new 23 gauge pneumatic micro pinners, the FinishPRO®23SXP and the FinishPRO®23LXP. Ideal for intricate finish and trim work, the newly redesigned tools are a radical departure from their predecessors – the FinishPRO®10 and 11 — and incorporate several performance enhancing upgrades suggested by woodworking and carpentry professionals. These include:
An expanded fastener range for greater project versatility. The tools fire headless pins ranging from ½" up to 2" long, depending on the model.
Quick and easy loading. The addition of a self-adjusting magazine eliminates the need to manually reset the tool for different fastener lengths.
A more powerful motor. Complete drives into hard woods like oak and red maple are no problem for the FinishPRO's industrial strength motor. Both tools deliver 70 – 120 PSI of force, with no worry over splitting or touch-ups.
Ergonomic angled pistol grip. Senco's new headless pinners are the first in the category to feature an angled pistol grip design to reduce wrist fatigue and increase maneuverability in tight spaces instead of the standard 90-degree straight handle grip seen on competitor models.
Other helpful features contribute to the FinishPRO 23's flawless performance and reliable control.
The tool's ultra-narrow nosepiece provides convenient access into corners and tight spaces. A 4-point alignment guide is integrated into the rubber tip no-mar pad, which tapers down to the contact point, providing a clear line of sight for precision pin placement.
A double trigger safety lock prevents accidental misfiring while the auto lock-out feature prevents dry-firing when the magazine is empty. A rear exhaust with an embedded muffler reduces noise and directs air and dust away from the work surface.
The tools are constructed with lightweight aluminum housing, a hardened alloy steel driver, and a metal magazine for durability. Both models are equipped with a reversible belt hook for easy carrying, onboard storage for the no-mar pads, and a jam clearing wrench. Both come with a carrying case.
Model Specifications
Applications include: light wood assembly, molding and decorative trim work, dowel and joint pinning, mirror and picture frame assembly, lightweight paneling, external softwood trim, rattan furniture, glazing strips, window beading, display and sign work.
FinishPro®23SXP 1-3/8" 23 Gauge Headless Pinner
Tool weight: 2.5 lbs.
Fastener Range: 1/2" – 1-3/8"
Five-year limited warranty
MSRP: $159
FinishPro®23LXP 2" 23 Gauge Headless Pinner
Tool weight: 2.7 lbs.
Fastener Range: 1/2" – 2"
Five-year limited warranty
MSRP: $229
The FinishPRO 23SXP and LXP will be available this fall.
For the best performance, Senco recommends using the FinishPRO23 headless pinners with its best-selling PC1010N one-gallon portable oil-less air compressor and Genuine Senco fasteners.
About the author
Disclosure
Product reviews on this site contain our opinion of a product or service. We will always strive for objectivity and transparency in our reviews. Our goal is to provide readers with honest, objective information based on our own experiences. We never have and never will accept payment in exchange for a positive review. Many of the products that we review are provided to us for free by a manufacturer or retailer. In some cases, we also have advertising or affiliate relationships with manufacturers and retailers of products and services we review. For additional information please visit our additional disclosure policies.