Powermatic's New PM1000 Table Saw
Powermatic's New PM1000 Cabinetmakers Table Saw Reflects Gold Standard of Fully Featured Saw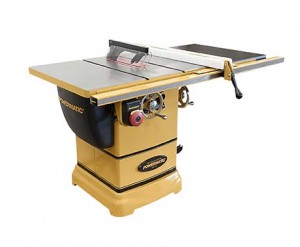 LaVergne, TN ─ Woodworkers, remodelers and do-it-yourselfers in the market for a new saw may want to take a good look at Powermatic's latest gold standard addition, the PM1000 Table Saw. The PM1000 evolves from the superior line of PM2000 and PM3000 table saws. It offers many of the same features and benefits of a full-size cabinet saw yet operates at 115V, so the shop or garage doesn't have to be wired for 230V service.
"We see the PM1000 as the bridge for woodworkers who want to move up to a cabinet saw," said Joan Duvall, Director of Product Management─ Wood.  "It's loaded with features and meets the historic Powermatic gold standard in performance and value. It's the right choice for woodworkers wanting to upgrade their current saw without overtaxing their woodworking budgets."
The 10" PM1000 will be available in two models: The #1791000K, with cast iron tabletop and a 30" maximum rip capacity to the right of the blade, and the #1791001K model with cast iron top and extension table with 52" rip capacity to the right. The PM1000 is equipped with a blade guard assembly and riving knives to help reduce kickback.
Powermatic has a longstanding reputation and tradition of building quality, performance-minded woodworking machinery that embodies smart design features, innovation and functionality.  The PM1000 is no exception.  Its heavy-duty front and rear trunnions provide stability and rigidity, while reducing vibration.
A 1-3/4 hp, single-phase induction motor drives the machine and incorporates a poly-V belt drive system for smooth transfer of power with less vibration for maximum efficiency.  Poly-V belts are superior to standard v-belts because they reduce vibration and slippage.  They also are considered more durable, for longer belt life.  An oversized pushbutton on/off switch is conveniently located below the table top.  It incorporates a removable magnetic key to avoid unauthorized use of the saw.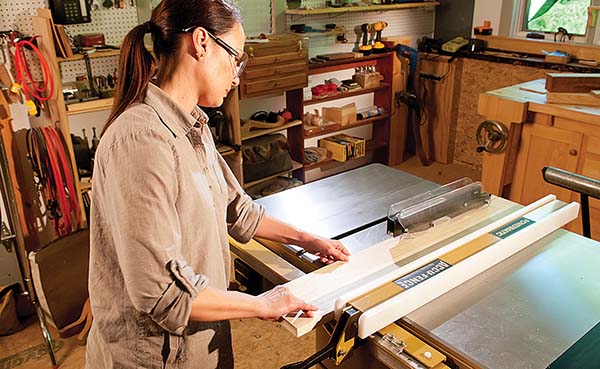 The saw's cabinet base is fully enclosed and incorporates a rear 4" dust port and hinged motor cover for easy access. Dependable, ergonomically-designed 7" chrome-plated, cast iron hand wheels set blade height and bevel adjustments.  The saw's large bevel scale is easy to read.
Powermatic's pushbutton arbor lock sets up quick blade changes with a single wrench, which is included.  No need to fuss and fumble with two wrenches when changing blades.
The saw's cast iron table top with beveled edge is precision ground. T-slot channels on either side of the blade support the large 60° miter gauge with preset detents at 0, 30 and 45°.  A pair of expander mechanisms in the gauge's guide bar helps eliminate side-to-side play in the T-slot, plus the guide bar has a disk that engages the channel to prevent it from lifting during a cut.
Powermatic's Accu-Fence incorporates a pair of 5/8" thick rigid polyethylene slabs with exceptional lubricity that allow wood to slide easily and predictably. The face can be adjusted vertically to ride flush with the table top surface or rise just above it.  The single handle locking mechanism is constructed of powder-coated steel.  The fence moves from side to side effortlessly along the saw's guide tube and rails.
The Powermatic PM1000 (#1791000K, $1,999.99) and (#1791001K, $2,099.99) are covered by Powermatic's 5-year warranty.  To locate a dealer, visit www.powermatic.com.
| | | |
| --- | --- | --- |
| PM1000 Table Saws | #1791000K | #1791001K |
| Cast iron work surface | 40" x 27" | 40" x 27" |
| Total work surface | 57" x 27" | 75-3/8" x 27" |
| Table size | 20" x 27" | 20" x 27" |
| Table height from floor | 34-1/4" | 34-1/4" |
| Prewired voltage | 115 | 115 |
| Motor voltage | 115/230 | 115/230 |
| HP rating/Motor phase | 1-3/4/Single | 1-3/4/Single |
| Number of amps | 15/7.5 | 15/7.5 |
| Maximum dado width | 13/16" | 13/16" |
| Maximum dado diameter | 8" | 8" |
| Maximum rip right of blade | 30" | 52" |
| Maximum rip left of blade | 12" | 12" |
| Depth of cut @ 90° | 3-1/8" | 3-1/8" |
| Depth of cut @ 45° | 2-1/8" | 2-1/8" |
| Dust port (O.D.) | 4" | 4" |
| Dust collection: min. cfm | 350 | 350 |
| Blade size | 10" | 10" |
| Arbor diameter | 5/8" | 5/8" |
| Arbor speed (rpm) | 4200 | 4200 |
| Weight | 347 | 394 |
About the author
Disclosure
Product reviews on this site contain our opinion of a product or service. We will always strive for objectivity and transparency in our reviews. Our goal is to provide readers with honest, objective information based on our own experiences. We never have and never will accept payment in exchange for a positive review. Many of the products that we review are provided to us for free by a manufacturer or retailer. In some cases, we also have advertising or affiliate relationships with manufacturers and retailers of products and services we review. For additional information please visit our additional disclosure policies.