PORTER-CABLE® Launches New 4-½" Slide Switch Small Angle Grinders
New 4-½" Slide Switch Small Angle Grinders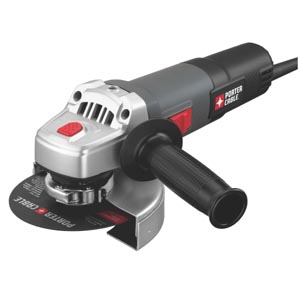 TOWSON, Md. (Feb. 23, 2011) – PORTER-CABLE announces the launch of its new 4-½" Small Angle Grinders (PC60TCTAG and PC60TAG) that are designed to offer contractors performance, ergonomics, ease of use and durability. Both the PC60TAG and the PC60TCTAG will ship with a standard grinding guard, however the PC60TCTAG comes with an additional Type 1 Cutting Guard, which meets UL standards for cutting with a small angle grinder.
"We spent a significant amount of time talking to contractors about their needs in a small angle grinder. As a result of this research, we learned that contractors want a number of things, including the ability to grind and cut metal and make adjustments without needing separate tools," said Wil Granger, group product manager, PORTER-CABLE. "Having an understanding of the frustrations our users face has enabled us to design a product that is sure to meet their needs on the jobsite."
Performance
Both grinders come with a 6 AMP motor that delivers 11,000 RPM for tough jobsite applications including grinding and cutting metal, cleaning and finishing surfaces, and tuckpointing.
Ergonomics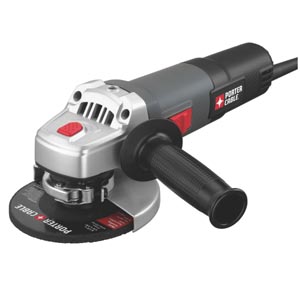 During the design process the grip areas were streamlined to make it easier for the users to hold the tools and both units are lightweight at 4.1 lbs to reduce user fatigue.
Ease of Use
The PC60TCTAG and PC60TAG 's key feature is the tool free quick release guard; this allows users to properly align the guard to control the spark path. The models incorporate a three-position handle and a rotatable housing feature that allows the gear housing to circumvolve for optimal positioning in all applications. Finally, a spindle lock is located on top of the gear housing for quick and safe wheel changes.
Durability
The grinders 6 AMP motor comes with quick access to the motor brushes, which permits easy service and additional life.
The PORTER-CABLE PC60TCTAG and PC60TAG will be available in February 2011 through independent distributors. The PC60TCTAG is expected to retail for $49.99 and includes five grinding disks and five cutoff disks. The PC60TAG is expected to retail for $39.99 and includes one grinding disk. The small angle grinders will come with a three-year limited warranty, one-year service contract and 90-day money-back guarantee.
About the author
Disclosure
Product reviews on this site contain our opinion of a product or service. We will always strive for objectivity and transparency in our reviews. Our goal is to provide readers with honest, objective information based on our own experiences. We never have and never will accept payment in exchange for a positive review. Many of the products that we review are provided to us for free by a manufacturer or retailer. In some cases, we also have advertising or affiliate relationships with manufacturers and retailers of products and services we review. For additional information please visit our additional disclosure policies.