New PORTER-CABLE® Hand Planer
New PORTER-CABLE® Hand Planer
Brings Performance, Ease of Use, Ergonomics, and Dust Collection to the Worksite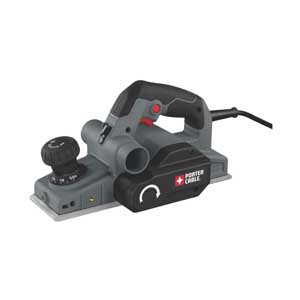 TOWSON, Md. (March 29, 2011) – PORTER-CABLE announces the launch of its new 6 AMP Hand Planer (PC60THPK), which incorporates features designed to address contractors' frustrations with performance, ease of use, ergonomics, and dust collection. Ideal for contractors, the new PORTER-CABLE Hand Planer is powerful, easy to adjust, has a low profile, and includes a longer shoe and three chamfer grooves.
"The new PORTER-CABLE Hand Planer offers contractors professional-grade features and specifications with a variety of attachments at an excellent value," said Wil Granger, group product manager, PORTER-CABLE. "After spending countless hours in the field talking to contractors about what they need in a hand planer, we engineered this tool to address common frustrations facing contractors."
Performance
The powerful new planer features a 6 AMP motor that delivers 16,500 RPM to provide the finish contractors are looking for across a variety of applications, including planing wood planks, doors and joists, as well as, chamfering or profiling edges. It also has the power to make a 5/64″ cut in one pass max. The unit is outfitted with two blades. Depending on the application, contractors can choose between high-speed steel (HSS) blades or carbide blades. While HSS blades can be used in more aggressive situations, such as planing nail embedded wood, carbide blades can be used for finer construction, such as furniture or boat making.
Ease of Use
PORTER-CABLE's depth adjuster has 11 positive stops positioned every 1/16 of an inch up to 5/64″. These stops provide the user with the knowledge that they accurately know how much material they are removing. To ensure level and square results, the planer's cast aluminum shoe is 11-1⁄2″ and is furnished with three chamfer grooves. These grooves allow users to make the most common bevel cuts with ease. Finally, a kickstand under the aluminum shoe helps protect the blades and work surface when the unit is not in-use.
Ergonomics
Positioned behind the tool and close to the work surface for control, the planer's handle is equipped with a comfortable over molded grip to reduce any vibration. The unit also incorporates a depth dial with the same overmolded grip at the front of the tool.
Dust Extraction
For a clean worksite, the PC60THPK features a thick mesh filtered dust bag that captures wood debris and dust particles. A practical, dual dust extraction lever allows users to switch the exit port to the left or right side of the planer which provides flexibility in any application. The dust extraction ports are also vacuum compatible and the unit comes with an adaptor that can connect directly to most worksite vacuums.
Finally, understanding contractors' frustrations with durability, PORTER-CABLE equipped the new planer with replaceable motor brushes in an effort to extend the tool's life. Also, they incorporated a replaceable belt drive system which provides durability to minimize downtime yet can be quickly serviced when needed.
The PORTER-CABLE Hand Planer will be available now through independent distributors and carries a suggested retail price of $89.97. The PC60THPK includes two high speed steel blades, two carbide blades, a filtered dust bag, vacuum adapter, metal rabbiting fence, and a kit box. The hand planer will come with a three-year limited warranty, one-year service contract and 90-day money-back guarantee.
About the author
Disclosure
Product reviews on this site contain our opinion of a product or service. We will always strive for objectivity and transparency in our reviews. Our goal is to provide readers with honest, objective information based on our own experiences. We never have and never will accept payment in exchange for a positive review. Many of the products that we review are provided to us for free by a manufacturer or retailer. In some cases, we also have advertising or affiliate relationships with manufacturers and retailers of products and services we review. For additional information please visit our additional disclosure policies.