New IRWIN VISE-GRIP Curved-Jaw (CR) Locking Pliers
New IRWIN VISE-GRIP Curved-Jaw (CR) Locking Pliers Guaranteed "Strongest Grip Ever"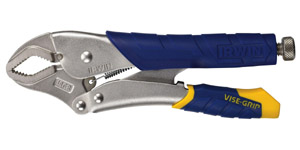 Phoenix, AZ [November 8, 2010] — Trade professionals hate busted knuckles resulting from failed locking pliers. That's no problem for tradesmen who use trusted IRWIN® VISE-GRIP® locking pliers, which have earned the top spot in the locking pliers category since their introduction in 1957. And, now, tradesmen have even more to celebrate: the new IRWIN VISE-GRIP Curved Jaw (CR) Locking Pliers, featuring a self-energizing lower jaw that delivers three times more gripping power than traditional locking pliers, with absolutely no slipping or stripping. There's no need for heavy input pressure – the jaws tighten for maximum grip as torque is applied to the tool. Backed by the legendary IRWIN VISE-GRIP Lifetime Guarantee, they're available in two core models: Fast Release™, with a one-handed, triggerless release and anti-pinch, non-slip ProTouch™ Grips; and Original™, with a classic trigger release.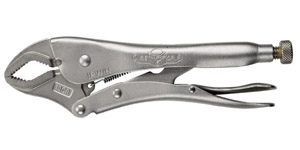 "Other manufacturers' traditional locking pliers only allow a couple of contact points on a round or hex work piece, resulting in the tool slipping or failing to loosen a frozen bolt," said Curt Weber, Director of Marketing for IRWIN Tools. "The IRWIN VISE-GRIP CR, on the other hand, establishes multiple contact points with the work piece, guaranteeing a significantly tighter grip. They cannot be beat for tightening, clamping, twisting and turning."
"In addition, the slotted geometry of the new 'self-energizing' VISE-GRIP Curved Jaw locking pliers exponentially increases torquing power, and more torque means more clamping power. In fact, the new CR range provides the strongest grip ever," Weber concluded.
IRWIN VISE-GRIP Fast Release locking pliers have a one-handed, triggerless release, so they're easy to open and speedily reset on the jobsite. In addition, the anti-pinch, non-slip ProTouch Grips feature molded handles for comfort and leverage while reducing vibrations and hand fatigue. The new CR range is especially well-suited for performing in greasy work environments where there may be lots of lubricants, and for maneuvering in tight spaces where a worker cannot easily get two hands on a tool.
"The CR range absolutely won't slip and won't strip the work piece," Weber emphasized. "You can practically stand on these locking pliers when they're torqued down and never worry about stubborn jobs."
Additional IRWIN VISE-GRIP Curved Jaw (CR) Locking Pliers Features:
Patented curved jaw is great for securely gripping and torquing multiple surface shapes such as round pipe, square or hex bolts, and more.
Self-energizing curved jaw puts tremendous pressure on four points of any style nut or bolt head, making it perfect for any application that requires maximum torque.
Fast Release model is two times easier to open, has a no-trigger release, offers one-handed operation, and includes anti-pinch, non-slip ProTouch Grips for comfort, leverage, and a reduction in vibration and hand fatigue.
Convenient wire cutter available
Hex Key Adjusting Screw provides a controlled release or tightens to draw materials together.
All IRWIN VISE-GRIP pliers are constructed of high-grade heat-treated alloy steel for maximum toughness and durability.
Hardened teeth are designed to grip from any angle.
The new IRWIN VISE-GRIP Curved Jaw (CR) Locking Pliers include lengths of 5-inch, 7-inch, and
10-inch models. The full range of VISE-GRIP locking pliers, including IRWIN VISE-GRIP Fast Release and Original locking tools, can be found at home centers, hardware stores and industrial tool distributors throughout the U.S. and Canada. The suggested retail price of the 5" CR is $11.99, the 7" is $12.99 and 10" is $13.99.
About the author
Disclosure
Product reviews on this site contain our opinion of a product or service. We will always strive for objectivity and transparency in our reviews. Our goal is to provide readers with honest, objective information based on our own experiences. We never have and never will accept payment in exchange for a positive review. Many of the products that we review are provided to us for free by a manufacturer or retailer. In some cases, we also have advertising or affiliate relationships with manufacturers and retailers of products and services we review. For additional information please visit our additional disclosure policies.