New IRWIN Universal Handsaw
The IRWIN Universal Handsaw Delivers Coarse Cut Speed with a Fine Cut Finish
Innovative Handsaw Outperforms in Every Sought-After Benchmark for Performance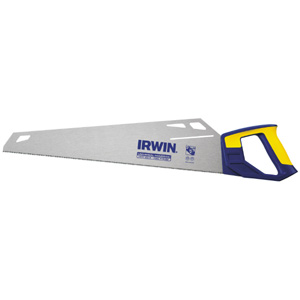 01.20.2011– All tradesmen need one reliable handsaw in their toolbox – one that delivers speed, durability under harsh conditions and versatility to cut a variety of building materials. After years of intense research and development to design the only handsaw the professional tradesman will ever need, IRWIN® Tools introduces the new IRWIN Universal Handsaw that cuts three times faster than traditional tooth handsaws and delivers unparalleled performance that tradesmen demand on the jobsite.
The most significant innovation of the Universal Handsaw lies in a novel and proprietary ergonomic positioning of the handle in relation to the cutting edge – this handle-to-blade configuration is optimized to provide superior comfort and fast starts with less effort. In addition, the handle has a comfortable grip constructed from strong, lightweight, high-density resin, resulting in less hand fatigue, and there's a finger rest for comfort and added grip support.
Combined with a unique handle angle, the triple-ground tooth design of the Universal Handsaw eliminates binding and allows tradesmen to use the entire length of the blade to cut through virtually any type of building material. The Universal Handsaw is faster than coarse-cutting saws but delivers a fine, smooth finish tradesmen expect from fine-tooth saws. Forty-five and ninety degree angle-markers are built right into the blade, providing a convenient tool for quick, precise marking on work surfaces.
"More than five years of deep consumer insights and intense product development culminated in this next generation handsaw," said George Hartel, Director of Marketing for IRWIN Tools. "The new Universal Handsaw outperforms in every performance benchmark tradesmen demand. For carpenters and remodelers across the world, this will be the only handsaw they'll ever need. Any tradesman who gets the Universal Handsaw in his hands will immediately feel the difference."
Already recognized for its superior design innovation and performance, the IRWIN Universal Handsaw is the recipient of the prestigious Red Dot Award for Product Design. With more than 12,000 submissions from over 60 countries, the coveted international Red Dot Design Awards for Product Design, Communication Design and Design Concept are the largest and most renowned design competitions in the world.
The IRWIN Universal Handsaw is avilable online, at home centers, hardware stores and industrial construction distributors in a 15" and a 20" blade with a suggested retail price of $18.99 and $21.99, respectively.
About the author
Disclosure
Product reviews on this site contain our opinion of a product or service. We will always strive for objectivity and transparency in our reviews. Our goal is to provide readers with honest, objective information based on our own experiences. We never have and never will accept payment in exchange for a positive review. Many of the products that we review are provided to us for free by a manufacturer or retailer. In some cases, we also have advertising or affiliate relationships with manufacturers and retailers of products and services we review. For additional information please visit our additional disclosure policies.