Milwaukee Step Drill Bits
Milwaukee® Step Drill Bits Deliver Jam-free Performance, Optimized for Cordless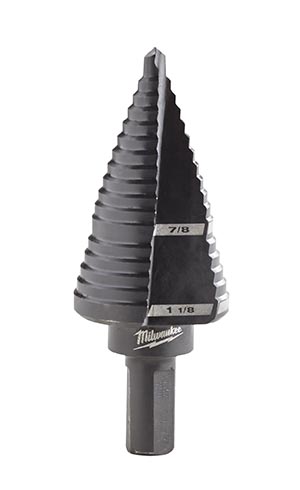 MILWAUKEE, WI – Milwaukee Tool Corporation continues to provide productivity-enhancing solutions for the professional with the introduction of a new line of Step Bits. Designed to deliver Jam-Free Performance, the new products are the first Step Drill Bits on the market that are optimized for cordless drills in high speed.
"Until now, users have been forced to choose between step bits that provide control at the cost of speed, or step bits that deliver fast cuts, but sacrifice control and hole quality. The competition's bits were specifically designed for corded drills with low RPM and high torque, and therefore perform poorly in cordless tools with high RPM and lower torque," says Brian Dieck, Group Product Manager for Milwaukee Tool Corporation. "Seeing this on the jobsite, it was imperative that we deliver a solution for cordless drills in high speed – the preferred method and reality for most professionals in the field today."
Working closely with users, Milwaukee® has researched and designed the new step bit line around high speed. Optimizing multiple variables through a proprietary design process, Milwaukee® was able to deliver a solution that will provide maximum speed, control, accuracy and life when used with cordless drills in high speed.
To begin, Milwaukee® recognized that many step bits failed at the tip, leading to premature failure.  With the development of a new design called the Rapid Strike™ Tip, the Milwaukee step bits prevent bit walking and deliver fast, accurate starts that generate less heat. Coupled with a dual flute step geometry engineered with a performance focus, these step bits deliver up to 2X faster hole times, provide up to 4X longer life and boast up to 50% more holes per battery charge than the competition.
In addition, the new Step Bits include a black oxide coating for enhanced durability, hole quality and bit life.  For user convenience and accuracy, each bit also has laser-engraved reference marks you can see while drilling. The 3-flat Secure-Grip™ shank ensures a solid connection with the drill chuck.
Made in the USA, the new Milwaukee® Step Bits will offer the most complete range of sizes with 11 different step bits and 3 kit variations.  Ranging from 1/2″ to 1-3/8", each bit demonstrates Milwaukee's continued commitment to delivering innovative accessory solutions to save time and increase productivity on the jobsite.
Step Bit Models and Availability
Available Now
48-89-9201 – #1 Step Drill Bit, 1/8″ – 1/2″ by 1/32″
48-89-9204 – #4 Step Drill Bit, 3/16″ – 7/8″ by 1/16″
48-89-9209 – #9 Step Drill Bit, 7/8″ & 1-1/8″
Coming Soon
48-89-9202 – #2 Step Drill Bit, 3/16″ – 1/2″ by 1/16″
48-89-9203 – #3 Step Drill Bit, 1/4″ – 3/4″ by 1/16″
48-89-9205 – #5 Step Drill Bit, 1/4″ – 1-3/8″ by 1/8″
48-89-9206 – #6 Step Drill Bit, 3/8″ & 1/2″ by 1/16″
48-89-9207 – #7 Step Drill Bit, 7/8″ Single Hole
48-89-9208 – #8 Step Drill Bit, 1/2″ – 1″ by 1/16″
48-89-9211 – #11 Step Drill Bit, 7/8″ – 1-7/32″
48-89-9212 – #12 Step Drill Bit, 7/8″ – 1-3/8″
48-89-9221 – Step Drill Bit 3-Piece Set
48-89-9223 – Step Drill Bit 4-Piece Set
48-89-9224 – Step Drill Bit 6-Piece Set
About the author
Disclosure
Product reviews on this site contain our opinion of a product or service. We will always strive for objectivity and transparency in our reviews. Our goal is to provide readers with honest, objective information based on our own experiences. We never have and never will accept payment in exchange for a positive review. Many of the products that we review are provided to us for free by a manufacturer or retailer. In some cases, we also have advertising or affiliate relationships with manufacturers and retailers of products and services we review. For additional information please visit our additional disclosure policies.