Milwaukee M18 Charging Radio with Bluetooth
First Charging Radio with Bluetooth® for the Jobsite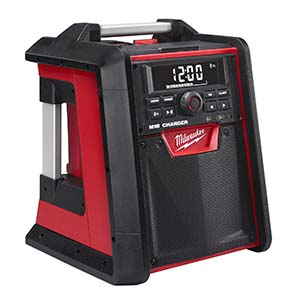 MILWAUKEE, WI – Milwaukee Tool continues to deliver disruptive innovation with the introduction of the first charging radio to bring the power of Bluetooth® to the jobsite. The most advanced radio of its kind, the M18™ Jobsite Radio/Charger allows the user to stream rich, full sound wirelessly from over 100 feet away.  In addition, the 2792 also serves as a quick and convenient charging station for Milwaukee M18™ Batteries and portable electronic devices.
"Milwaukee continues to raise the bar with best-in-class technology across all product categories," says Tom Simeone, Group Product Manager for Milwaukee Tool Corporation. "Delivering the industry's best reception and sound, this unique radio/charger features components designed from the ground up that not only give the user Bluetooth® capability, but also the ability to charge any M18™ battery without sacrificing reception or sound quality."
In addition, the USB port charges most portable electronic devices over 50% faster than any competitors, and is the only device charger on the market that can work off battery power, rather than just AC power.
Backed by legendary Milwaukee durability, a reinforced roll cage and extruded aluminum handles protect internal components from weather and abusive job site conditions.  The radio/charger also offers the industry's largest on-board, weather-sealed storage compartment to protect the user's small belongings and electronic devices. The user is even able to convert the radio into a portable entertainment center while charging tablets, with a built-in electronics stand.
Complete with an AM/FM Tuner with a digital processor, customizable equalizer, optimized speaker orientation and an on-board bottle opener, this revolutionary Jobsite Radio/Charger will set the new standard for quality and performance in this category.
Powered by Milwaukee's revolutionary M18™ REDLITHIUM™ Battery, the M18™ Jobsite Radio/Charger is compatible with the entire M18™ System, now offering over 50 cordless Lithium-Ion products. Milwaukee® is committed to the ongoing development of this platform and will continue to provide innovative solutions that offer industry leading reliability, performance and ergonomics.
Launch: February 2014
Specifications:
M18™ Jobsite Radio/Charger (2792-20)
Bluetooth® Compatible: yes
No-Interference Battery Charger: yes
Radio Pre-Set:  FM (10), AM (10)
Frequency Response: 80 Hz – 20 KHz
Device Storage Space: 55in3
Aux Cable Length: 16″
USB Charger Output: 2.1 Amp
Size: 12" x 15" x 12"
Weight: 17lbs
Voltage: 18V
Includes 2292-20 M18™ Jobsite Radio/Charger*
*Batteries sold separately
About the author
Disclosure
Product reviews on this site contain our opinion of a product or service. We will always strive for objectivity and transparency in our reviews. Our goal is to provide readers with honest, objective information based on our own experiences. We never have and never will accept payment in exchange for a positive review. Many of the products that we review are provided to us for free by a manufacturer or retailer. In some cases, we also have advertising or affiliate relationships with manufacturers and retailers of products and services we review. For additional information please visit our additional disclosure policies.