MAX Releases New 18 Ga Brad Tools
MAX USA CORP. Releases New 18 Ga. Brad Tools NF235F/18 and NF255F/18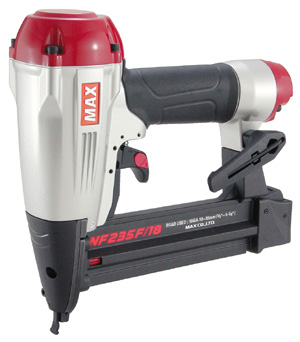 MAX USA CORP. announces the availability of their new 18 Ga. brad tools NF235F/18 and NF255F/18 to the North and South American markets. These exciting new tools help complete the MAX 100 PSI tool line.
The NF235F/18 will shoot 18 Ga. brads from 5/8"-1 3/8" in length weighing in at only 2.5lbs and the NF255F/18 will shoot 18 Ga. brads from 5/8"-2 1/8" in length while coming in at a lightweight 2.7lbs.
Both tools have features MAX customers have come to expect including dial adjustable depth control to set the nail right every time, nail indicator on the magazine so you can tell when it is time to reload, no mar contact tip, easy jam clearance(only on the NF255F/18) and a belt hook.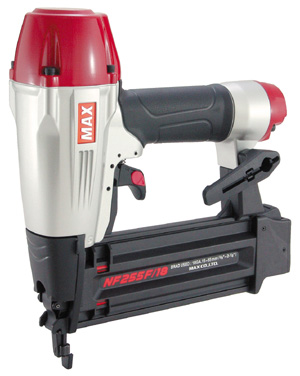 The new NF235F/18 and NF255F/18 also feature a switchable fire mechanism to go from single shot to contact fire.  You can select the fire mode for your application.  Another feature on these tools is the design of the drivers and bumpers.  Our R&D engineers studied our competition and designed these key parts to be up to 4 times more durable then products currently in the field.
Applications include finish work, cabinetry, door and window casing, paneling, flooring, furniture assembly and case back assembly.
—–
MAX USA CORP. is headquartered in Mineola, NY, and is owned by MAX CO., LTD. which is headquartered in Tokyo, Japan. MAX is recognized as a market leader in quality manufacturing of pneumatic nailing tools for over 65 years. MAX has several divisions employing more than 1,400 people worldwide including 140 R&D engineers.

MAX USA CORP. is distributing the NF235F/18 and NF255F/18 through professional tool and nail dealers.
About the author
Disclosure
Product reviews on this site contain our opinion of a product or service. We will always strive for objectivity and transparency in our reviews. Our goal is to provide readers with honest, objective information based on our own experiences. We never have and never will accept payment in exchange for a positive review. Many of the products that we review are provided to us for free by a manufacturer or retailer. In some cases, we also have advertising or affiliate relationships with manufacturers and retailers of products and services we review. For additional information please visit our additional disclosure policies.