Johnson Level Leads the Way in Bamboo Tools
Stronger and More Durable Than Wood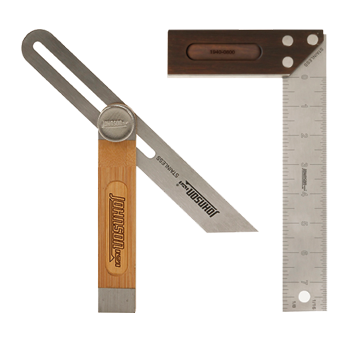 MEQUON, WI, January 29, 2013 – Johnson Level & Tool, the leader in levels, lasers and measuring tools, expanded its leadership in bamboo hands tools by introducing four new products to the world in the categories of t-bevels and try squares.
There are two bamboo versions of the t-bevel and try square, one with a traditional bamboo handle and the other with a carbonized bamboo handle.  Carbonization of bamboo provides a richer, more elegant finish for the true artisan.  All models offer a stainless steel blade that will never rust or corrode and a finely routed handgrip, completed with solid brass edging on the t-bevels and precision stainless steel gauging edges on the try squares.  All models meet or exceed federal standards for accuracy.
Compared to wood, bamboo is stronger and stands up better in both dry and damp climates.  "Our customers expect tough and durable tools, which is why we moved from wood to bamboo.  Bamboo has the tensile strength of steel, resists moisture and is sustainable to the rigors of everyday use on a job site," said John Dwyer, Vice President of Sales and Marketing at Johnson Level.
Johnson Level now offers the highest quality, broadest and most complete lines of t-bevels and try squares in the industry.
New Models
T-Bevels: 1915-0800 Bamboo and 1926-1000 Carbonized Bamboo
Try Squares: 1909-0800 Bamboo and 1940-0800 Carbonized Bamboo
About the author
Disclosure
Product reviews on this site contain our opinion of a product or service. We will always strive for objectivity and transparency in our reviews. Our goal is to provide readers with honest, objective information based on our own experiences. We never have and never will accept payment in exchange for a positive review. Many of the products that we review are provided to us for free by a manufacturer or retailer. In some cases, we also have advertising or affiliate relationships with manufacturers and retailers of products and services we review. For additional information please visit our additional disclosure policies.