Festool Introduces Cordless Carvex Jigsaws
Carvex 420 Cordless Jigsaw
Festool continues to release new tools and the latest to come out is their all new Carvex 420 Cordless Jigsaw. The new cordless jigsaw is available in both a barrel grip and traditional handle grip. The new jigsaws have been designed to offer the same features currently offered in the corded 420 series on a cordless 18V platform. From what I've read and see online, these are VERY impressive!

Carvex Cordless Jigsaw Features
Triple Blade Guidance – Festool jigsaws utilize carbide guides to virtually eliminate blade deflection, even when cutting in materials as thick as 4-3/4 inches. That means you can cut with the confidence of knowing your end results will be perfectly perpendicular. A clear replaceable plastic splinterguard prevents chipping.
Stroboscopic LED Lights – Four high-intensity white LEDs surround the blade on every side to reduce shadows that may interfere with your cut line. At speed, the LEDs synchronize to the speed of the blade causing it to appear to stop moving improving your ability to follow your cut line. The LEDs can be configured to be always on, always off or strobostopic.
Interchangeable Base System – Flip the base release lever to swap between a collection of task-specific bases available for the Carvex jigsaws. The tool-free operate let's you change bases in seconds. The amazing angle base is adjustable +/- 45° for inside and outside corners. Choose from a variety of bases to match your application.

FastFix Blade Chuck – The Carvex features a new patented tool-free blade chuck. Simply insert the blade and give it a twist to lock it into the chuck. Use the release trigger on the side of the jigsaw to eject the blade. No more grabbing a hot blade to remove it. Now, that's smart!
Stroke Adjustment – The stroke adjustment knob lets you select how aggressive you would like the Carvex to cut. Select from four modes ranging from fine to aggressive. At a whopping maximum 3,800 stroke per minute, the Carvex can plow through material quickly.
Adjustable Chip Guard – The chip guard can be adjusted vertically to provide optimal visibility while retaining excellent dust extraction. The chip guard can also be completely removed. The integrated blower moves dust away from the cut line when dust extraction is not being used.
Variable Speed Trigger – On the D-Handle models of the Carvex, the auxiliary trigger on the handle can be used to regulate the speed of the cut in addition to the variable speed dial. A locking button allows you to lock the trigger to the full on position.
Brushless Motor – Brushless motors offer significant advantages over motors with brushes, including higher efficiency and reliability, reduced noise, and longer service life to name a few. This helps Carvex jigsaws outperform other jigsaws, especially cordless models, that would otherwise be in the same class. Brushless motors are as much as 39% more powerful than an equivalent brushed motor and extend battery life.
Lithium Ion Technology – Did we mention we warranty your batteries for three years! Our cordless jigsaws represent the culmination of the best technology available today, with features unique only to Festool. Battery cells are carefully tested and selected to find matched sets to enhance cell balancing. This technique ensures equal charge and discharge cycles, thus prolonging battery life and efficiency.
4 Models Available
Sometime in December Festool will release 4 models to choose from. You can buy either of the two handle designs with or without a battery and charger. If you want to sign up to buy one now just head on over to their website HERE.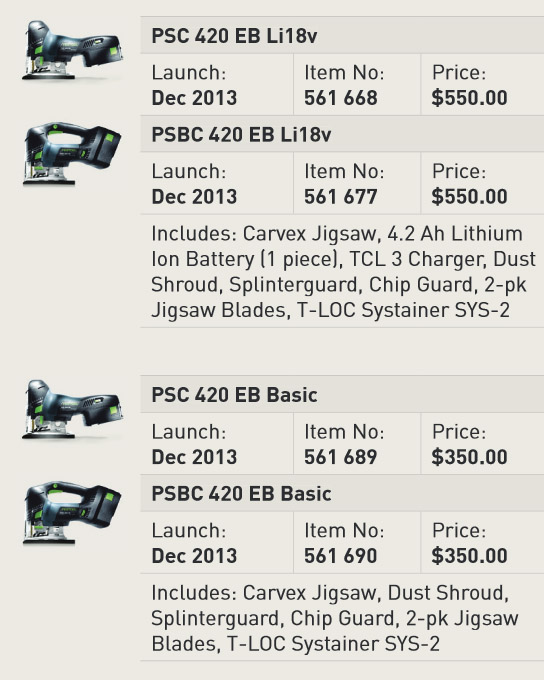 About the author
Disclosure
Product reviews on this site contain our opinion of a product or service. We will always strive for objectivity and transparency in our reviews. Our goal is to provide readers with honest, objective information based on our own experiences. We never have and never will accept payment in exchange for a positive review. Many of the products that we review are provided to us for free by a manufacturer or retailer. In some cases, we also have advertising or affiliate relationships with manufacturers and retailers of products and services we review. For additional information please visit our additional disclosure policies.