Festool CXS Compact Cordless Drill
I wanted to quickly note that all of you Festool Fans will now be happy to see some Festool coverage here on Tool Box Buzz. We now have an official connection with the folks at Festool so we'll be keeping all of you up to date on new products and hopefully testing some. Ok…enough of that now for our first bit from Festool.
CXS Compact Cordless Drill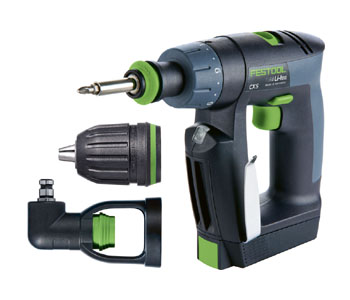 Compact cordless drills continue to flood the market offering users lighter more versatile drilling and fastening options. Festool users will be glad to see the all new CXS Compact Cordless Drill come to market in June of this year.
The CXS Compact cordless drill is the latest, and by far the smallest, extension of Festool's Li-Ion drill platform. Featuring the FastFix chuck system, the CXS can be used with the Centrotec chuck, keyless chuck, or a right angle attachment that allows you to access even the tightest spaces. As you would expect, the CXS features exceptional ergonomics, with a battery design that removes the bulk from the handle, ensuring maximum comfort
over extended use.
Versatile 3 tools in 1, FastFix enables the use of the Centrotec chuck, a keyless chuck and a right angle attachment for gaining access to even the tightest of spaces.
Durable Tough inside and out, the CXS features sophisticated electronics that protect the tool and batteries from overcurrent, undervoltage, and overheating.
Ergonomic An ultra-compact design weighing in at less than 2lbs means maximum comfort during extended use.
The new CXS will be offered in two different options:
CXS Plus
Item No: 564 261
Price: $225.00
Includes: Drill, Centrotec chuck, keyless chuck, Centrotec bit holder, 2-batteries, charger, T-Loc Systainer-1
CXS Set
Item No: 564 274
Price: $275.00
Includes: Drill, Centrotec chuck, right-angle chuck, keyless chuck, Centrotec bit holder, 2 batteries, charger, T-Loc Systainer-1
Check out their entire line of drills at: Festool Drills
About the author
Disclosure
Product reviews on this site contain our opinion of a product or service. We will always strive for objectivity and transparency in our reviews. Our goal is to provide readers with honest, objective information based on our own experiences. We never have and never will accept payment in exchange for a positive review. Many of the products that we review are provided to us for free by a manufacturer or retailer. In some cases, we also have advertising or affiliate relationships with manufacturers and retailers of products and services we review. For additional information please visit our additional disclosure policies.