Expanded Milwaukee Fastback Knife Line
Milwaukee® Expands Fastback™ Line with Innovative Cutting Solutions
MILWAUKEE, WI- Milwaukee Tool Corporation continues to expand their Hand Tool offering with three new Fastback™ Knives, launching in November 2013. Expanding the utility knife line to include pocket knives as well, the new additions to the Fastback™ family will include a Fastback™ Hawk Bill Knife, Fastback™ Smooth Pocket Knife and Fastback™ Spring Assisted Knife.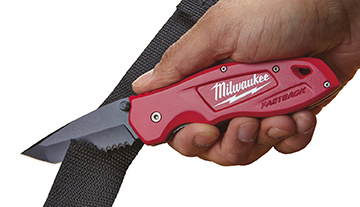 The entire line of Fastback™ Knives feature one handed blade opening for easy activation. Similar to the original Fastback™ and Fastback™ II, the Hawk Bill and Smooth Pocket Knife are designed to activate the blade 3X faster than a 2-handed opening with a Press & Flip opening. The Spring Assisted Knife delivers even faster activation by flipping open with the aid of a durable spring.
Each of the new knives feature a stainless steel blade with a sharp cutting edge that the user can re-sharpen, and are all designed with specific needs and preferences in mind. With a curved "Hawk" Blade, the Fastback™ Hawk Bill Knife is ideal for pull cuts or slicing around the edge of cable to remove installation. With a sharp, pointed tip, The Fastback™ Smooth Pocket Knife is designed for controlled piercing and smooth general purpose cutting. Lastly, the Fastback™ Spring Assisted Knife features a black oxide coated blade for ultimate durability and sharpness, and a serrated edge for tearing through material like rope.
All Fastback™ knives also feature a thin body design and a wire form clip for comfortable pocket storage and quick access. After much demand, the belt clip on the new knives will now be reversible for user preference and ultimate storage versatility.
Backed by a limited lifetime warranty, each of the new Fastback™ Knives confirm Milwaukee's commitment to best-in-class durability and their relentless commitment to provide innovative solutions to the end user that will increase productivity. The Fastback™ line will continue to grow with innovative cutting solutions.
Model Options
Fastback™ Hawk Bill Knife (48-22-1985)
Fastback™ Smooth Pocket Knife (48-22-1990)
Fastback™ Spring Assisted Knife (48-22-1995)
About the author
Disclosure
Product reviews on this site contain our opinion of a product or service. We will always strive for objectivity and transparency in our reviews. Our goal is to provide readers with honest, objective information based on our own experiences. We never have and never will accept payment in exchange for a positive review. Many of the products that we review are provided to us for free by a manufacturer or retailer. In some cases, we also have advertising or affiliate relationships with manufacturers and retailers of products and services we review. For additional information please visit our additional disclosure policies.