DEWALT® Launches a 4-3/8″ Wet and Dry Hand Tile Cutter
DEWALT® Launches a 4-3/8″ Wet and Dry Hand Tile Cutter with the Versatility Professionals Need on the Jobsite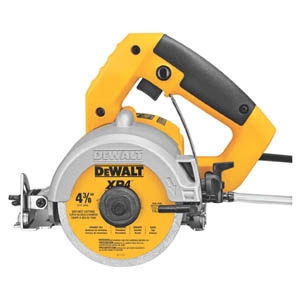 TOWSON, Md. (Dec. 16, 2010) – Today, D EWALT announces the launch of its new 4-3/8″ Wet and Dry Hand Tile Cutter (DWC860W), a portable saw designed to handle a variety of cuts in natural stones, tile ceramics and other man-made materials. Ideal for tile installers, pavers, remodelers, electrical contractors, masonry and concrete professionals, the DWC860W has the versatility contractors demand with its ability to make cross-cuts, beveled or angle cuts and miter cuts in addition to plunge and other compound cuts.
"We know our end users move quickly from one task to another, so it's critical that their tools provide the flexibility they need to get the job done," said Ivonne Meza, product manager, D EWALT. "Our new 4-3/8″ Wet and Dry Hand Tile Cutter delivers the speed, power and flexibility contractors expect in addition to added benefits such as a ground fault circuit interrupter (GFCI) cord and 45-degree bevel capacity."
At just over six pounds, the DWC860W Tile Cutter features a 10.8 AMP motor that delivers 1,300 watts and 13,000 RPMs, giving professionals the power and speed they need in a lightweight package. The Tile Cutter also comes equipped with a 13′ water tube and water nozzles for wet cutting in addition to a GFCI cord, a steel shoe and 45-degree bevel capacity for precise cuts.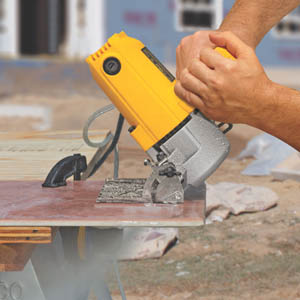 The Extended Performance 4-3/8″ blade that comes with the tool features an aggressive diamond matrix design for cutting porcelain and granite. The 1-3/8″ depth of cut allows contractors to cut up to 1-1/4″ thick counter tops.
A lock-on button is conveniently located near the trigger, which allows end users to hold the trigger on for ease of use during extended cuts. For durability, dust seals have been incorporated into the handle and trigger to reduce the chances of dust and debris damaging the tool.
The DWC860W is well balanced and lightweight at only 6.6 lbs. Its handle has an ergonomic design and it has been enhanced with rubber overmold for user comfort even after extended use. The 4-3/8″ Wet and Dry Hand Tile Cutter will be available at independent distributors in January 2011. The tool will come standard with a three-year limited warranty, one-year free service contract and 90-day money-back guarantee. This product is expected to retail for approximately $170. For more information, please visit: http://dewalt.com/Home.aspx.
About the author
Disclosure
Product reviews on this site contain our opinion of a product or service. We will always strive for objectivity and transparency in our reviews. Our goal is to provide readers with honest, objective information based on our own experiences. We never have and never will accept payment in exchange for a positive review. Many of the products that we review are provided to us for free by a manufacturer or retailer. In some cases, we also have advertising or affiliate relationships with manufacturers and retailers of products and services we review. For additional information please visit our additional disclosure policies.