DEWALT Diamond Edge™ Chop Saw Blade
Diamond Edge™ Chop Saw Blade that Allows Diamond to be used to cut Metal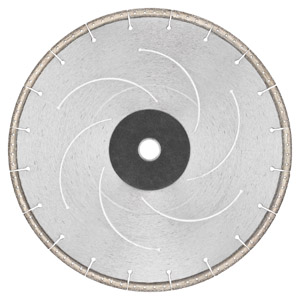 TOWSON, Md. (Nov. 9, 2010) – DEWALT announces the launch of the industry's first Diamond Edge Chop Saw Blade (DW8500). By utilizing technology that allows diamond to be used to cut metal without sacrificing cutting performance, the Diamond Edge blade reduces product costs for the end user and lasts 100 times longer compared to conventional DEWALT abrasive blades, DW8001 and DW8003.
"At DEWALT, we are pioneers in developing power tools and accessories that deliver industry-first innovation and technology that leads to increased productivity and performance," explained Brad Nohr, product manager, DEWALT. "Our new Diamond Edge Chop Saw blades are just one example of how we are leading the industry with product development that addresses end user concerns and raises the bar to exceed contractors' expectations."
Ideal for tradesmen tasked with cutting pipe, steel studs, angle iron, rebar and threaded rod using a chop saw, the Diamond Edge blade makes use of advanced brazing technology and premium diamond grit for increased speed and longer life compared to standard DEWALT blades. While the brazing technology is what enables the blades to cut metal with the speed of a conventional abrasive wheel, the premium diamond grit lasts more than 100 times the life of standard DEWALT abrasive blades in metal.
A steel blade core provides the constant cutting depth, capacity and stability of a solid core, and the exposed diamond matrix allows the blades to cut concrete, plastic, fiberglass, rubber, non-ferrous metals, stainless and ferrous metals without loading for flexibility on the jobsite.
The Diamond Edge blade will be sold at independent distributors. The Diamond Chop Saw Blade will be available in December 2010. Expected to retail for approximately $249, the product will come with a 90-day money-back guarantee.
About the author
Disclosure
Product reviews on this site contain our opinion of a product or service. We will always strive for objectivity and transparency in our reviews. Our goal is to provide readers with honest, objective information based on our own experiences. We never have and never will accept payment in exchange for a positive review. Many of the products that we review are provided to us for free by a manufacturer or retailer. In some cases, we also have advertising or affiliate relationships with manufacturers and retailers of products and services we review. For additional information please visit our additional disclosure policies.