Craftsman Accutrac Laser Measuring Tool
ACCUTRAC LASER MEASURING TOOL IS HANDY HELPER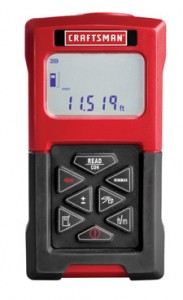 Handling a 100 ft. steel tape measure isn't the easiest task especially if you're working solo. The Craftsman® Accutrac® Laser Measuring Tool is like having an assistant and more. This easy-to-operate, pocket calculator measures distances up to 100 ft. with +/- accuracy of 1/8 in. The icon labeled unit button converts measurements to decimal feet, feet/inches, decimal inches, inches, meters and millimeters. There's even a flip-out extension pin for measuring from inside corners. The tool's read button activates the laser and begins the measurement, while pressing the mode button calculates length, area, volume and 2 or 3 point Pythagorean measurements.
Add a large. Hi-vis, backlit LCD screen and this measuring tool handles the grunt work. It comes in handy when sizing up a room for buying paint, wallpaper, carpet, flooring, trim, window treatments, fencing and more. The tool is powered by 2 AA batteries (sold separately). The measuring tool has an impact-resistance resin shell with a rubber over-mold grip for secure and comfortable handling. The Craftsman Accutrac Laser Measuring Tool (#48277, $99.99) is available at Sears and sears.com.
About the author
Disclosure
Product reviews on this site contain our opinion of a product or service. We will always strive for objectivity and transparency in our reviews. Our goal is to provide readers with honest, objective information based on our own experiences. We never have and never will accept payment in exchange for a positive review. Many of the products that we review are provided to us for free by a manufacturer or retailer. In some cases, we also have advertising or affiliate relationships with manufacturers and retailers of products and services we review. For additional information please visit our additional disclosure policies.