Bosch PSJ120 Heated Jacket Due Fall of 2013
Bosch Joins the Ranks with a Heated Jacket for Users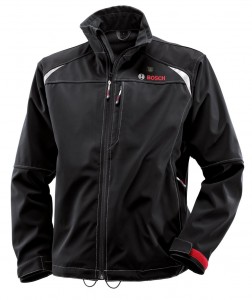 Thanks to a pre-order listing on Amazon we recently stumbled upon a new heated jacket being offered by Bosch. The new jacket (model PSJ120) will be available in sizes Small through 3XL later this Summer or early Fall. The new jackets will be powered by a new 4.0 Ah 12V battery that also offers an USB port for charging a phone at the same time.
Additional features include:
Three Quick Warming Core Heat Zones: Two chest zones and one back zone start warming in a matter of minutes
Three Level Heat Controller: High (Red), Medium (Green) and Low (Blue) heat options for quick warm up and maximum comfort
Up to 6 Hours Heated Runtime On Low: Maximum runtime with Bosch 12V max 2.0-Ah battery, doubles with 4.0-Ah battery (11+)
Water & Wind Resistant High Quality Jacket w/Reflective Features: Jobsite ready design for warmth and flexibility
Adjustable fitting for maximum comfort and warmth: High collar, adjustable sleeves and waist
The PSJ120 12V Max Heated Jacket is a high quality rain and wind resistant work jacket conveniently powered by the Bosch 12V Max power tool battery system. Featuring three simple push-button heat settings – high, medium and low – the PSJ120 starts warming quickly and is the perfect jobsite solution for the cold weather. Five (5) pockets, including a cell phone, large document, Battery Holster/Backup and two hand pockets, make storage on the go quick and easy. With the included BHB120 and a Bosch 12V Max battery (sold separately), you not only can power the PSJ120, but can also power most USB port compatible personal electronics, such as cell phones, at the same time. You can have it all; warmth and back-up power. And for during the warm months, the BHB120 offers a convenient belt clip for use without your jacket simply as a power boost or back-up, anytime and anywhere with a Bosch 12V Max Battery.
Lots of choices for tradesmen and women now. Milwaukee has been offering a jacket for a few years now and today we learned that DEWALT will also be offering a jacket. Gotta love all the choices and options available now for folks that work in cold climates. Be sure to keep an eye out as we'll try to get one to test as soon as samples are available.
About the author
Disclosure
Product reviews on this site contain our opinion of a product or service. We will always strive for objectivity and transparency in our reviews. Our goal is to provide readers with honest, objective information based on our own experiences. We never have and never will accept payment in exchange for a positive review. Many of the products that we review are provided to us for free by a manufacturer or retailer. In some cases, we also have advertising or affiliate relationships with manufacturers and retailers of products and services we review. For additional information please visit our additional disclosure policies.