Bosch 12" Dual-Bevel Glide Miter Saw
Bosch 12" Dual-Bevel Glide Miter Saw.  Model GCM12SD.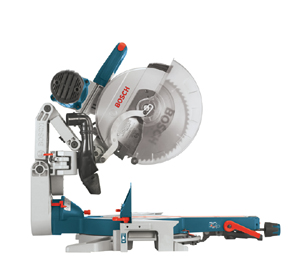 A miter saw is probably one of the most used tools on the jobsite.  In the last 10 plus years sliding miter saws have increased in popularity. Professionals and DIYers love the sliding miter saw because of its ability to cross cut boards 12 to 14: wide, but the trade-off has always been the slide mechanism.
Most sliding miter saws need a foot or more clearance behind the saw for slide rails. For this reason I have not purchased a sliding miter saw for my workshop.  My cut off table is against a wall and there is no room for it…. Until now!
A new saw from solves this problem.  It's called the Bosch GCM12SD 12" Dual-Bevel Glide Miter Saw. Bosch replaced the slide mechanism with a pair of hinged arms.  This new design will not only save space but according to Bosch the tool design is stronger and less likely to go out of adjustment.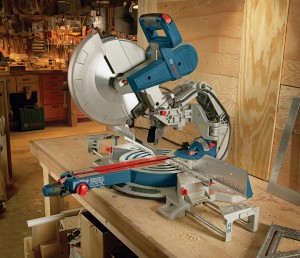 Photo shows the saw up against a shop wall – no need for clearance.
I got a chance to peek at this saw at the 2010 Baltimore Remodelers Show.  The Bosch GCM12SD 12" Dual-Bevel Glide Miter saw reeks of quality.  Other noteworthy options are the upfront controls which eliminate the need to reach behind the saw to make bevel adjustments.
The Bosch GCM12SD 12" Dual-Bevel Glide Miter Saw will cross cut 14" wide material and miters 52◦ left and 60◦ right. The saw features an innovative new approach to fence alignment, called the Squarelock™ Quick-Release Fence system. Factory machining automatically aligns the two-piece high-precision Squarelock fence at 90◦ to the table with no additional adjustment.
The saw will retail for approx. $800.00.
About the author
Disclosure
Product reviews on this site contain our opinion of a product or service. We will always strive for objectivity and transparency in our reviews. Our goal is to provide readers with honest, objective information based on our own experiences. We never have and never will accept payment in exchange for a positive review. Many of the products that we review are provided to us for free by a manufacturer or retailer. In some cases, we also have advertising or affiliate relationships with manufacturers and retailers of products and services we review. For additional information please visit our additional disclosure policies.