Stanley Celebrates 50 Years Making PowerLock® Tape Measures!
50 Year Anniversary for the Iconic Stanley PowerLock Tape Measure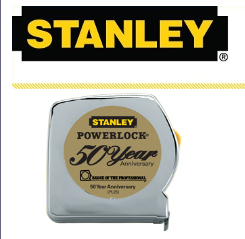 You'd be hard pressed to find someone in construction that hasn't owned a Stanley PowerLock Tape Measure! In fact, I'd say it's one of the most iconic symbols of a tool that hasn't changed much in the last 50 years. The folks at Stanley are very excited to announce the 50th anniversary of this great tool.
To help celebrate this amazing milestone and a way to thank some of our biggest supporters we'll be giving away free Powerlock Tapes. Over the next month I'll be selecting out top commenter's from both ToolBoxBuzz.com and HomeConstructionImprovement.com. Commenter's of both the actual sites and from our Facebook Pages, here and here.
Winners will be contacted via email or private message on FB. For more information on the 50th anniversary of the PowerLock Tape check out the press release below.
Stanley® Celebrates 50th Anniversary of Iconic PowerLock® Tape Rule
NEW BRITAIN, Conn. – March 8, 2013 – Stanley® Tools, a leading manufacturer of hand tools, is celebrating 50 years since the launch of the popular PowerLock® tape measure line. To commemorate this anniversary, Stanley® is releasing a limited edition series of five tape measures featuring unique designs dedicated to important highlights in the Powerlock® tape measure's rich history. The tributes include: a replication of the original "Life Guard Yellow" Powerlock® design; a celebration of "Made in the USA" with global materials; a testament to its inclusion in the Apollo 11 lunar landing gear; an homage to the famous Powerlock® moniker "Badge of the Professional"; and a nod to Stanley®'s Legacy of Invention.
The classic D-shaped PowerLock® design was introduced in 1963 with the world's first coilable spring and sliding lock, which continue to be the core of modern day designs. In the 50 years since it was launched, the PowerLock® tape measure is one of the best selling tapes in the world. "We are excited to celebrate our heritage of innovation and proud of the fact it continues to be manufactured with global materials in the original plant here in New Britain, Connecticut, USA," said Tom Chang, Global Product Manager.
Each of these 25-foot tape measurers feature a sliding lock, which conveniently holds the blade in place, a rigid 7 feet of standout, Mylar® protective blade coating for durability, and a Tru-Zero™ end hook for accurate measurements. A new tape measure will be available every three months and the fifth one will be free with purchase of the first four. Available at independent channel hardware stores in March 2013 each tape will sell for approximately $9.99.
The 50th anniversary of PowerLock® coincides with the company's momentous milestone of 170 years, originally founded in 1843.
Mylar® is a registered trademark of DuPont Teijin Films
About the author
Disclosure
Product reviews on this site contain our opinion of a product or service. We will always strive for objectivity and transparency in our reviews. Our goal is to provide readers with honest, objective information based on our own experiences. We never have and never will accept payment in exchange for a positive review. Many of the products that we review are provided to us for free by a manufacturer or retailer. In some cases, we also have advertising or affiliate relationships with manufacturers and retailers of products and services we review. For additional information please visit our additional disclosure policies.