Stabila Aluminum Box Beam Level Review
Stabila Levels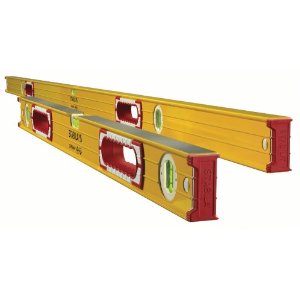 If you're going to do any serious home improvement projects or framing construction then you need to invest in a really good beam level. Anyone that knows me knows that I like to buy the best quality tools I can afford and that's why I like the Stabila 37532 Jamber 78-Inch and 32-Inch Aluminum Box Beam Level Set.
Quality Tough Construction
Well if there's one thing I know for certain with respect to quality tools it's actions that speak louder than promises. I've been around construction my whole life and nothing gets built without accurate ways of measuring and laying out level and plumb lines.
The recognizable yellow and red levels from Stabila are a constant on almost every construction job I've worked on. Not only are they accurate but they are built to withstand the rigors of construction. You can drop them, step on them, twist them and throw them in the back of the truck repeatedly and still get accurate results.
Lifetime Warranty
Through a precision manufacturing technique, they secure each vial in the frame using a patented epoxy locking system. Individually calibrated vials are molded permanently to the frame, reinforcing the strength of every STABILA level. They certify the accuracy of every level and guarantee they will maintain their accuracy for life.
Recommended Level
In my opinion Stabila levels are the top of the line. I particularly like the 78-inch and 32-inch level set with features like:
Set of 2 professional grade levels for door installation contractors; accuracy certified
78-inch level for door frames; 32-inch level for headers, sills, and thresholds
Light, strong, wide aluminum frame; removable rubber caps and oversized rubber handholds
2 levels, each with clear vials (vials have spring steel hairline indicators)
78-inch and 32-inch; 5.7 pounds combined; lifetime warranty
So if you're looking to purchase a beam level set that has a lifetime warranty and a tool that you'll be able to pass on to your grand kids then I suggest you buy the set from Amazon.
About the author
Disclosure
Product reviews on this site contain our opinion of a product or service. We will always strive for objectivity and transparency in our reviews. Our goal is to provide readers with honest, objective information based on our own experiences. We never have and never will accept payment in exchange for a positive review. Many of the products that we review are provided to us for free by a manufacturer or retailer. In some cases, we also have advertising or affiliate relationships with manufacturers and retailers of products and services we review. For additional information please visit our additional disclosure policies.