Komelon Tape Measure
Komelon Professional High Viz Tape Measure
I recently got my hands on a few of the brand new Komelon Professional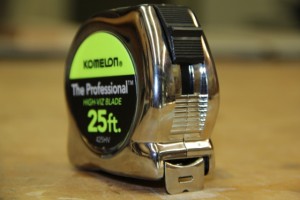 High Viz Tape Measure.  This new Komelon Tape Measure is slated to be released this month.   You cant buy it yet!
As a remodeling carpenter the tape measure is probably one of my most used tools.   In fact, every trade I know of uses a tape measure!  It is also probably my most replaced tools as well – they take a beating on the job site.  For that reason it's important to find and use a durable, high quality tape measure.
A fellow named Alvin J. Fellows in 1868 was the first to patent the spring loaded tape measure.  Back then carpenters and contractors used fold-able wooden rulers.   I still use one today but only when making cabinets and mantles.  They're still great for super accurate inside measurements. 
We've come a long way since wooden rulers were the norm.  The Komelon Tape Measure  takes the spring loaded tape measure to a new and improved level.  It has a high-visibility coating on the blade which really makes this tape easy to read in all light conditions.   Designed for professional use and is durable enough for daily use.
Komelon Tape Measure has a nylon coated blade and when I tested it I was able to get almost 9′ of stand out before the blade bent.  The blade tip is duarble and the blade itself opens and retracts smoothly.
The Komelon Tape Measure will be available in lengths from 10-12-16-25-30 and 33 foot tapes.
About the author
Disclosure
Product reviews on this site contain our opinion of a product or service. We will always strive for objectivity and transparency in our reviews. Our goal is to provide readers with honest, objective information based on our own experiences. We never have and never will accept payment in exchange for a positive review. Many of the products that we review are provided to us for free by a manufacturer or retailer. In some cases, we also have advertising or affiliate relationships with manufacturers and retailers of products and services we review. For additional information please visit our additional disclosure policies.