HAMMERHEAD Compact Laser Measuring Tool HLMT100
HAMMERHEAD Compact Laser Measuring Tool HLMT100
Manufacturer:
HammerHead
Model number:
HLMT100
Price:
69.99
Power source:
3.7v Lithium Battery
HAMMERHEAD Compact Laser Measuring Tool HLMT100
I would venture to say that majority of the old school contractors shake their head when you mention the HAMMERHEAD Compact Laser Measuring Tool to them. If my grandfather was still alive, he would say "now what in the hell do you need that for?" He was always of the old school method, even skipping the tape measure and reaching for the folding stick tape.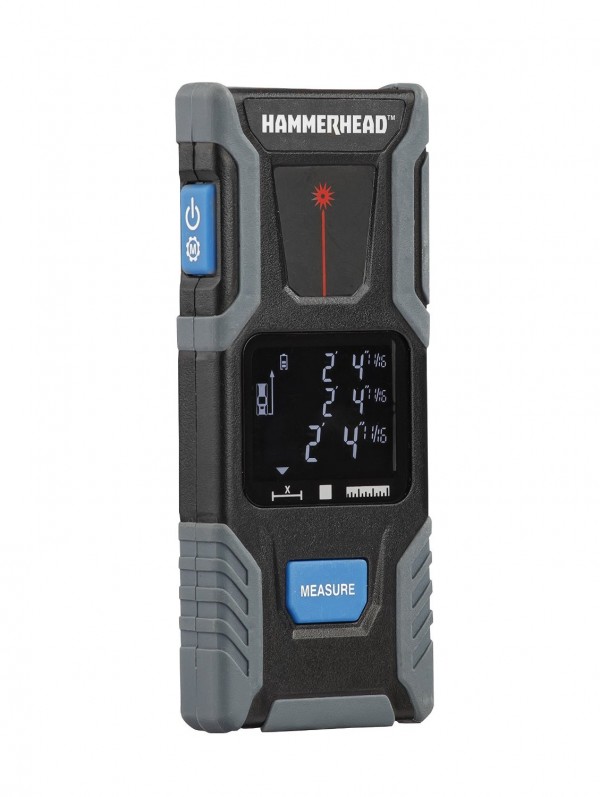 Laser Measuring tools have changed the game in distance measuring. There are several different types, makes and models out there now, ranging from extremely high end professional grade, down to point and click, quick measuring. The HAMMERHEAD HLMT100 brings more to the party besides point and click measurements.
Features
ultra thin design
accurate up to 100 feet
3 operating modes ( length, area, continuous measure )
2 units of measure ( feet/inch and metric )
integrated rechargable lithium-ion battery
micro USB charging port
Compact
With a length of 4-7/16" and a width of 1-11/16" this LMT is definitely compact in size. The depth is ½" and weighs only 11.8 oz. A penny is taller than the depth of this tool.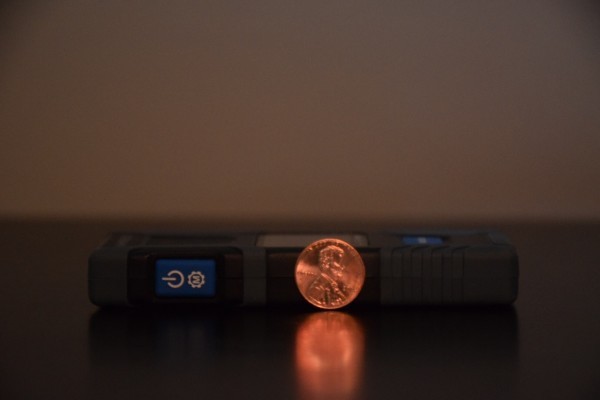 Rugged
HAMMERHEAD has an over-sized rubber grip, to protect it from the day to day wear and tear. The grip will not only protect it from drops, it will also assist with steadiness when holding it for measurements. One thing I will say is this tool is very sensitive, almost too sensitive. When trying to measure you have to remain extremely steady.  I would like to see HAMMERHEAD offer a tripod or steadying device to eliminate error messages.
Accuracy
After doing repeated tests of both short and long distances, the HAMMERHEAD was as accurate as they claim it to be. When measuring, the measurement is calculated from the back of the tool.
On tests that were between 20′ to 25', the accuracy was between 1/8" to 1/16".
On test that were between 35'-60' the accuracy was more in the range of 1/8".
On the short distances, the accuracy was dead on. I did test accuracy on two separate 100′ measurements. One was 1/8″ off and one was slightly greater at 3/16″.   More testing will be done.
Operating Modes
Length Measurements- Single distance measure from point A to point B. It will hold the last three measurements you've taken and will delete the oldest first with every new measurement.
Area Measurements- Allows you to take dimensions of a room or area to calculate square footage
Continuous Measurements – allows you to measure while you are moving from one destination to the other for a period of 30 seconds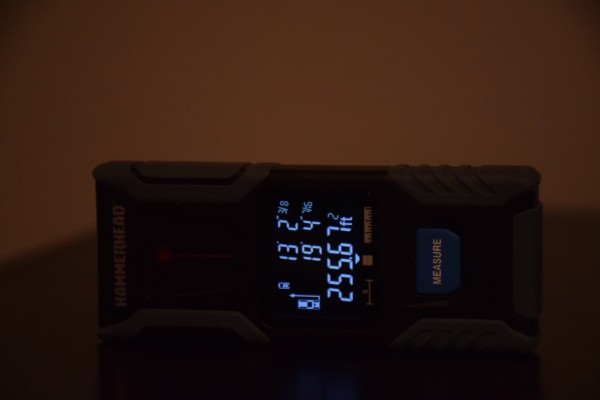 Error Messages:
When using the HLMT100 you could receive one of several error messages. In the operator's manual, you will find the list of seven (7) errors messages that you could receive, as well as the actions you need to take in correct them. Below are the error codes and their meaning:
Er001 – The reflected laser signals are too strong
Er002 – Out of range
Er003 – Target provides poor reflection
Er004 – The temperature is too hot
Er005 – The temperature is too low
Er006 – Low battery
Er007 – Strong vibration, you moved the tool too abruptly when measuring
Charging
The HAMMERHEAD HLMT100 has a 3.7v integrated rechargeable lithium-ion battery and comes with a USB charging port.  The USB port allows you to charge the tool while driving to the next job, from your job site radio, or even on some heated jackets. This is ideal for those of use that already carry several types of charges for our cordless power tools!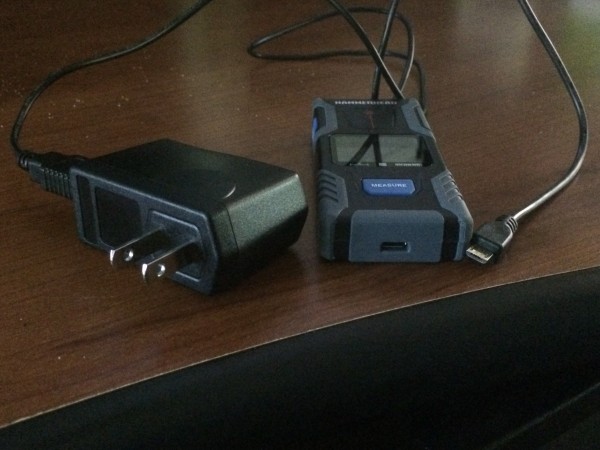 OVERALL IMPRESSION
There are several laser measuring tools on the market today. Some really expensive and some not. I put this one slightly over mid range. I rated it a 4 out of 5 stars.  Having to be extremely steady while using this is what "dinged" it that one star. That being said, this tool will without a doubt continue to have a home in my tool pouch. For quick, accurate measurements, it really is a simple as point and click!
How and where to buy:
The Hammerhead HLMT100 Compact Laser Measuring Tool can be purchased for 69.99 here: Hammerhead HLMT100 Compact Laser Measuring Tool
About the author
Disclosure
Product reviews on this site contain our opinion of a product or service. We will always strive for objectivity and transparency in our reviews. Our goal is to provide readers with honest, objective information based on our own experiences. We never have and never will accept payment in exchange for a positive review. Many of the products that we review are provided to us for free by a manufacturer or retailer. In some cases, we also have advertising or affiliate relationships with manufacturers and retailers of products and services we review. For additional information please visit our additional disclosure policies.