Fluke Laser Distance Meters
Fluke Laser Distance Meters 414D, 419D and 424D measures up to 100 meters.
When your measuring a large space for an estimate or layout nothing beats a laser distance meter.   Fluke Corporation is intruding  three new Fluke Laser Distance Meters, models 414D, 419D and 424D.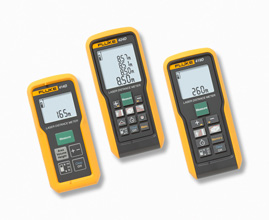 The beauty of a laser distance meter is based on its simplicity of use and time saving benefits.  Just point, click, done and you can measure larger distances with greater accuracy.  These laser meters speed up measuring, reduce math errors in adding of measurements with a tape as well as eliminate the second person to hold the dumb end of the tape!
Fluke Laser Distance Meters offer quick, accurate, point-and-click measurements up to 100 meters (330 feet).   The meter cases are rugged and rated for protection from dust and moisture.
Fluke Laser Distance Meters Features:
Integrated compass: provides a "heading" for distance measurement.
Inclination sensor: assists with height tracking, leveling and indirect horizontal distance measurement when line of sight is blocked.
Automatic end-piece correction: when measuring from an edge or corner, a built-in sensor detects the position of the bracket and automatically changes the reference point.
Fluke 414D:
Measures up to 50m (165 feet) with one button and an accuracy of +/- 2mm (0.079 in).
Easy, automatic math for area and volume; add and subtract with ease.
Fluke 419D:
Measures up to 80m (263 feet) with even greater accuracy of +/- 1mm.
3-line display plus storage for 20 complete displays.
Tripod mountable.
Fluke 424D:
Measures up to 100m (330 feet).
Feature-rich meter includes tilt sensor for hard-to-reach measurements, corner angle feature, compass, and more.
Pricing and Availability:
The Fluke Distance Meters are available for approximately:
$125 for model 414D,
$250 for model 419D
$375 for model 424D
About the author
Disclosure
Product reviews on this site contain our opinion of a product or service. We will always strive for objectivity and transparency in our reviews. Our goal is to provide readers with honest, objective information based on our own experiences. We never have and never will accept payment in exchange for a positive review. Many of the products that we review are provided to us for free by a manufacturer or retailer. In some cases, we also have advertising or affiliate relationships with manufacturers and retailers of products and services we review. For additional information please visit our additional disclosure policies.