CST/berger RL25H Review
Electronic Self-Leveling Horizontal Laser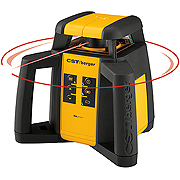 Earlier this summer I had the pleasure of attending a Media Event at the Bosch Tools headquarters in Chicago.  Bosch also happens to own the CST/berger lineup of surveying and measurement equipment so we were introduced to their new tools as well. One of the tools that caught my eye was the RL25H Electronic Self-Leveling Horizontal Laser.
They recently sent us this new laser so we could test it out on the jobsite. Before hopping into the specifics of my review I'd like to share some of the product specifications and features.
Specifications and Features
Rugged Design (with IP56 rating) to Handle the Extreme Jobsite Environment.
3/32 Leveling Accuracy and Extended Range of 2000 ft.
Single Axis Slope Control- Allows you to change the slope of the laser for complex leveling applications.
ADS (Anti-Drift System) Alerts user when laser has drifted from benchmark.
Single axis slope capability- complex grading applications made easy
Precise self leveling for quick and easy set up
Rugged design to handle the extreme jobsite environment
Durable housing design, water and dust protected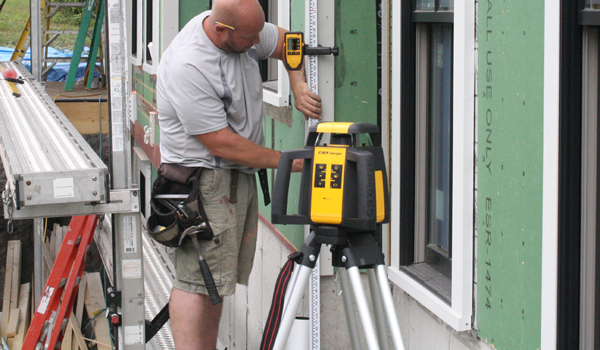 CST/berger RL25H Review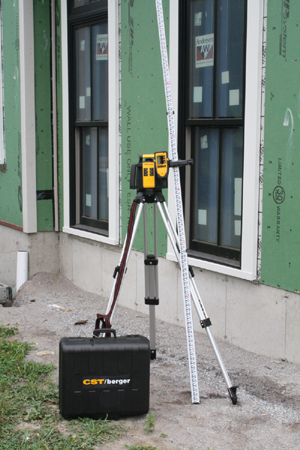 Horizontal Rotary Levels are so useful on job sites today that they are almost as common as a hammer. That may seem like an exaggeration but I see them on every job we do from site work to finish cabinetry work. Because they are so common and because they are used for so many tasks it's imperative that they are reliable, accurate, and durable.
The RL25H that we tested came in a kit which included a tripod, the laser, receiver, case and survey rod. This is a great combination for all sorts of contractors including excavation crews, concrete crews, carpenters, and finish trades.
Reliability – I suppose it's a bit premature to determine how reliable the RL25H is as we've only been  using it for a month on the jobsite. However, so far the unit turns on without a hitch and quickly self-levels itself without any problems. We'll report back after a year on the job and update this section of the review.
Accuracy – The RL25H really shines in the accuracy department. Sporting a reported 3/32″ accuracy out to an extended range or 2000 ft it certainly blows away similar products that we've tested in this price range. While we didn't test this accuracy I can say that the range of this product was certainly 1000 ft plus range (the site didn't allow me to test it further!).
Durability – The RL25H is made of strong plastic components that we're used to seeing on lasers of this type. The controls are sealed on the control panel to keep dirt and water out. The handles are integral with the housing which makes the entire unit well balanced and sturdy.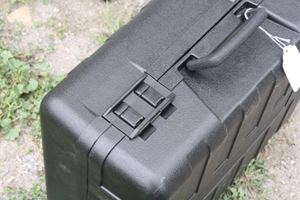 The tripod is made out of aluminum legs, and a combination of cast aluminum and plastic parts. For a commercial grade product like this I would prefer to see all the parts on the tripod be aluminum. Tripods get thrown in and out of trucks on a daily basis and plastic really isn't my first choice.
The case is a fairly standard blow mold plastic case. This is another place that I think some improvement could be made. Lasers, survey equipment and other similar instruments can benefit greatly from good, sturdy cases. Johnson Level certainly has a case that far exceeds this type of case and is what I'd like to see for all survey type products.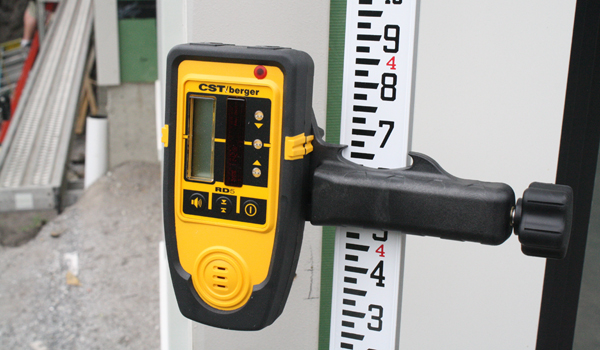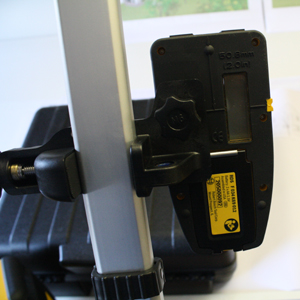 Ease of Use – The RL25H is really easy to setup and use. The key for me is how well they have designed the receiver and attachment arm to the survey rod. If you look close in the picture you'll see that there is a clear line across the unit which matches notches in the side of the unit plus a very easy to read, pointed register mark on the arm that coincides with the survey rod reading. This makes it super easy to read the rod and know exactly where you are measuring.
The back of the receiver also has an LED indicator so you can read it front or back, regardless of where you're standing. This is a fairly standard feature on most similar products but a must have in my book.
Overall Impression
CST/berger makes great surveying equipment and the RL25H is no exception. This is a great product for any jobsite. It has lots of great, easy to use features and offers excellent accuracy. Priced in the mid $500 range it's a good value. If you use a horizontal rotary laser on a jobsite then I recommend you give the CST/berger RL25H serious consideration. It certainly met and exceeding all of my expectations and it's now a welcomed addition to our crew!
About the author
Disclosure
Product reviews on this site contain our opinion of a product or service. We will always strive for objectivity and transparency in our reviews. Our goal is to provide readers with honest, objective information based on our own experiences. We never have and never will accept payment in exchange for a positive review. Many of the products that we review are provided to us for free by a manufacturer or retailer. In some cases, we also have advertising or affiliate relationships with manufacturers and retailers of products and services we review. For additional information please visit our additional disclosure policies.