Dewalt DW088CG Self-Leveling Cross-Line GREEN Laser
Dewalt DW088CG Self-Leveling Cross-Line GREEN Laser
Manufacturer:
Dewalt
Model number:
DW088CG
Price:
$196.00
Power source:
3- AA batteries
Weight:
3 lbs
Dewalt DW088CG GREEN Laser Review
In construction, the laser is used primarily as a leveling device. It may be set up to indicate elevation, direction, or both. Applications of Laser Levels include:
Align and plumb your walls
Leveling floors
Easily check door or window heights
Install chair rails and wainscoting
Align shelves, cabinets and trim
Check and level posts and beams on decks and porches
Masonry alignment
Site layout
Set Slope and grade for drainage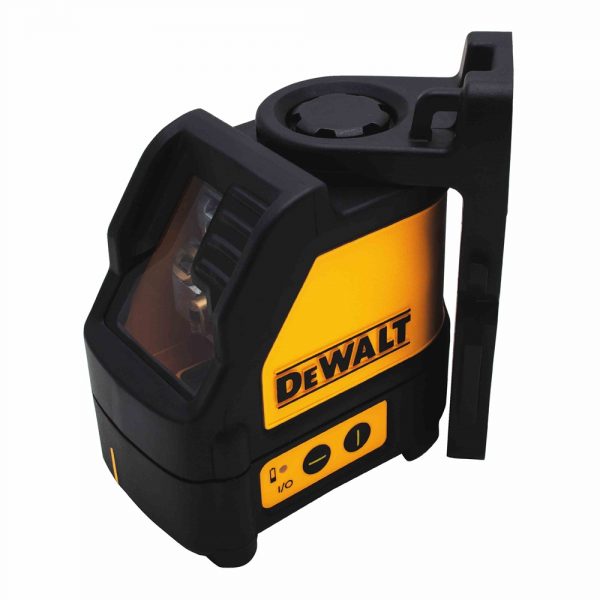 Dewalt DW088CG Self-Leveling Cross-Line GREEN Laser
We took a look at the Dewalt DW088CG Self-Leveling Cross-Line GREEN Laser. It's a fairly durable laser, is powered by three AAA batteries, has +/- 1/8″ Accuracy at 30 ft., and sells for just under $200.00. The entry price is perfect for a contractor looking for a decent laser. The Dewalt DW088CG has a range of 65 feet and 165-feet when used with an accessory detector.
Green vs Red Laser Color
Studies show that our eyes see green better than any other color in both day and night. So is the green laser better?
Well, here's some facts:
Regarding the brightness of red versus green lasers, red lasers are most visible in low light conditions…
The human eye naturally detects green with great ease, allowing it to appear brighter in conditions and environments with higher ambient or natural light.
Testing the Dewalt Laser
The Dewalt DW088CG is easy to use. There is a low battery indicator, and two buttons that control the lasers level and a plumb lines. These buttons operate, idependently in an ON / OFF fashion.
In my testing, my Bosch red laser it was be visible at 15-25 feet in bright sunlight, but I was struggling to see the line at that distance. I didn't struggle at all to see the Dewalt green laser at that distance, in daylight. As the light faded, the green laser had less of an edge. Both were very easy to see in low light conditions.
The win…
Daylight visibility is the biggest thing in my book. That said, the added brightness of the green laser definitely expands its viability to a broader range of lighting conditions. Green lasers have the win in my book.
Dewalt DW088CG Features
1 Meter drop rating
Blow mold storage case
Detector compatible – full time pulse 165 ft range
+/- 1/8″ Accuracy at 30 ft
165 ft with a detector
65 ft Visible Range
1/4″ thread mount for use with a tripod
Integrated, swivel magnetic bracket
Ceiling bracket
Full time pulse mode
Powered by AA  batteries
Low battery indicator
3 lbs weight
Dewalt DW088CG Durability
To me durability means drop protection and ingress protection from the dusty, dirty and sometimes wet elements of a job site.
The The Dewalt DW088CG is rated for drop protection for 1 meter [3-feet] and has an IP54 Rating. What does IP 54 really mean?
IP stand for ….   Ingress Protection. The two digits represent different forms of environmental influence:
The first digit represents protection against ingress of solid objects
The second digit represents protection against ingress of liquids.
The larger the value of each digit, the greater the protection. For example a rating of IP54 means:
5 = Limited protection against dust ingress.
4= Protected against splash water from any direction.
Dewalt DW088CG is a Class 2 Laser
Lastly, the Dewalt DW088CG Self-Leveling Cross-Line GREEN Laser is listed as a Class 2 laser. Lasers are classified for safety purposes based on their potential for causing injury to humans' eyes and skin.
Class 2 lasers' output power is below 1 milliwatt. All Class 2 lasers emit visible light only. Lasers in this rating normally would not harm an eye unless a person deliberately stared into the beam. Laser protective eyewear is normally not necessary. A Class 2 laser is not a skin or materials burn hazard, which is a plus on a job site with a lot of flammable combustible around.
Dewalt DW088CG Cost
The Dewalt DW088CG Self-Leveling Cross-Line GREEN Laser sells for approximately $196.00. It's a decent laser and is vey well-placed for what it provides.
Dewalt DW088CG Self-Leveling Cross-Line GREEN Laser
$196.00
Is the Dewalt DW088CG worth it?
The remodeling and construction industry began adopting laser technology almost twenty years ago, but many in the business have been slow to get onboard. These days, lasers are no longer considered an elite luxury item, but a necessity during construction and also in the design phase.
Lasers reduce human error and the time of production. It is my opinion that every contractor should have a laser level. The Dewalt DW088CG Self-Leveling, Cross-Line GREEN Laser is a win in my book.
Dewalt DW088CG Self-Leveling Cross-Line GREEN Laser Video Review
About the author
Disclosure
Product reviews on this site contain our opinion of a product or service. We will always strive for objectivity and transparency in our reviews. Our goal is to provide readers with honest, objective information based on our own experiences. We never have and never will accept payment in exchange for a positive review. Many of the products that we review are provided to us for free by a manufacturer or retailer. In some cases, we also have advertising or affiliate relationships with manufacturers and retailers of products and services we review. For additional information please visit our additional disclosure policies.