STIHL RMA 410 Battery Powered Lawn Mower
STIHL RMA 410 Battery Powered Lawn Mower
Since 2011 STIHL has been offering cordless outdoor power equipment for professionals and homeowners. So, as battery technology and cordless power tools have evolved, performance of these tools have been leap frogging year after year. So we are excited to take a look at this STIHL RMA 410 Battery Powered Lawn Mower provided to us for testing by our friends at STIHL.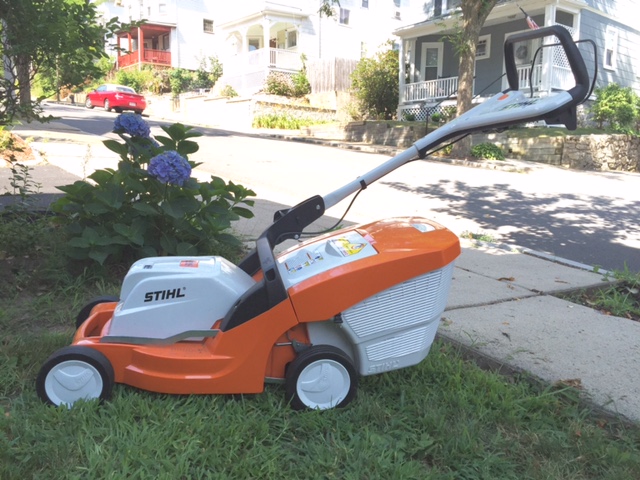 Today, you can expect high volt batteries to deliver performance fit for heavy duty applications. From running concrete drills and miter saws to chain saws and lawnmowers. With brushless motors and 36-Volt batteries  you get the performance needed for heavy duty tasks like mowing, with a laundry list of benefits that come with battery operated tools like the STIHL RMA 410.
No Fuel, No Fumes, No Pull Cord.
My wife and I recently had our first child. So with our new baby we decided I would continue to work and my wife would stay home full time. With our new responsibilities my wife wanted to help out with some of the chores I typically do around the house. So while I put in extra hours at work, she is planning to take mowing the lawn off my list.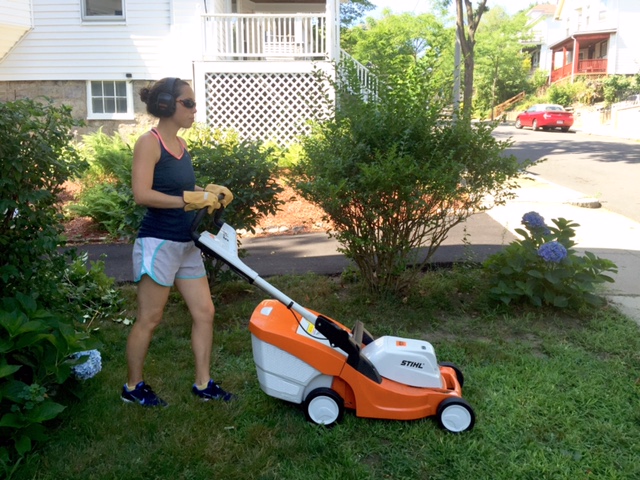 With our gas engine mower, the idea of her dragging it out of storage, fumbling with fuel, starting it with it's pull cord, and dealing with the noise and fumes, I wasn't comfortable having her take on this task. But with the STIHL RMA 410 Battery Powered Lawn Mower weighing only about 45 lbs., emitting far less noise than traditional mowers, with zero emissions, and instant starting, this mower is a game changer for household chores.
Convenient, Lightweight, Easy to Store.
The task of mowing the lawn is the last thing you want to do on the weekend. So, regardless of who's mowing the lawn, this unit makes quick and convenient work of lawn care.
Powered by a 36-Volt Lithium Ion Battery there is no dealing with the added chore of getting gas, and checking your mower for fuel. And with only a touch of a button and the pull of the switch level this mower starts up fast, every time!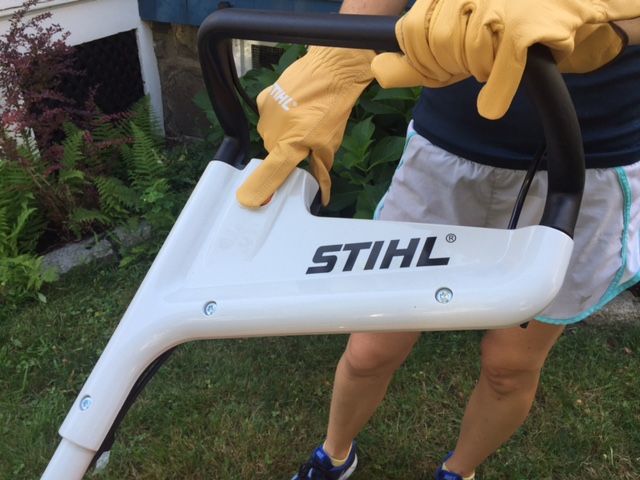 It's also extremely easy to store. The brushless electric motor and lightweight design of the unit makes it lighter than even the most stripped down gas powered mowers. Plus it folds down with the touch of a button to make finding a place to store the mower easier than you thought.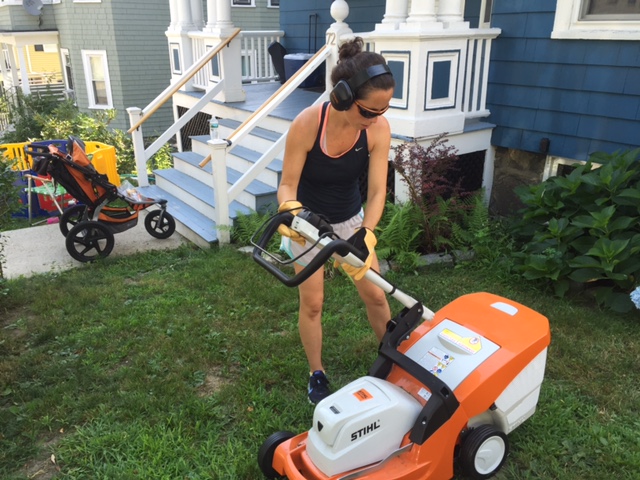 Premium Features
If the convenience of this mower wasn't enough. The STIHL RMA 410 Battery Powered Lawn Mower is also packed with premium features serious landscapers will love. First off, the mower is extremely quiet, a feature typically only offered by high end gas powered units.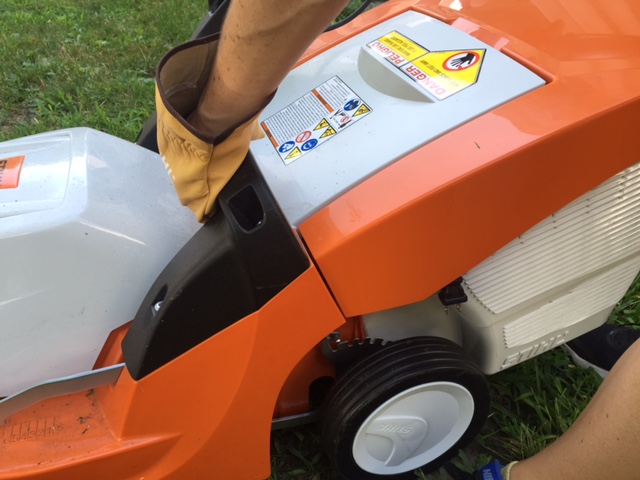 Also the deck adjusts with a one handed single action lever, giving you 6 settings from 1″ to 3″ to suit your desired cut height. The adjustment on the deck is smooth but not too lose, you can effortlessly control the height of the deck with one hand. Selecting the appropriate height and securing the mechanism is obvious as you can see the pin catch the desired setting. Clippings are captured with the 14.5 gallon grass catcher, that features a fill indicator to let you know your ready to unload. Hands down this is a high quality mower with premium performance and features. Which unfortunately comes with a premium price.
Performance
Mowing with a unit that exhibits high performance with low weight makes for an effortless mowing experience. What makes mowing small spaces difficult is the frequent stops and turns, so a light agile mower is key. Comparable gas mowers of this weight are stripped down, budget models. The STIHL RMA 410 Battery Powered Lawn Mower is so light that almost any change in plane, turn, or reversal is effortless.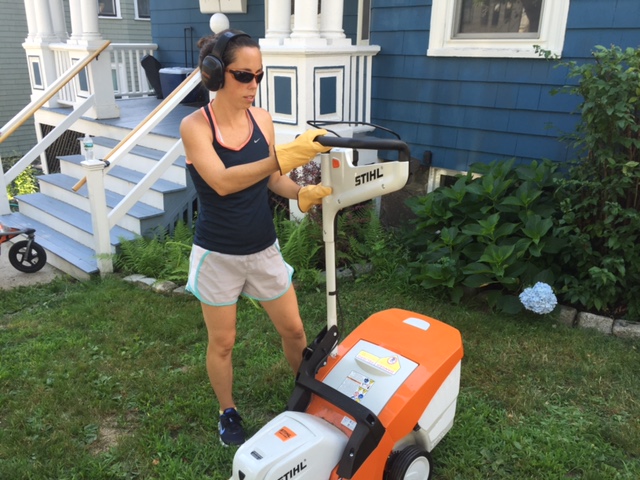 This model had more than enough juice for our tiny city lot. With limited storage, the ability to fold the unit and hand carry it to a small nook in our basement was not only convenient, but easy. The effort associated with getting the gas mower out of storage is tough enough, let alone the challenge of the pull start. The RMA 410's push button start got me moving on the actual task of mowing the lawn instantly with no wasted effort.
Specs & Features
Specifications:
Weight: 18.2 kg (40.1 lbs) w/o Battery
Area Mowed: Approx. 3,500 sq. ft. w/ AP 180
Cutting Height: 1.0″ to 3.0″
Cutting Width: 41 cm (16.1″)
Grass Catcher Capacity: 55 L (14.5 gal.)
Power Source: Battery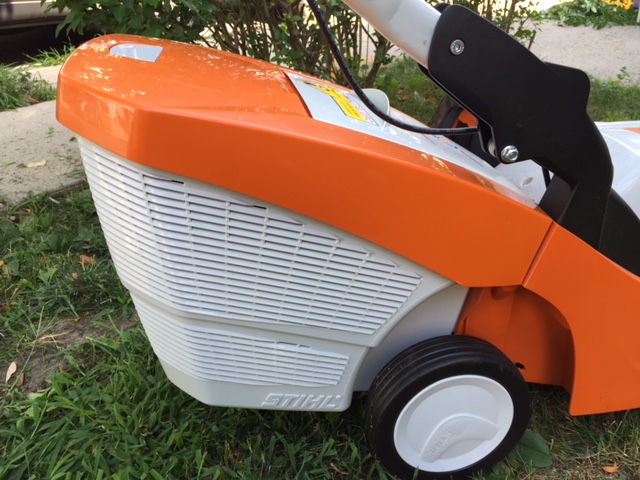 Features
Locking Key: Key prevents accidental starting of the motor
Battery: Lithium-Ion battery power eliminates the mess and expense of fuel mixtures
Battery Life: No gradual drop in power, so you can work at full speed until battery is depleted
Power Switch: Instant startup, just push the button and pull the switch lever
Pricing and Availability
The price of the STIHL RMA 410 Battery Powered Lawn Mower is $379.95. Not bad for a premium mower with all the added conveniences. But don't forget to add the Battery and Charger. $159.99 for the AP 300 Battery Pack. Plus an additional $79.99 for the AL 300 Fast Charger. All in all, you're looking at $619.93 to get you started with this mower.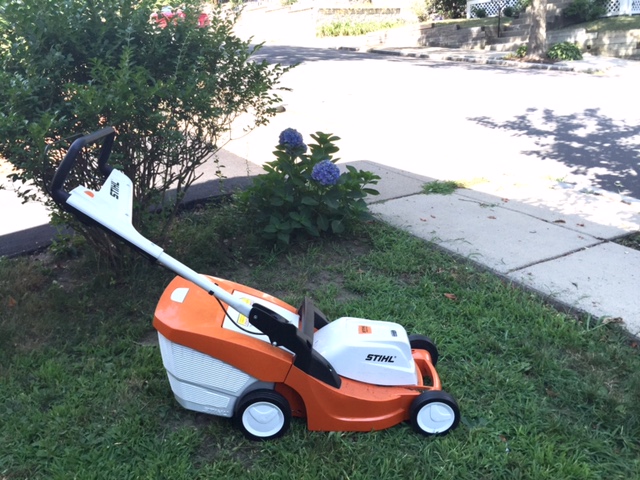 But as Brian Manke, product manager at STIHL Inc. likes to boast "The RMA 410 C has no fuel costs or engine maintenance." Which can pay off over the life of the mower. Still this is a pricey unit, but as any tool buff will tell you… "you get what you pay for".
Furthermore, since STIHL products are ONLY sold through servicing STIHL Dealers. With your purchase you can count on people who are knowledgeable, and can service the equipment they sell. A refreshing change from the big box stores. Whom often can't handle any repairs and can be a headache to deal with when you try to resolve a manufacturer related issues.
And with 9,000 dealers nationwide, you'll be sure to find a convenient location.
Overall Impression
This is definitely a great unit for a homeowner who wants to save time and can afford the extra cash to invest in a quality lawn mower. Sure, the price is on the high end for a push mower, but remember when you buy into a cordless system you can buy bare tools at lower price. So the battery pack and charger really are an investment. Check out the other cordless tools available from STIHL here.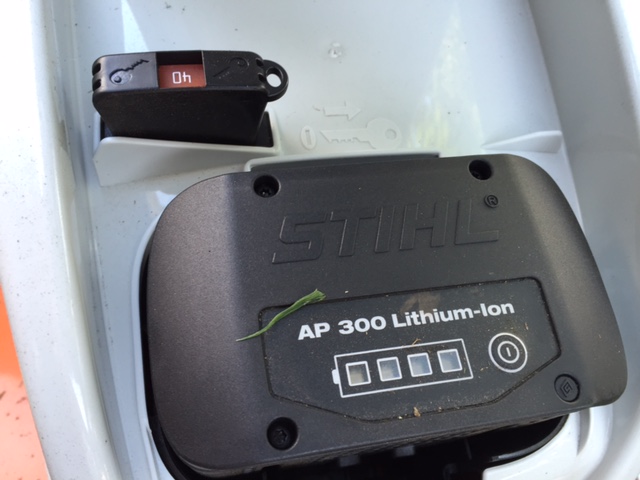 These mowers still don't have the legs to mow more than a 1/4 acre. If your lawn is larger than that you'll need to invest in yet another battery. Aside from the price and limited run time. You need to also be more cautious mowing grass that may be even a bit damp. Even small amounts of water can pose a hazard to the electric motor and it's operator, aka you!
Overall we love cordless mowers as they bring the convenience and speed of cordless power tools to your landscaping chores. Today's homeowner is looking for convenience and is willing to pay for it. So we think the STIHL RMA 410 Battery Powered Lawn Mower, even with a $600+ price tag is worth the dough.
About the author
Disclosure
Product reviews on this site contain our opinion of a product or service. We will always strive for objectivity and transparency in our reviews. Our goal is to provide readers with honest, objective information based on our own experiences. We never have and never will accept payment in exchange for a positive review. Many of the products that we review are provided to us for free by a manufacturer or retailer. In some cases, we also have advertising or affiliate relationships with manufacturers and retailers of products and services we review. For additional information please visit our additional disclosure policies.