Channellock 4-in-1 Ratcheting Wrench Set (841S) Review
Channellock 4-in-1 Ratcheting Wrench Set (841S)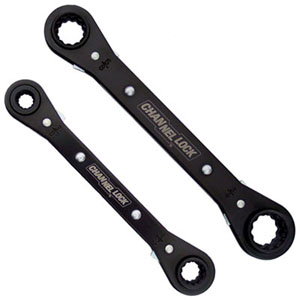 Channellock recently introduced their new 4 'N 1 Wrench Set (Model 841S). The 4-in-1 Ratcheting Wrench Set does the work of 8 wrenches or socket. The folks at Channellock sent us this set to test and report out thoughts to all of you.
Features
SAE
Includes ratchet sizes: 5/16″ x 3/8″, 7/16″ x 1/2″, 9/16″ x 5/8″, 11/16″ x 3/4″
12 point socket
Heat-treated for greater durability on the job
Electronic coating for ultimate rust prevention
4 sizes in each wrench saves time, money and space
Hollow sockets excel over deep socket designs
Our Thoughts
The 4-in-1 Ratcheting Wrench Set from Channellock makes a really great wrench set when storage space is a premium. For me that means these wrenches are great for my tool box in the truck or with a crews mobile tool boxes. Considering that this set of two wrenches can do the work of 8 combination wrenches or sockets there is a great possibility to save room in your tool box.
Right out of the package I was quite impressed with the feel and quality of these wrenches. The wrenches have very smooth edges with a nice painted finish. Each wrench is riveted together in 4 places to keep things nice and tight.
You can switch directions on the ratchet with your finger while holding the wrench in just one hand. The ratchet works effortlessly and makes quick work of tightening nuts and bolts. Because of the open design these wrenches can easily work in deep positions where sockets are limited. The 12 point sockets quickly engage the nut or bolt head.
Overall these are a great set of ratcheting wrenches. The quality is very good and they work effortlessly. Priced at $35 we think it's a good value when you consider how much a good set of traditional wrenches or sockets cost.
About the author
Disclosure
Product reviews on this site contain our opinion of a product or service. We will always strive for objectivity and transparency in our reviews. Our goal is to provide readers with honest, objective information based on our own experiences. We never have and never will accept payment in exchange for a positive review. Many of the products that we review are provided to us for free by a manufacturer or retailer. In some cases, we also have advertising or affiliate relationships with manufacturers and retailers of products and services we review. For additional information please visit our additional disclosure policies.