Veto Pro Pac Review – Model LC
Veto Pro Pac – Model LC Tool Bag
Until recently I hadn't been a big fan of "Tool Bags" because frankly none of them have ever really impressed me. Moreover carrying around a Tool Box isn't much fun either. Well I'm happy to say that I've found a Tool Bag System that has me very excited and I think you will be after reading about it.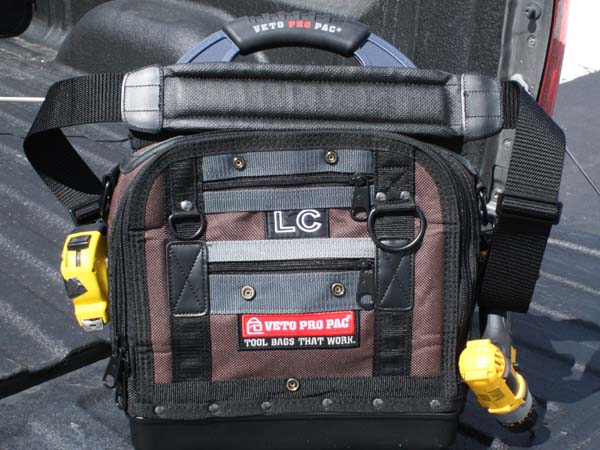 The folks from Veto Pro Pac recently sent me their Model LC Tool Bag to test and review. The main design of all Veto Pro Pac Tool Bags is a system of vertical pockets that allow you to store all your hand tools in an organized layout that allows you to see all your tools easily.
Each Veto Pro Pac Tool Bag is hand made using 1800 denier body fabric, heavy duty  nylon stitching, marine proof rivets and snaps, and a 3mm polypropylene base. Once you touch one of these bags you realize they are built with exceptional materials to stand up to the rigors of the users profession.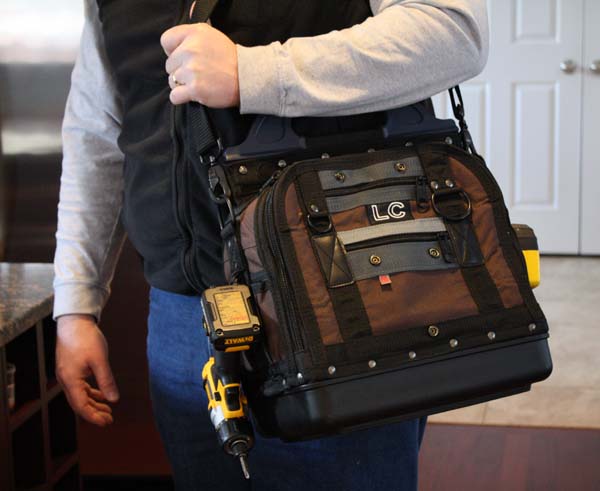 Comfort & Organization
After using the Veto Pro Pac for the last few weeks I've come to marvel at the comfort and organization I have moving lots of hand tools from one task to another. Cordless tools have revolutionized how many of us do business and made us far more mobile. Combine those great tools with a comfortable, mobile, organized storage system for all you hand tools and now you can be truly mobile.
The large handle is extremely comfortable and very rugged. As you can see in the photos it has a large grip attached to a flexible connection to the bag. The padded shoulder strap is also very comfortable. Velcro on the handle helps hold the shoulder strap in place when you're not using it so it's not dragging on the ground.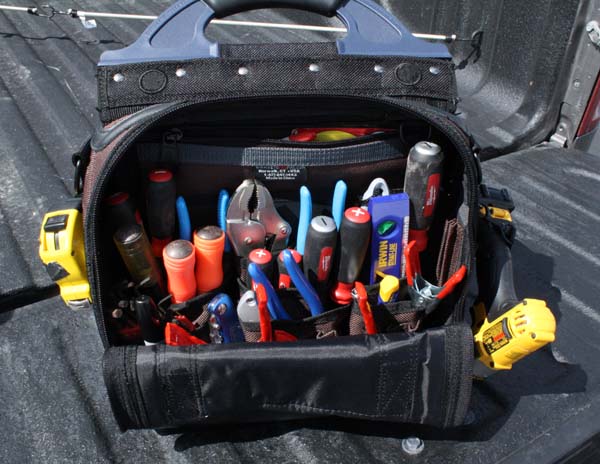 Vertical Storage Is The Key
What makes these Tool Bags so great? Two things: Quality and Vertical Storage. If you look at the picture above you'll see one side of my Veto Pro Pac LC Tool Bag filled with an assortment of screw drivers, pliers, knives, levels, chisels, clamps, nail sets, pencils and markers.
The Model LC has 57 pockets that can hold up to 75 hand tools! The layout of the pockets is really good and made it very easy to sort my tools in an organized system that made sense to me. As you can see the pockets are quite deep, deep enough that small compact drills, hammers, and other cordless tools can fit.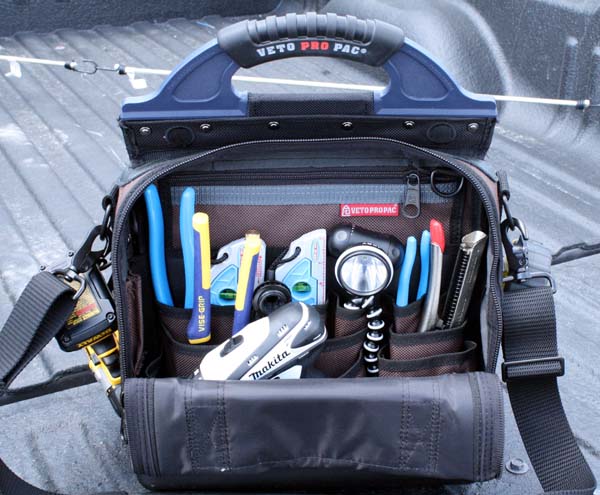 Folding / Snapping Zipper Covers
One of the features that I really like are the folding/snapping zipper covers. As you can see in the photos above the side covers are folded down for easy access to the tools. This is done by folding the covers down and using built-in snaps.
Overall Impression
Veto Pro Pac Tool Bags are very impressive. I can't say enough good things about the quality and design of these vertical storage Tool Bags. These things are built to last and they were obviously designed by folks that work for a living. Not only will you be more organized but frankly you're going to look more professional.
If you don't own a Veto Pro Pac Tool Bag then I HIGHLY recommend you get one! These bags are not cheap but that's ok with us because they are built to last. Why not go check out their entire line at Veto Pro Pac and pick a Tool Bag that's best for you.
Their website has links to local dealers. You can also buy them online at:
Be sure to come back as we'll be reviewing their Open Top line as well in the coming weeks.
Check out my quick video review of the Veto Pro Pac Model LC:
About the author
Disclosure
Product reviews on this site contain our opinion of a product or service. We will always strive for objectivity and transparency in our reviews. Our goal is to provide readers with honest, objective information based on our own experiences. We never have and never will accept payment in exchange for a positive review. Many of the products that we review are provided to us for free by a manufacturer or retailer. In some cases, we also have advertising or affiliate relationships with manufacturers and retailers of products and services we review. For additional information please visit our additional disclosure policies.