Veto Pro Pac Open Top Tool Bag Review
Veto Pro Pac OT-LC and OT-XL Open Top Tool Bags
Once again I had the pleasure of testing some Veto Pro Pac Tool Bags and this time I tested the Open Top bags, OT-LC and OT-XL to be more specific. A couple of months ago I tested the Veto Pro Pac Model LC and found it to be one of the best tool bags that I've used.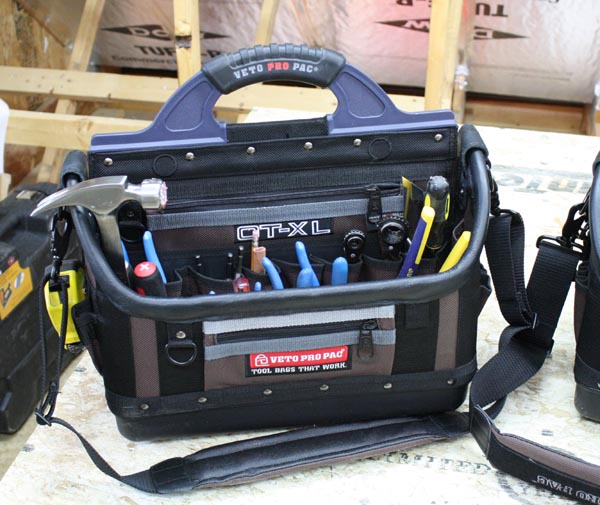 Veto Pro Pac OT-XL Tool Bag
First up is the OT-XL Model which holds up to 76 hand tools in an open top model designed to hold some larger tools. Unlike the Closed Top LC model that I previously reviewed the OT-XL is large enough to hold cordless tools like drills and impact drivers. Some of the features include:
Weatherproof Body Fabric (PVC impregnated 1800 denier)
Durable Waterproof Base (3mm thick polypropylene)
Heavy Duty Fastenings and Zippers (marine-proof riveta, industrial strength double nylon stitching and oversized zippers)
5 year limited warranty
Tiered pockets of varying sizes
Numerous zippered pockets
Outside-mounted stainless steel tape measure clip
Removable vertical pocket sleeve
Patented sturdy center panel design divides bag and creates two identical storage bays
Comfortable, over-molded ergonomic grip
Non-slip, extra wide padded shoulder strap
Hinged handle design
I really like the open top models that Veto Pro Pac is offering. However, I find myself struggling to figure out which I prefer, the open top or the closed top. No need to decide because I'm going to use one of each.
The open top bag will be great for all my drilling and fastening needs. I can carry several drills and impact drivers along with bit kits, drill bits, socket sets and everything I'll need to accessorize the cordless tools.
The closed bag will be perfect for all my smaller hand tools like wrenches, pliers, screw drivers and misc cutting tools.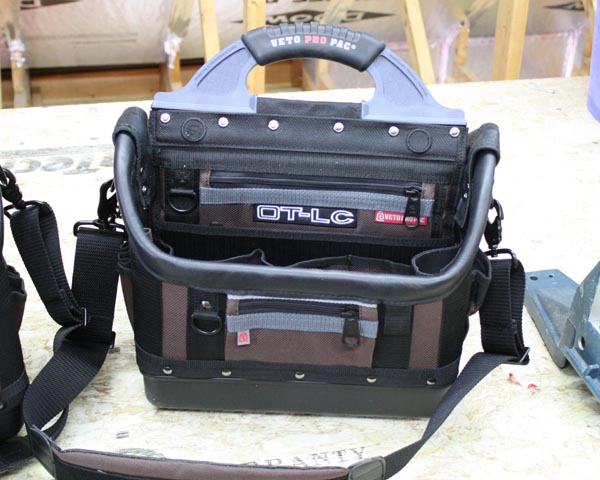 Veto Pro Pac OT-LC Tool Bag
I also got my hands on the Veto Pro Pac OT-LC Tool Bag which is a slightly smaller version of the OT-XL. The bag is actually only 3 inches shorter than the XL and offers the same basic features. It's really nice that they offer these in several sizes so you can get a bag that fits your needs.
I didn't load this one full of tools……because……one lucky winner is going to win it! Over on another one of my websites I'll be running a giveaway this month so that someone can win the bag. If you want to have a chance to win it head on over to Home Construction & Improvement and sign up for a chance to win!
Check out the following short video for a quick demonstration of these two bags.
Where To Buy
If you'd like to buy one of these bags then I recommend you check out the following links:
About the author
Disclosure
Product reviews on this site contain our opinion of a product or service. We will always strive for objectivity and transparency in our reviews. Our goal is to provide readers with honest, objective information based on our own experiences. We never have and never will accept payment in exchange for a positive review. Many of the products that we review are provided to us for free by a manufacturer or retailer. In some cases, we also have advertising or affiliate relationships with manufacturers and retailers of products and services we review. For additional information please visit our additional disclosure policies.