Channellock Code Blue Ratcheting Screwdrivers
Channellock Code Blue Ratcheting Screwdriver Review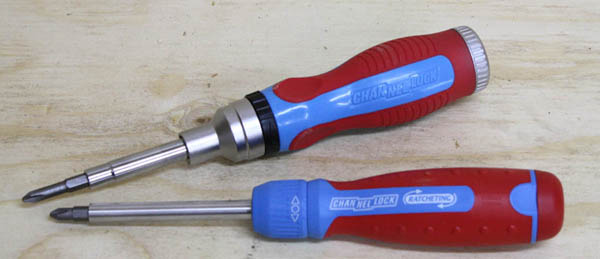 Channellock recently introduced two new Code Blue Ratcheting Screwdrivers including the 13 'N 1 ratcheting screwdriver and the 18 'N 1 ratcheting screwdriver. These new screwdrivers have been designed to offer convenience and torque to both professionals and DIYers.
I'm a huge fan of multi-tip screwdrivers especially for folks that use a tool belt all day. Having one screwdriver that can use different tips is a weight and space saver for anyone's tool belt. Add on the ratcheting mechanism and these two new screwdrivers offer some serious competition to the rest of the field!
Channellock Code Blue 13 'N 1 Ratcheting Screwdriver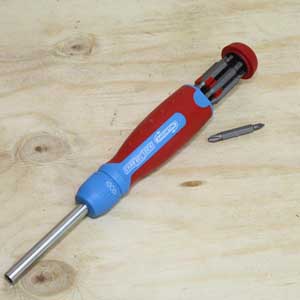 The new 13 'N 1 ratcheting screwdriver (shown on the bottom above) includes the following tips:
#0, #1, #2 and #3 Phillips tips
#4 and #6 slotted tips
#10, #15, #20 and #25 Torx bits
#1 and #2 square recessed bits
and a 1/4″ hex shaft
The screwdriver features a dual composition comfort grip and a 28-tooth ratchet that delivers up to 225 inch-lbs of torque.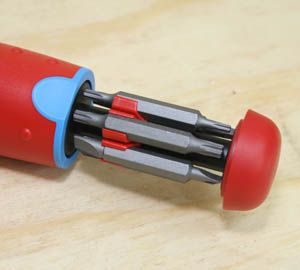 This model features a pull-out storage compartment inside the handle. As you can see in the adjacent photo all the tips easily snap into the storage compartment.
The ratcheting mechanism is very smooth and easy to adjust from tightening to loosening. Overall the quality is really good. If I wanted to complain (every so mildly) about one feature it would be the plastic clips that hold the bits. They don't look very strong and it's likely they will be the weak link for this tool.
Channellock Code Blue 18 'N 1 Ratcheting Screwdriver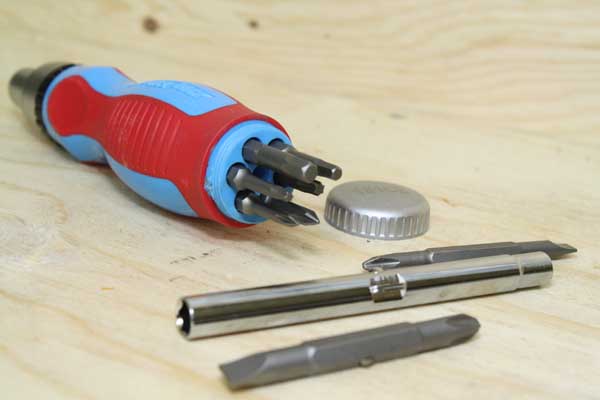 The new 18 'N 1 Ratcheting Screwdriver offers even more flexibility with the following tips:
#0, #1, #2 and #3 Phillips tips
1/8″, 3/16″, 1/4″ and 5/16″ slotted tips
10, #15, #20 and #25 Torx bits
1/8″, 5/32″, 3/16″ and 7/32″ hex bits
1/4″ and 5/16″ nutdriver bits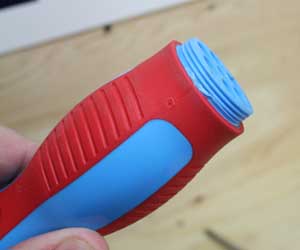 It also features durable forged ratchet construction and a comfortable, high-torque grip. As you can see above the handle has six slots to hold all of the 1/4″ shaft bits (the 5/16″ shaft bit must be stored in the driver shaft).
I do have one slight complaint for this screwdriver. In the adjacent photo you can see that the storage handle has treads for a cap. The threads are made from plastic and likely to strip quite easily. I actually started to strip them already. So future versions of this screwdriver should have a more robust design for the threads.
Overall Impression
Overall I'm quite impressed with this new offering from Channellock. These screwdrivers are comfortable, versatile and most importantly they work very well. The ratcheting mechanisms are very smooth and easy to use. If you're looking for a multi-bit screwdriver for your tool belt I'd give one of these a serious look.
Reasonably priced these screwdrivers are a good value. If you'd like to buy one please check out the following two links:
About the author
Disclosure
Product reviews on this site contain our opinion of a product or service. We will always strive for objectivity and transparency in our reviews. Our goal is to provide readers with honest, objective information based on our own experiences. We never have and never will accept payment in exchange for a positive review. Many of the products that we review are provided to us for free by a manufacturer or retailer. In some cases, we also have advertising or affiliate relationships with manufacturers and retailers of products and services we review. For additional information please visit our additional disclosure policies.