Rockler Bandy Clamp
Manufacturer:
Rockler
Model number:
54258
Price:
19.99 a pair [$49.98 for 3 pair]
Power source:
Spring Clamp
Motor size:
You
Weight:
"Wicked Light!"
Rockler Bandy Clamp Review
The folks at Rockler just released the new Rockler Bandy Clamp.  This clamp looks like a spring clamp on steroids!
The Rockler Bandy Clamp is made with high-strength nylon with fiberglass fill and has a proprietary 1-inch wide rugger band that spans between the clamps jaws.  this rubber band is made from a durable, tear resistant material and has three embedded strength splines.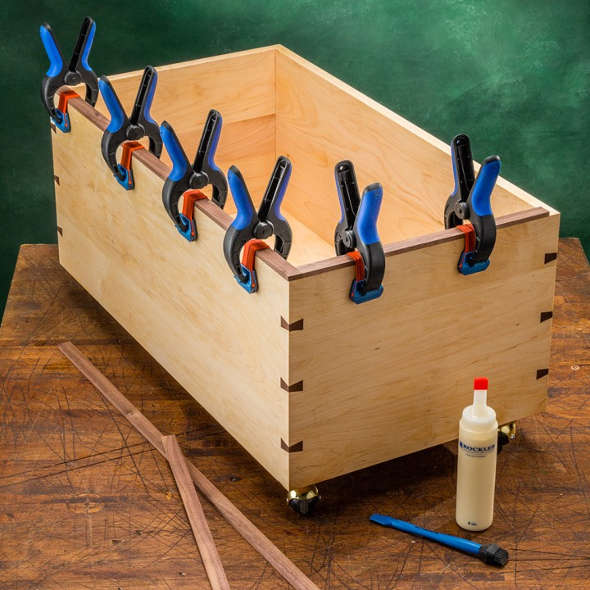 Bandy Clamp Benefits:
This durable rubber band allows this clamps to easily clamp edge moldings or nosing and to contour to different shapes.  An added bonus is that wood glue does not adhere to the rubber for long, it easily flakes and peels off.
The Bandy Clamp has a 2-inch maximum opening; 1-5/8" jaw depth, it easily deploys handed operation and exerts a steady and even pressure.  We found that by pushing this clamp further into the workpiece, stretching the rubber band, you can exert more clamping pressure.
The Bandy Clamp jaws, pivot for angle clamping and the non-slip, no-mar, rubber tips allow for full contact clamping.  This clamp is ideal for delicate moldings, even from soft materials like white pine.  The handles have an over molded handle coating for comfort.
How's It Work?
I'll be honest I was skeptical, as the Rockler Bandy Clamp looks like a cheap toy.   It is not, in fact it works amazingly well.  I used the clamps to clamp and glue on some 3/4 x 1-inch poplar nosing on some birch plywood shelves I made for a utility closet.  Impressive indeed!
Other Uses:
The Bandy Clamp works great for cord management tasks like storing extension cords extension cords and pneumatic lines out of your way as you work.
Bandy Clamp Video:
TBB Writer Phil Benevides recently filmed this video on the Rockler Bandy Clamp over at the ConcordCarpenter workshop.
Where To Buy:
Rockler Bandy Clamps (Model # 54258) are priced at $19.99 per pair (or $49.98 for three pairs) and can be purchased at Rockler Woodworking and Hardware stores, or at Rockler.com
About the author
Disclosure
Product reviews on this site contain our opinion of a product or service. We will always strive for objectivity and transparency in our reviews. Our goal is to provide readers with honest, objective information based on our own experiences. We never have and never will accept payment in exchange for a positive review. Many of the products that we review are provided to us for free by a manufacturer or retailer. In some cases, we also have advertising or affiliate relationships with manufacturers and retailers of products and services we review. For additional information please visit our additional disclosure policies.