IRWIN Vise-Grip GrooveLock Pliers Review
IRWIN Vise-Grip GrooveLock Pliers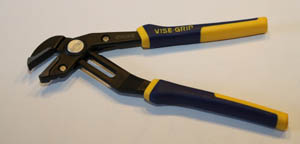 Irwin recently introduced Vise-Grip GrooveLock Pliers in three different models including the Straight Jaw, V-Jaw and Smooth Jaw. Irwin recently sent us a pair of the Straight Jaw pliers to test and share our thoughts with all of you.
Features
Simple push of innovative press-n-slide button adjusts lower jaw 2X faster than traditional groove joint pliers.
Multi-Groove Ratcheting System has twice the groove positions than any other groove joint pliers, providing precise jaw positioning to grip any type of surface.
Anti-pinch, non-slip ProTouch™ Grips provide comfort, control, and less hand fatigue.
Right angle teeth grip in all directions for maximum bite.
Metal Injection Molding (MIM) process for precision parts delivers strength and exceptional performance.
Now available with straight, smooth, and v-shaped jaws.
Backed by the IRWIN VISE-GRIP Lifetime Guarantee.
Our Thoughts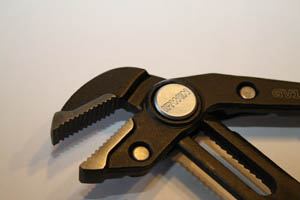 Every plumber and DIY homeowner has a pair of plumbers pliers (or should!) in their tool box. Some folks call these tongue and groove pliers as well. The old design on these type of pliers has a sliding cam that locks into a groove at a certain distance allowing the pliers to be adjusted for different size work pieces. The trouble with those type of pliers is they often slip out of the groove you were previously in when switching to another work piece.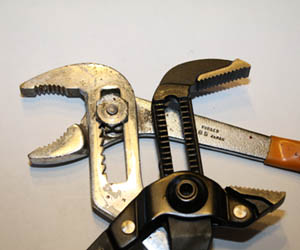 The new GrooveLock Pliers fix that problem with the press-n-slide button that allows you to quickly lock the tool into a groove or adjust it with the press of a finger. For me this is a very effective and cool new feature!
The GrooveLock pliers also have more grooves compared to my old set of pliers. You can see in the adjacent photo the finer set of grooves in the new GrooveLock Pliers. This allows for a much finer adjustment and better gripping.
Overall Impression
The new GrooveLock Pliers are really great. I'm a big fan of Irwin products because of their quality and lifetime warranty. When you pick up these pliers you can tell they are well built. The new press-n-slide feature is impressive and my overall favorite feature on these new pliers. The grip is very comfortable and the overall balance is nice. If you need a new pair of tongue and groove pliers then I recommend you give these a try!
About the author
Disclosure
Product reviews on this site contain our opinion of a product or service. We will always strive for objectivity and transparency in our reviews. Our goal is to provide readers with honest, objective information based on our own experiences. We never have and never will accept payment in exchange for a positive review. Many of the products that we review are provided to us for free by a manufacturer or retailer. In some cases, we also have advertising or affiliate relationships with manufacturers and retailers of products and services we review. For additional information please visit our additional disclosure policies.